By staff reporter LI YUAN
SHAANXI, my home province, was the starting point of the ancient Silk Road. Today, as I stand here and think back on that time in history, I can almost hear camel bells echoing through the mountains and see smoke spiraling from the desert. This image kindles warm feelings about the region." Chinese President Xi Jinping so recalled the ancient Silk Road in his speech at Nazarbayev University in Kazakhstan on September 7, 2013. It was also on this occasion that Xi proposed building an economic belt along the Silk Road.  
Centuries ago, the old Silk Road linking Europe with Asia was a hothouse for communication and exchanges among different civilizations. But the ancient camel bells and smoke spirals along it have long since been replaced by train whistles and vapor trails. Xi'an, provincial capital of Shaanxi and starting point of the ancient Silk Road, and other cities along the route, are now doing their utmost to quicken the pace of transnational logistics development in Eurasia.
Two-thirds Transit Time Reduction
In March 2016, a plane loaded with European commodities took off from Amsterdam on a direct flight to Xi'an's Xianyang International Airport. This air route linking countries in Eurasia is part of China's first cross-border e-commerce non-stop train-air-truck (TAT) combined transportation mode. In the same month, a direct flight following the Silk Road route from Xi'an to Alma-ata went into operation, so adding a new air corridor between Shaanxi Province and Central Asia.
The China-Europe (Asia) express train has connected European and Asian countries along the Belt and Road routes since 2013, when the Belt and Road Initiative was first proposed.
Chen Jianmin, manager of a cross-border e-commerce enterprise, had ordered some of the commodities arriving on this flight. "Air transport is ideal for merchandise with a short shelf-life, such as food and skin-care products, and those of higher value like electronics products. In the past, foreign goods had to pass through customs in Beijing, Guangzhou or Chongqing before being transferred to Xi'an. The whole process normally took around 96 hours. The new global 'overseas warehouses + TAT combined transport' freight model cuts the transit time by two thirds. So it now takes about 10 hours for commodities to reach the Netherlands from other European countries by rail or road, and 11 hours for those on a direct flight from Amsterdam to Xi'an, plus the two to three hours transit to foreign cargo wharfs to undergo customs clearance procedures."
The convenience rendered by the Shaanxi international air logistics harbor compelled Chen to register a global commerce and trade company and rent a 500 sq. m. bonded warehouse near the Xi'an-Xianyang bonded logistics center. The "shops up front and warehouses at the back" mode of business there saves him both time and energy, and reduces his company running expenses by around 30 percent.
He Jian, head of the management committee in the new airport area, told the reporter that the Shaanxi international air logistics harbor comprises five functional areas. They are: a bonded logistics park, a Silk Road e-commerce park, an air logistics warehouse park, an air goods allocation zone, and a service zone. It has moreover attracted 23 commercial logistics companies, including the international firms Mapletree and Global Logistics Properties. On July 8, 2016, it was selected as "national demonstrative logistics park" – an accolade that is sure to generate more government support as regards investment, land allocation, and planning.
Freight Trains Inward and Outward
 "There's been an influx of Chinese commodities since the China express train went into operation. At present, we deal in more than 500 types. Local residents are especially keen on Chinese seasonings and snack foods. Milk flavored tea and oolong tea are also very popular," owner of a Chinese supermarket in Alma-ata – economic and cultural center of the Republic of Kazakhstan and the biggest city in central Asia – Yelena said.
The China express train she mentioned has interconnected European and Asian countries along the Belt and Road routes since 2013, when the Belt and Road Initiative was first proposed.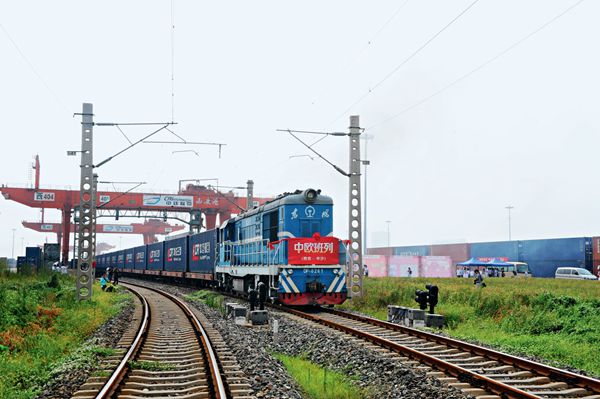 On August 18, 2016, the Xi'an-Warsaw express train departs from Xi'an.
March 19, 2011 saw the departure of the first China-Europe (Asia) express train from Chongqing bound for Europe. Later, container trains pulled out from Chengdu, Zhengzhou, Wuhan, Suzhou, Yiwu, Xi'an, and nine other Chinese cities towards central Asia and Europe. Statistics show that in 2016 alone, a total 1,702 trains traveling from China to Europe and Central Asia were in operation, including 572 that did round trips.
The express train (called Chang'an) that starts from Xi'an and heads towards Europe and Central Asia made its maiden journey from Xi'an to Alma-Ata in Kazakhstan, via Baoji, Urumqi, and Alashankou, on November 28, 2013. Although a late starter, the Chang'an Express is making rapid progress. It now has four lines, two to central Asia (Xi'an- Alma-Ata, Xi'an-Zhem in Kazakhstan) and four to Europe (Xi'an-Rotterdam, Xi'an-Warsaw, Xi'an-Hamburg, and Xi'an-Moscow). The goods they carry range from raw materials to mechanical equipment, industrial components, construction materials, food, and light industrial products. Owing to growing freight demands the frequency of these trains has since increased from once a month to two or three times a week.
On March 26, 2016, the Xi'an Aiju Grain and Oil Industry Group imported 2,300 tons of vegetable oil (rapeseed and sunflower seed oil) from Dostyk, Kazakhstan to Xi'an international airport. This marked the first time the Chang'an Express had returned to China with a full load.
Previously, due to imbalances in demand, the Chang'an Express had generally returned empty after delivering freight to countries along the Silk Road Economic Belt, He Cheng, the Shaanxi office director of the Kazakhstan International Integration Fund, said. But the fact is that quality products from Central Asia such as wheat, cooking oil, cotton, honey, and minerals carry huge price and market advantages.
"Kazakhstan's black soil has a depth of 2.1 meters, which is good for growing crops," Liu Dongmeng, vice-general manager of Xi'an Aiju Group said. She also revealed that the Aiju Group is to set up an agricultural cooperative in 2017, and that the government of North Kazakhstan Province will expand the present planting area of high quality wheat and rapeseed to 1.5 million mu. This will make reality an operation model comprising imported raw materials, preliminary processing abroad, and deep processing in China. "The first phase of the farm products processing park project that we built in Kazakhstan has gone into operation, and is warmly welcomed in North Kazakhstan Province," Liu said.
Streamlined Eurasian Logistics
As Lu Shanbing, executive vice-president of the Institute of Silk Road Studies in Northwest University, Shaanxi Province, remarked, "Shaanxi offers a good foundation for the aviation industry, and Xi'an Xianyang International Airport is one of China's eight major airport terminals. Meanwhile, Xi'an is at the starting point of the Silk Road, so is well on the way to becoming the Chinese Memphis." Lu was referring to the southwestern U.S.A. city of Memphis, which has exploited to the full its unique geographical location to become a North American logistics center.
 "The trade volume between China and Kazakhstan has hit RMB 25 billion, but that's by no means the limit. There is every possibility of taking it to a new high," Serkan from the Beijing office of KAZNEX Corporation for Export Development and Promotion told us. "The China-Europe (Asia) railway express will enhance economic development in countries along the routes, and promote regional economic cooperation. It will also help promote mutual understanding between different civilizations. It is a great undertaking for all nations of the world."
"Shaanxi is hub for major international transport flows on the Eurasian Land Bridge. Coordinating the work of its land ports and airports will take development of China's foreign trade and Chinese cities to a new level," said Massimov, vice-director of a UN academic institution in Kazakhstan.
Xi'an's land ports and airports are now giving full play to their unique advantages by cooperating towards breakthrough links between China's inland markets and the Eurasian continent. Together, they aim to collaborate in building in Xi'an an open economy that will take the city to new heights.