Global Online Purchasing Fever
CONSUMERS worldwide have embraced the latest cyber-purchasing passion – overseas online shopping. From daily necessities like meals, toothpaste, and slippers, to furniture, electrical appliances, garments, and luxury items, cyber shoppers now have a global scale of choice. China has been foremost in the furor of this latest shopping mode, not only as its most popular source, but also for its abundance of avid overseas online shoppers.
Shopping on Chinese Websites
Internet retailer Alibaba cleaned up once more during last year's November 11 online shopping bonanza, nicknamed the Double 11 Festival, partly thanks to its overseas patrons. The commodities available on Chinese websites indeed attract many shoppers from abroad.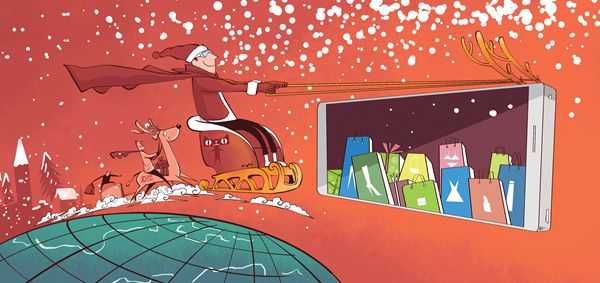 The e-business launch of an online shopping carnival.
Since British multinational grocer and general merchandise retailer Tesco introduced the Laoganma brand of chili sauce, highly recommended by the New York Times, it has been a favorite both with Chinese overseas students and their local peers.
American housewife Debbie reportedly spends one third of her spare time surfing Chinese websites for bargains and smart outfits that are much admired by her neighbors.
In Russia, around 15 million citizens surf Chinese shopping websites. A survey of online consumption trends showed that China's Taobao is the most popular shopping website among netizens in Japan – keen purchasers of the Chinese Dabao cosmetic brand, whose products sell online for just one tenth of the price at Japanese retailers – the U.S., Russia, and the EU.
In addition to their high product quality, the popularity of Chinese products is attributable also to network advances. Results of a survey among foreign consumers showed that, in 2012 only three percent of respondents could name even one Chinese brand, but by 2015 this figure had risen to 23 percent.
Shopping on Chinese websites is now commonplace abroad. The PayPal and Ipsos Third Annual Global Report showed that China is the most popular overseas online shopping country.  
The report examined the consumption habits of more than 280 million online shoppers in 32 countries worldwide. It found that around 21 percent buy from Chinese websites, 17 percent from those in the U.S., and 13 percent from U.K. websites. Shoppers surveyed sought high quality, low-priced goods. Around 76 percent patronized overseas online shopping due to favorable prices, and 65 percent because they could thus obtain goods unavailable in their home countries. Another 46 percent appreciated the free deliveries, and 44 percent the more secure payment mode.   
Many shoppers make purchases on smartphones, particularly in the Asia-Pacific region. The report showed that about 37 percent of overseas shopping in the region is carried out on mobile devices, especially smart phones, and that around 68 percent of consumers there have shopped by phone over the past 12 months. Mobile shopping in China has also significantly increased in recent years. In 2016 spending via smart phones accounted for 35 percent of the total volume of overseas online shopping. The figure in 2015 was 27 percent.
Expanding Yearly
As overseas consumers focus on Chinese websites, Chinese customers also use the Internet to browse commodities on the overseas market. Chinese people's daily-use articles often include products from around the world, such as Japanese pharmaceuticals, Australian healthcare products, Korean cosmetics, French fashion garments, and Sri Lankan tea, most of which are bought online.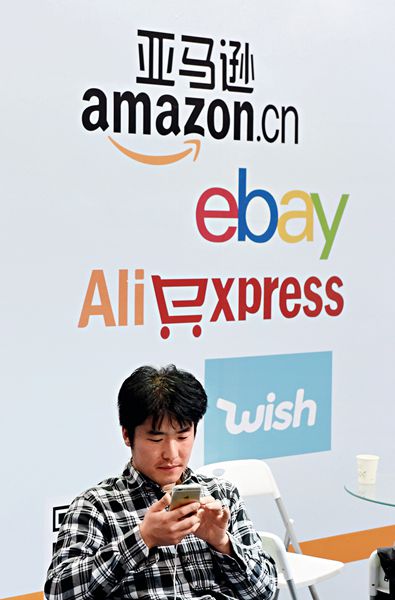 The Black Friday sales promotion offers consumers a dazzling array of goods.
Recent online shopping festivals generated huge profits for many e-commerce platforms. During the first 10 minutes of November 11, 2016, the amount of rice ordered from www.JD.com increased 100-fold, and JD's global purchase orders registered a year-on-year growth of 170 percent. About 13,000 international brands were included in the Tmall online shopping festival, when it took just 9.5 hours for Tmall to surpass its 2015 Double 11 Festival sales volume. The amount of www.tepin.hk orders was also 5.5-fold that of 2015.  
Black Friday, another manic shopping festival, is when overseas e-commerce platforms such as Amazon.com and ymatou.com recommend thousands of products to consumers. JD.com's global purchasing has also launched services, such as panic and low price buying. Amazon China, meanwhile, offers Prime membership, while Alipay supports global payments covering more than 200 countries and regions.
Owing to their ever broadening range of consumer tastes and purchase demands, Chinese consumers have become the main force behind overseas online shopping. The PayPal and Ipsos Second Annual Global Report underlines 2015 as a significant year in this respect, as it was then that around 35 percent of Chinese consumers opted for overseas online shopping, compared to 26 percent in 2014.
The scope of Chinese overseas online shopping expands yearly, covering more than two million types of commodities from 100 countries and regions. The report showed that in 2015, around 22 percent of Chinese online buyers purchased from American websites, as compared with 14 percent in 2014. Purchases by Chinese consumers also showed 10 percent growth in Japan and South Korea, due to their high quality goods at favorable prices, and access to products not available in China.
Insiders report that the frequency in 2016 of Chinese overseas online shopping was 18 times per buyer, as compared to the seven times of 2015. The average amount expended was over RMB 10,000 – the highest more than RMB 900,000. According to China E-business Research Center projections, the number of Chinese overseas online shoppers will hit 35.6 million in 2018, equal to a more than RMB one trillion market.  
Online and Offline Service
Along with development of e-business, an Omni-channel sales model integrating online and offline service is now available – an innovation insiders believe will prove an irresistible trend. For the next two decades, e-business will undoubtedly combine with offline service and logistics.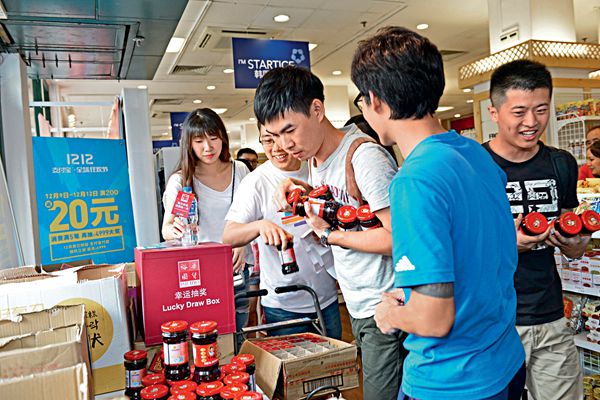 Chinese products such as Laoganma are in high demand by overseas Chinese in Singapore.
Many merchants are already taking the first steps in this direction. In contrast with earlier years, in 2016 Alibaba focused on both online and offline services, linking more than one million online stores and offering digitization to more than 100,000 physical stores. JD.com also cooperated with Walmart in the lead-up to last year's online shopping festival. During Black Friday in 2016, the Friendship&Apollo Group launched its Omni-channel mode offering online shoppers products from 50 countries and regions. The group has opened a dozen overseas shopping experience centers for local consumers.  
According to advisory body IDC, during the 2016 Double 11 Festival, the main achievement of Omni-channel distribution became clear; further meshing supply chains, logistics and users appreciably eases antagonism between store retail and e-business.
This integration is happening nationwide. Hangzhou's Cross-border Trading Town includes national and themed pavilions from Oceania, Europe, Asia, and America. They offer thousands of popular items, from cosmetics, healthcare products, and food items to mother and baby products, household appliances, and garments. Consumers can try them out there and then, and buy these taxable commodities either directly from the store or online. Products are delivered from bonded warehouse, so covering the entire process from offline experience to online shopping.
Experts believe that online-offline integration is the future of commercial development. It can also promote city and countryside integration by giving full play to each one's respective advantages, achieve better service, lower cost, higher efficiency, and so better satisfy consumer demands and gradually equalize the uneven development of China's e-commerce. In 2016, the government also introduced e-commerce to rural areas, communities and small to medium-sized cities in efforts to hasten integration of online and offline development.
LUO LAN is a reporter at the People's Daily Overseas Edition.
Services