Free Trade Zones Flourish
THE Chinese government recently announced its intention to set up seven new pilot Free Trade Zones (FTZs) in Liaoning, Zhejiang, Henan, Hubei, Sichuan and Shaanxi provinces, as well as Chongqing Municipality. The unveiling of the expansion of FTZs happened on August 31, 2016, just three days before the opening of the G20 Hangzhou Summit. 
It seems that the timing is perfect. The G20 Summit pools the most developed and promising economies in the world, making itself a highly influential group of nations. The announcement shows China's desire to draw global attention to its continuation of the reform and opening-up policy and its market-oriented development mode. China will keep promoting free trade and renovate existing trading rules and systems according to international experience.
Meanwhile, the timely announcement will help attract the participation of world's top-notch technology, talent, capital and enterprises. It'll also, to a large extent, tap into the quality resources of China's inland cities and steer its economy into the fast lane.
 Sun Yuanxin, deputy dean of the Free Trade Zone Institute at Shanghai University of Finance and Economics (SUFE), said that the new FTZs and open economy experimental areas jointly serve as an indication of China's determination to further open up its economy. From the layout of the seven FTZs and the 12 open economy experimental areas, we can see that reform is underway, aimed at building an all-around open economy during the 13th Five-Year Plan period from 2016 to 2020.
Individual Characteristics
Each of the seven new FTZs has their own development modes and targets. To be more specific:
Northeast China's Liaoning Province will mainly implement central government's request to quicken the pace of its reform in market orientation and to speed up its structural adjustment. The old northeast industrial base will strive to revamp itself by enhancing its overall competitiveness and by further opening up. 
Southeast China's Zhejiang Province will mainly explore how to build the Zhoushan Free Trade Port Zone, to promote free trade in bulk commodities and to enhance the global distribution capacity of bulk commodities.
Central China's Henan Province will focus on quickening the pace of building a multi-modal traffic system and modern logistics system. The province aims to become a transportation junction of the country, and also serve for the construction of the Belt and Road Initiative.
Central China's Hubei Province is aiming to conduct proper industrial transfer in central China and build bases for strategic emerging and high-tech industries. This will spearhead the Rise of the Central Region plan and the building of the Yangtze River Economic Zone.
Chongqing, the only municipality directly under the central government in West China, is concentrating on making itself into a strategic hub, connecting the landlocked western part of China to the outside world. It will also expedite opening-up to become a gateway to western China, in order to further the West Development strategy.
Southwest China's Sichuan Province is aiming to implement the central government's request on expediting the opening-up and make itself into a backbone of the open economy strategy in the West China, to bring its development up to the speed of China's coastal provinces.
Northwest China's Shaanxi Province will work to become a center for inland reform and opening-up, explore the creation of a new economic model and to look for new ways of communicating economically and culturally with countries along the new Silk Road routes.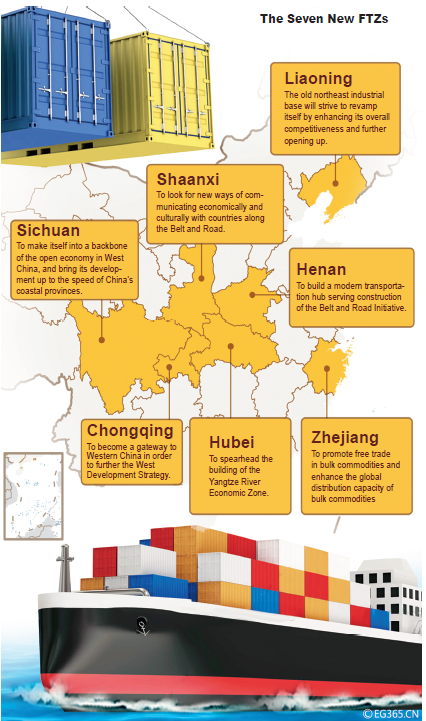 The expansion of FTZs is part of China's national strategy. Their locations, the way they are implemented, what kind of characteristics they are endowed with and what reforming targets they aim to meet, are all chosen carefully with an eye on the country's overall development.
We can tell from these seven FTZs and their pilot projects that the provinces or cities they are in all occupy a strategic position in their respective areas, therefore aiding their various functions of economic development – facilitating further opening-up, attracting foreign investment, exploring new routes to reform and transformation modes, and improving the competitiveness of leading local industries. All of these are expected to form new models for regional strategic planning and reforms.
Meanwhile, these seven FTZs will each have their own reforms based on their unique characteristics. Sun Yuanxin said the pilot projects to be carried out in these FTZs will be more professional. He sees the whole structure more like a "1+X" model, which will give different FTZs room to adjust in the application of high-level global economic and trading rules in areas of regulation implementation, negative list, and institutional reform.
It is reported that the seven new pilot FTZs will set institutional innovation at its core, and integrate themselves with international economic and trading rules based on local industrial parks. They aim to take reform and opening-up to a new level through pilot projects with greater scope.
Analysts said that the seven newly-approved FTZs, as well as the four existing ones in Shanghai, Guangdong, Tianjin, and Fujian, will explore ways of enhancing their development in light of different situations and characteristics. They will make themselves into new engines for regional economic development in the future and exert a profound influence on the formation of a new economic plan.
Predecessors and Improvement
The seven new FTZs will replicate the success of their four predecessors. After being in operation for three years, the four FTZs have managed to explore new areas of investment, trade, financing, innovation and supervision and have all made substantial improvements in institutional innovation, trading supervision, and investment.
Based on the experience of these four ones, the seven new FTZs will make realistic plans and give full play to their regional advantages, aiming to set a good example in leading local development.
According to Minister of Commerce Gao Hucheng, one of the key principles of the pilot FTZs is "drawing lessons and promoting experience in a trial period." However, well before implementation, the new FTZs need to be clear about how they are going to experiment and how, and what kind of, experience will be used as a template. On the one hand, they need to finish the tasks the country has assigned to them, and on the other, they need to keep a close eye on constructing an open economic system based on their own development routes. That is the key to everything.
Promoting the Belt and Road Initiative
The Shanghai FTZ, the first of its kind in China, was officially established on September 29, 2013. It ushered in a new round of reform and opening-up, which happened after the 30th anniversary of China's special economic zones, created in the 1980s.
Initially, the Shanghai FTZ was expected to become "a world-class experimental arena with convenient investment and trade environment, free currency convertibility, effective supervision, and good legal environment," thus to facilitate the country's further reform and opening-up.
A series of fundamental, core systems are being created in Shanghai FTZ in areas of investment management, trade supervision, financial innovation, and government management, with high reference value for new free trade areas.
At present, the construction of the Shanghai International Finance Center is underway, playing a key role in the innovation of new financial systems. Market researchers, including the Development Research Center of the State Council (DRC) have found that 82 percent of the enterprises they interviewed in Shanghai FTZ applauded the progress made in the management and business environment, while 95 percent took a bright view of future development. The results show high scores in the efficiency of government departments, the convenience of starting a company, and transparency in the FTZ.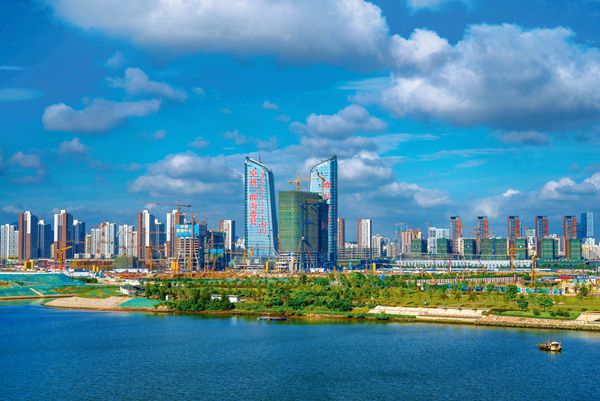 Qianhai Free Trade Zone under construction in Shenzhen, Guangdong Province.
In April 2015, China's FTZs had their first expansion as mentioned to Tianjin, Guangdong, and Fujian. Following Shanghai's success, these new FTZs, dispersed throughout China, formed new styles of development, which promoted the Belt and Road Initiative each in their own unique way.
For example, the pilot FTZ in Shanghai built an Asia-Pacific Model E-Port Network. Guangdong pilot FTZ carried out cooperation with FTZs in Iran, Malaysia, and Indonesia. Tianjin pilot FTZ designed a system to facilitate the inspection and quarantine of transit cargo. Fujian pilot FTZ incorporated itself into the operation of the China Railway Express (Xiamen), which links China and Europe.
As well as these seven new FTZs, the Chinese government is also planning to set up 12 experimental areas for the open economy in Jiangsu Province and Guangxi Zhuang Autonomous Region. Though there is an overlap between the layout of FTZs and that of open experimental economic areas, they are two wheels on China's opening-up wagon, interconnected and complimentary to each other. The former focuses more on how to put new rules in international trading and investment into practical use, while the latter strives to upgrade China's own economy to a more open one and to form an engine for internal development.
LAN GUOQING is a reporter with Financial Ages magazine.
Services