Thousands of Miles to China
By staff reporters GONG HAN, LIU CHENGZI & ZHOU LIN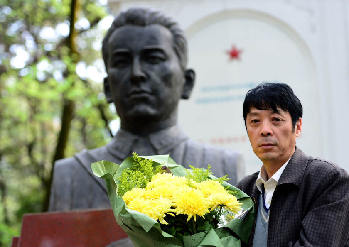 Wei Yingxiang and his mother have tended the tomb of Kulishenko for decades.
THE widow and daughter of the late Soviet pilot Grigori Akimovich Kulishenko were invited to China in 1958 to visit Kulishenko's tomb and also to attend the October 1 National Day holiday celebrations. Chinese Premier Zhou Enlai told them: "The Chinese people will always remember Grigori Kulishenko."
During WWII many international friends like Kulishenko traveled thousands of miles to China to help defend its people against Japanese aggression. Some, like the American Volunteer Group (AVG), also known as the Flying Tigers, and Canadian doctor Norman Bethune, are famous throughout China. Their contributions will never be forgotten.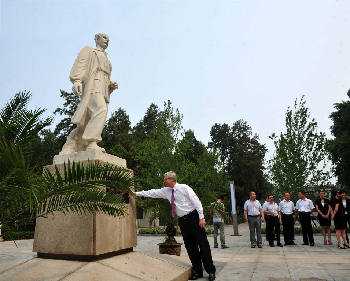 Canadian Ambassador to China Guy Saint-Jacques visits the North China Military Area Command martyrs' cemetery, where stands a statue of Norman Bethune.
Tending the Tombof Kulishenko
The tomb of Grigori Akimovich Kulishenko is in Xishan Park in Wanzhou, Chongqing, where local residents enjoy taking walks and doing their morning exercises. A key trading port on the upper reaches of the Yangtze River and logistic base of the then central government, Wanzhou suffered almost as frequent bombings during the Chinese People's War of Resistance Against Japanese Aggression as Chongqing, the country's wartime capital. In recent decades, however, it has revived and developed into a thriving city with a population of 1.75 million.   
Grigori Akimovich Kulishenko is a household name in Wanzhou, where locals feel a deep emotional bond with him.
From October 1937 to June 1941, the Soviet Union sent more than 3,000 air force personnel to China to support the resistance against Japanese aggression.  Wanzhou archives record that Kulishenko was sent to China in 1939.
Kulishenko was responsible for training Chinese aviation personnel in addition to taking part in battle missions, according to Wang Li, an official at Wanzhou Archives Administration, and headed two surprise attacks on the Japanese air force base in Wuhan. Kulishenko's aircraft was badly hit on October 14, 1939 in a battle against Japanese planes. To prevent his bomber from destruction, Kulishenko used his excellent aviation skills to make a landing on the Yangtze River. But he was unable to escape from the cockpit before it flooded.
The Chinese government built a tomb for this hero. In 1958, it was moved to its current location, where it covers an area of 1,630 sq meters.
Wei Yingxiang has tended Kulishenko's tomb for almost 40 years since inheriting the job from his mother. Now retired, he still goes there every morning, particularly on rainy days, because he worries that an old tree might fall on the tomb. "Kulishenko gave his life to defend our country. We all highly respect him and will never forget his heroic deeds," Wei said. "Tending his tomb is a way of consoling his family and of assuring them that this hero's sacrifice was not in vain."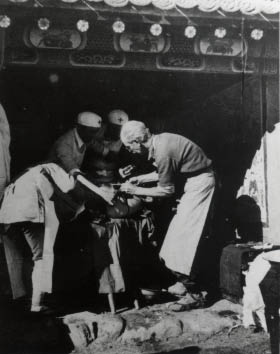 Norman Bethune performs a surgical operation on April 23, 1939.
Witness to Sino-U.S. Friendship
As he watched an Airbus 320 taxiing along the Zhijiang Airport runway, deputy curator of the Flying Tigers Memorial Museum Yang Yu said: "This was the Allies' second largest military airport in the Far East during WWII. Covering an area over 4,200 mu (280 hectares), it was three times larger than the civil airport of today. Volunteer airmen from the Soviet Union and the AVG were based here. They taxied and took off from this airport hundreds of thousands of times."     
In the early 1940s, a good number of American soldiers who came to help China were stationed in Zhijiang, Hunan Province. There were more than 200 American military institutions in the town, and at one time more than 6,000 American soldiers lived there. Locals called the district where their barracks, warehouses, stores, and clubs were situated American Street. Today, the city bristles with modern buildings and facilities, but stories of the Flying Tigers and American Street are still current.        
The Flying Tigers Memorial Museum stands close to the airport. Two eye-catching replicas of P-40 aircraft painted with large shark faces stand at the gate. AVG pilots made their first impression on local residents on December 20, 1941, when they defended China from 10 Japanese bombers, according to Yang Yu. John Van Kuren Newkirk led the squadron that shot down six of the Japanese aircraft. Another three crashed as they tried to flee and just one plane got away. The seats from the actual P-40 aircrafts are on exhibit in the museum, together with photos and pictures of aerial combats of that time.   
From August 1941 to the end of the war the U.S. air force personnel in China expanded from 200 to 18,223, and the AVG evolved into the China Air Task Force before being incorporated into the 14th Air Force. They made valuable contributions during the Chinese People's War of Resistance Against Japanese Aggression to protecting the Yunnan-Burma Road, opening the Hump, and defending China from Japanese bombers in many combats. Soong Tzu-wen, one of the highest-ranking Kuomintang government officials at that time, highly praised the American pilots as "winged tigers." They were thereafter known as the Flying Tigers. Uniforms incorporating armbands bearing the Flying Tigers logo are still on exhibit in the museum today. Research up to 2010 confirmed the names of 2,193 members of the American air force who lost their lives in the China theater during this period.  
The Flying Tigers are not commemorated solely in one museum. One hundred and eighty photos of AVG pilots are on exhibit at the Western Yunnan Chinese People's War of Resistance Against Japanese Aggression Memorial in Tengchong. Deputy curator Ma Juan told a story about one of them. Pilot William Findley's plane was shot down during a mission. Fortunately, he escaped capture and was saved by locals in the suburb of Tengchong. Thanks to the villagers' help, the wounded airman soon recovered and returned to duty. "William Findley's daughter Lisa Findley donated this in 2006," Ma Juan said, indicating the full American uniform on display. "To show her gratitude to local people, she spends one month each year here in Tengchong working on philanthropic projects."    
The Flying Tigers forged strong bonds with China. In 2003, Anna Chan Chennault, widow of the late Flying Tigers' commander Lieutenant General Claire Lee Chennault, and nine veterans returned to Zhijiang for a visit. In 2005, Wayne G. Johnson, former president of the 14th Air Force Association, and more than 20 former pilots also revisited Zhijiang. In September 2010 while walking around the Flying Tigers Memorial Museum, former U.S. President and Nobel Peace Prize winner Jimmy Carter remarked that the display of Flying Tigers memorabilia bore witness to the joint efforts of China and the U.S. in resisting Japanese invaders, and embodied the friendship between the people of both countries.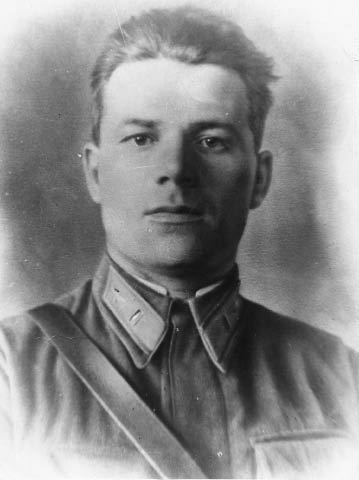 Soviet pilot Grigori Akimovich Kulishenko.
In Memory of Norman Bethune
The Bethune International Peace Hospital moved to Shijiazhuang of Hebei Province in 1948. Originally established in the Shanxi-Chahar-Hebei Military Region in 1937, it took its present name in 1940 to commemorate the Canadian doctor Norman Bethune who died there at his post.
A white marble statue of this renowned doctor now stands before the hospital. Pictures of his work and life in China, the medical apparatus he used and some of his personal items are on exhibit in the hospital's memorial hall.    
Norman Bethune led a medical team to China in early 1938 soon after the Chinese People's War of Resistance Against Japanese Aggression broke out. This newcomer wasted no time in getting to work in Yan'an, headquarters of the CPC. He wrote in his diary in March 1938 of a newly built medical school in Yan'an, and also plans for a hospital. He noted that although medical facilities in Yan'an were fundamental, a free health care system was in operation. One picture in the memorial hall shows Norman Bethune and Mao Zedong having the conversation in which the doctor said he could be of greatest help on the front, where he could give immediate medical attention to wounded soldiers.   
On June 17, 1938, Bethune arrived at the front line in the Shanxi-Chahar-Hebei area where fighting was fierce. From that time until his death on November 12, 1939, he treated 1,290 wounded soldiers from 11 battles. The doctor quickly adapted to poor conditions there. He remarked that before long he was able to remain just as calm performing surgery in front of a lofty Buddhist statue in a dark temple as in a well-equipped operating theater. He also introduced advanced science and technology into China's revolutionary bases. He initiated the construction of a model hospital for the Eighth Route Army, and later designed the mobile surgical hospital that could be set up in residential houses where heated brick beds served as operating tables. He also called on locals to donate blood.    
Bethune believed that a good battlefield medic must in addition be a capable carpenter, blacksmith, tailor, and barber. The physician expended considerable energy on both teaching and writing. Despite his heavy workload, Bethune wrote volumes of teaching materials on field surgery. He sometimes wrote short stories based on what he witnessed on the front line and sent them to publishers in Canada and the U.S. in efforts to drum up support for the Chinese people. Bethune revealed Japanese armies' atrocities in China in his novel Weeds in Fertile Fields published in the U.S. Progressive Weekly.   
This heroic doctor died of scepticaemia in 1939. A memorial service was held in Yan'an. On hearing of the doctor's death, Mao Zedong wrote his essay "In Memory of Norman Bethune" in which he commended the doctor's devotion. This essay is famous among Chinese people to this day.
The Flying Tigers aircraft, distinct for their painted shark faces.

 The Flying Tigers Memorial Museum. Liu Chengzi
Services