Fangshan's Wineries and Ecological Practices
– Interview with Wang Xianfeng, Director of the Grape Plantation and Wine Industry Promotion Center of Fangshan District, Beijing
By HUANG YUANJUN & YANG LU
The Jinxingwan Winery in Nanjiao Town.
BEIJING'S Fangshan District has revved up efforts to modify its industrial structure, transform its production methods and promote local economic development to advance the Chinese capital's mission to promote ecological practices. Wang Xianfeng, director of the Fangshan Grape Plantation and Wine Industry Promotion Center, explained how Fangshan's wine industry has become an important part of this effort. 
China Today: Grapes produced in Fangshan's vineyards boast of origin traceability and high cultivation standards. Can you tell us more about these programs?
Wang Xianfeng: Over the past several years, to comply with the Beijing municipal government's directive to build a cosmopolis with Chinese characteristics, Fangshan has accelerated efforts to develop its economy. The district aims to create a world-class wine-growing industrial cluster, one that will bring together business, tourism and culture. It seeks to produce upmarket wines that feature traceability and high quality. Bolongbao Winery stands out with its internationally recognized organic wines.
Fangshan's decision to develop its wine industry was based on strategic planning and scientific studies. The industry is expected to become an economic pillar in the district's upland and mountainous areas. To promote the industry, the district government has introduced favorable policies and adopted the principle of rational planning with regard to the ecological environment. It aims to build a wine industry belt with picturesque landscapes, develop a circular economy, promote wine production and at the same time utilize wine production's byproducts.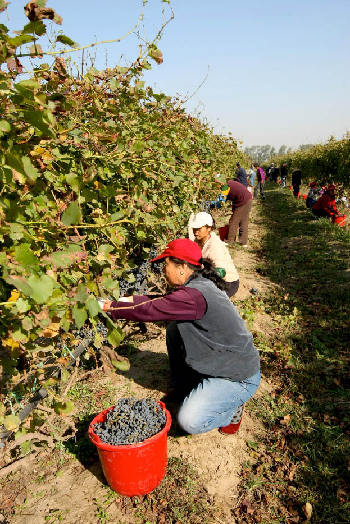 The grape harvest. 
Fangshan's wine industry belt will have three main components: an eco-leisure region along Qinglong Lake, a wine culture tourism region in Zhangfang, and an eco-restoration region in such places as Nanjiao and Fozizhuang.
The Qinglong Lake International Wine Town will have a vineyard, winemaking facilities and scenic spots, which will promote both ecology and hi-tech industries. The town is expected to fuel the development of Fangshan's high-end wine industry, promote industrial transformation and become an important tourist destination in Beijing. The place will feature modern business facilities and resorts that are integrated with golf courses and a neighboring cultural center. The project's first phase is nearing completion.
Under the local wine industry association's supervision, Fangshan's vineyards have adopted uniform standards – and moved away from the old, disorderly growth model of each only focusing on itself. In 2012, Fangshan's Chateau Wine Association was established, which aims to provide comprehensive, multi-dimensional and detailed guidance and supervision. Now, every winery ensures that each bottle it produces can be traced.
In December 2013, the Standardization Administration of China (SAC) named the eighth batch of demonstration projects across the country that showed agricultural comprehensive standardization. Fangshan's wine standardization demonstration project topped the list. Within Beijing, the project landed in the top three. This marked a new phase in the development of Fangshan's wine industry, and elevated its status.
China has instituted origin identification certificates to help with the development and protection of local products. France, a country famed for its wines, has established a series of extensive and rigid wine-grading and quality management systems, as well as a legally binding rule that aims to protect origin identification marks. Fangshan understands how important it is to have origin identification certificates.
Fangshan's wineries have chosen to go organic, and the wineries can only use grapes grown in their own vineyards. To improve the quality of their grapes, the wineries see to it that the yield for every mu, equivalent to 666.7 sq m, is under 500 kg. This adheres to the highest international winemaking standards – similar to the ones followed by French chateaus – and are even more rigid than the national requirements.
Based on national standards, Fangshan's wine association has also formulated local guidelines that cover the entire wine-producing process, from grape variety breeding to planting density, yield control, standards for grapes used in brewing, brewing technology and cellaring.
China Today: In what ways does Fangshan's wine industry contribute to Chinese rural development? 
Wang Xianfeng: First, Fangshan's wine industry has helped to raise the value of local land, since it has used idle land extensively. It has also introduced modern farming technology. These meet the fundamental requirements for the development of high-efficiency, low-consumption and high-end modern agriculture.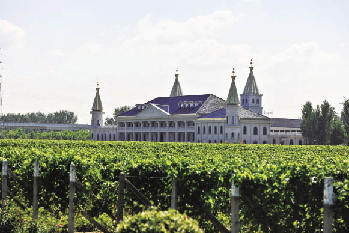 The Chateau Lion Winery.
Second, local vineyards replant bare hills, creating more green zones and improving the environment. In the last several years, Fangshan's wineries have utilized 8,000 mu of bare and wasteland. On top of this, the wine industry produces no wastewater or garbage. 
Third, winemaking supports tourism. A strong local tourism industry can contribute to the improvement of rural infrastructure and facilities. At the same time, the huge business opportunities brought by tourists will encourage wineries and farmers to protect and beautify their environment.
Fourth, the wine industry provides jobs for local farmers. Statistics show that every winery hires at least 80 farmers. Fangshan's wine industry, as a whole, has created around 2,000 jobs.
Lastly, wineries attract more investors to Fangshan. Since winemaking is an industry that involves primary, secondary and tertiary industry chains, it will accelerate local economic growth. Fangshan's wine industry has blazed a trail for Chinese agricultural development.
China Today: In your opinion, why do investors want to invest in Fangshan's wine industry?  
Wang Xianfeng: Fangshan possesses three indispensable elements required to make headway in the industry: good timing, a favorable geographical location, and local people's support. In addition, there is Fangshan's industrial advantage. These have all contributed to the development of local wine industry, which has become a model for the country, and even the world to learn from.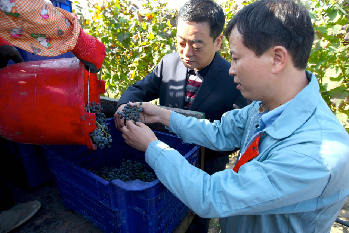 Wang Xianfeng checks grapes at a winery.
Fangshan's investor charm also comes from its preferential policies. For example, Beijing's first bonded winery was established in Fangshan in July 2013. Within its premises, renowned foreign wines could be showcased and sold without import taxes and customs duties. It has not only provided a venue for the direct sales of internationally known wines but also provided trainings on wine, wine culture and etiquette.
China Today: In recent years, what collaborative and exchange activities has Fangshan carried out in the wine industry?
Wang Xianfeng: Fangshan has established ties with the Beijing International Wine & Spirit Exchange in a bid to improve the district's image as a wine producer. It plans to hold wine competitions encompassing the Asia-Pacific region, in light of the Beijing-Tianjin-Hebei integration strategy and the capital's positioning as China's cultural center and an international exchange center.
Fangshan wants its wineries to become bases from where the district can promote in-depth international exchanges in the wine industry, such as wine exhibitions. It wants to build itself into a demonstration district for a coordinated development of the Beijing-Tianjin-Hebei wine industry. Next year, Fangshan will hold its first international wine contest.
Services