Sustainable Development Mode on the "Roof of the World"
By HUANG YUANJUN & YANG LU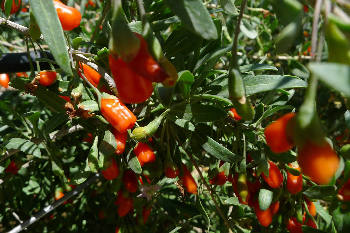 Ripe wolfberries.
Haixi Mongol and Tibetan Autonomous Prefecture is located in western Qinghai Province, occupying the northern part of the Qinghai-Tibet Plateau. Today, it is transforming the traditional agriculture mode to a sustainable one. The new method combines ecological and social benefits with economic performance, therein creating a healthy industry model on the "Roof of the World."
Building a Whole Industrial Chain
The Chinese government's newly-launched Belt and Road Initiative is injecting vigor into regions along the Silk Road, including Qinghai. With Qaidam Basin, the world's highest, in its heartland, Haixi boasts special advantages in agriculture and animal husbandry such as a clean environment, flat land, and long hours of sunshine.
Haixi's reform prioritizes changing the modes of production, optimizing the traditional structure, and promoting industrialized operation to upgrade agriculture and animal husbandry.  
Haixi is also accelerating the construction of industrial parks to accommodate burgeoning companies along the industrial chains. Advanced technologies have been introduced to power industrial integration and transformation. Two strategic industries – wolfberry cultivation and cattle breeding – are encouraged to ensure social and environmental effects as well as economic returns among related industries.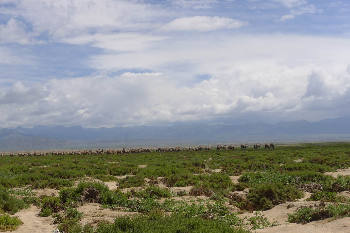 Vast meadows of Luotuohe in Mohe.
Recent years have witnessed strong momentum in the development of these industries. The area for wolfberry cultivation has reached 28,000 hectares, including 6,000 hectares of standardized production demonstration base. Haixi has become the country's second largest wolfberry producer. It is also recognized as one of China's seventh batch of demonstration zones of standardized agricultural production.  
There are over 60 enterprises and 54 specialized cooperative organizations engaged in wolfberry planting and processing in the prefecture, producing more than 50 kinds of products on more than 30 production lines. A whole industrial chain has been established, from research and development to cultivation management, products processing, and sales. In 2014, the output of dried wolfberry surpassed 50,000 tons, 700 tons of which were exported for about US $10 million. The wolfberry industry has become one of the province's most competitive agricultural products in domestic and international markets.  
The cattle breeding industry has three key parts – a core experiment zone, a breeding demonstration zone, and key processing enterprises. Advanced butchery and meat processing lines have been put into operation in Haixi, largely expanding the production capacity. Now, the beef cattle number 5,923 and there are 15,000 female reproductive hybrid cattle.  
As for the fruit and vegetable industry, four large-scale planting zones have been built, making the total planting area 1,367 hectares. In 2014, the output of vegetables reached 65,000 tons, contributing to a self-sufficiency rate of 56 percent.
The head of Haixi's agriculture and animal husbandry bureau indicated that it was a long and hard road to get to the point where the most advantageous industries and the best mode of development were discovered. There once was a large area of wild wolfberry growing in the Qaidam Basin. They developed deep roots underground to survive the arid and barren fields, and cold weather, and also an outstanding ability to resist disease and drought. It is an ideal plant for preventing desertification as it grows very fast and can retain soil and water. As early as the 1980s, people planted wolfberry for ornamental purposes. It wasn't made a key industry until 2008 when wolfberry was recognized by the prefectural government as the focus of agricultural development. Another priority project is cattle breeding. In Haixi, the livestock consist of mainly yaks, which are particular to the plateau but limited in quantity. In the last several years, high-quality breeds of beef cattle have been introduced to breed a new hybrid, the Haixi Fortune Cattle.
Seven more industries have been conglomerated in Haixi: wild donkey breeding, organic fruit and vegetables, high-quality rape cultivation and seed production, seed production of potato, grassland livestock, forage grass planting, and aquaculture. These industries are growing fast as they utilize special local resources and have the competitive edges of being organic and high quality.
In order to form a sustainable development mode, Haixi encourages farmers and companies to use efficient and complex techniques like soil testing and formulated fertilization, water-saving irrigation, and a combination of farm machinery with agronomical techniques. The healthy mode, along with strong and efficient technical supports, guarantees a sustainable and circular development of the agricultural industry.
Sustainable agriculture is a call to preserve resources and develop the region. People have reached a consensus on the direction of development – to utilize special local resources in a sustainable way and build a reasonable structure of industries to enable complementary businesses to flourish and reduce risks.
Meanwhile, a new generation of technicians is being trained, making it possible to adopt state-of-the-art technologies in local companies.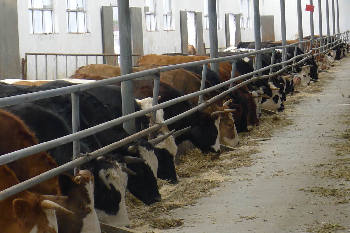 The interior of a farm in Mohe.
Fortune Cattle Breeding
The breeding of the Fortune Cattle serves as a key link in the whole industrial chain. Relative industries are also established like bioenergetics and organic fertilizer processing, which will efficiently transform science and technology to an economic outcome.
In Haixi, the right of managing pasture is contracted to companies; farmers can also become shareholders by pooling their cattle. The profit is divided by shares, so are risks. By increasing cattle groups and optimizing breeds, the reproduction rate rises to 62 percent, and as high as 93 percent of calf survival. Meanwhile, the scale of breeding as well as breed conservation have been enlarged.
The Fortune Cattle live on the plateau at an average altitude of 3,000 to 4,000 meters above sea level. The meat is tender, highly nutritious and high calorie but low in fat; and most importantly, it's safe due to the cattle's pure, natural diet. The demonstration breeding base in Mohe Luotuochang is one of the leading farms. It expanded scale by signing purchase contracts with breeding communities and herdsmen; and meanwhile, increased the quality of products by using high technologies.
Services