Dreams Achieved in Yantian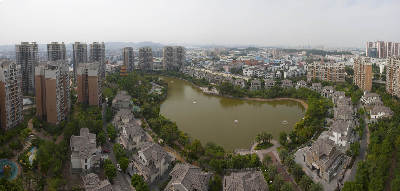 Yantian Village has been transformed from an obscure rural village to a manufacturing hub.
By staff reporter ZHOU LIN
YANTIAN is a small village in Dongguan City, Guangdong Province, near Shenzhen Special Economic Zone. Although it has a registered household population of just 3,500, the people actually living in the village number close to 130,000.
Early in the 1980s during the bringing into effect of the reform and opening-up policy, Yantian's fortunate location – at the southernmost end of Dongguan City close to Shenzhen SEZ, 20 kilometers from the Lowu Control Point, and a 30 minute drive from the Qianhai Cooperation Zone-Shekou Industrial Zone area and Shenzhen's Baoan International Airport – earned it development priority.
The village's position provided favorable conditions for the future rapid growth of Yantian's export trade. This is why it attracted large numbers of foreign enterprises and inland migrant workers. In 1998, more than 400 foreign enterprises set up factories in Yantian. They produced such export commodities as electronic products, toys, and watches. A popular sideline for white-collar workers earning decent salaries in Shenzhen was renting factory premises in Yantian where the workers they hired processed export products. Even during the 2008 global economic crisis around 50,000 migrant laborers worked in Yantian, a figure signifying only those who applied for temporary residence permits. It does not take into account accompanying family members and the non-registered population.  
Lindalva Beatriz da Coata Fernandes, Head of the Research and Planning Department of the Migration Service Bureau in East Timor, is studying an IMBA at the Emerging Markets Institute of Beijing Normal University. What amazes her about Yantian is how foreign-funded companies, local villagers and migrant workers all live there in harmony as they work towards realizing their respective dreams.
Migrant Worker to Entrepreneur
Deng Jihua moved to Yantian in 1993 from his hometown in Hunan Province. After graduating with a degree in mechanical automation, Deng worked at an inland munitions factory. "The state-owned economy was stagnant at that time. Workers often had to wait months for their wages. Many of us felt we had no choice but to look for better opportunities in southern cities like Dongguan," Deng said.
He is now father of two children, and owner of a small electrical automation enterprise – the Jingjiu Automation Facility Company Limited in Yi'an Industrial Town in Yantian. It makes annual profits of RMB one to two million.
Deng will never forget the moment he left his hometown and headed for Yantian with just RMB 500 in his pocket, which included his train fare. It took him almost three weeks to get his first job in Dongguan. "Each meal cost me five yuan. To save money, I ate instant noodles. The pressure was intense. When I finally found work, all I had left was RMB 30 with which to buy a bucket and a sleeping mat. Luckily the factory provided dormitories and free meals."
Deng is a man of few words, but has the rational and logical mentality you would expect of a technical worker. He never doubted his ability to find a suitable job, even when his money was almost gone. His solid technical background eventually landed him a job at the Delta Electronics Industrial (Dongguan) Co., Ltd.
In 1993, the pay for assembly line workers was just RMB 300-400 a month, but Deng earned RMB 2,500 monthly as a technician. "It was five times what I earned in my hometown!" Deng recalled.
Deng worked for six years at the factory and was in charge of electric apparatus design.
The year 1997 brought him and other selected workers at the company the opportunity to go to the Toyota Motor Corporation in Japan, to learn new production modes and how to improve production line efficiency. This experience broadened his horizons and enabled him to resolve work-related problems. Most important, he gained advanced management experience from Japanese experts. When Deng returned to China at the end of 1998, he made the decision to start his own business.
In October 1999, Deng spent RMB 2,000 on renting an 80-square-meter factory building. After buying some standard mold equipment and hiring two or three workers, he started doing business.
He began with component processing. One year later he received a firm order from a manufacturer, and also found a partner who invested RMB 100,000 in his firm. They began designing products according to customer demand, and the small company prospered.
Two Wall Street Journal journalists who came to Yantian Village in 2013 so summarized the successful experience of this small village: it had benefited from low labor costs, easy access to overseas markets, and efficient business leadership. All these advantages transformed Yantian from an obscure rural village to a manufacturing hub with a population of more than 100,000.   
Yantian Village was named a Billion Yuan Village in 1996. Beneficiaries clearly included not just foreign-funded enterprises and local villagers, but also migrant workers, who gained professional training in the international business system. Having left their hometowns for pastures new they went on to start their own businesses. They were the first ones to "wade across the stream by feeling the stones."
In addition to dozens of factories, Yantian now also has a 27-hole golf course. Beyond it on a hill overlooking the village is a memorial hall that houses a bust of Deng Xiaoping, as a reminder of his declaration, "To get rich is glorious."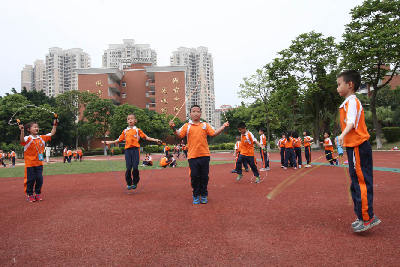 Zhentian Primary – a public school in Yantian. 
Business Opportunities
"Summon courage enough to dare," was the optimistic advice of Liang Xiangchao who, in common with Deng Jihua, is from Hunan Province. Liang struggled to get out of debt to the tune of RMB four million. He is now director of Fujing Robot, which manufactures mechanical arms for injection molding machines.
"During the worst times I dreaded having to meet with my creditors," Liang recalled, grateful to have survived his personal financial disaster.
Liang has a technical background and entrepreneurial experience similar to Deng's. He is however more open and proactive, and relishes brand new opportunities. Frustrations and failures in his years of trying to run enterprises have gained him experience. He attributes his difficulties to no business training or guidance from a seasoned professional in the world of commerce. He is now convinced that modern management and staff training are essential. He says he feels in his bones the fundamental socialistic desire to achieve common prosperity.
At times of fierce industry competition, Liang has spent RMB one million on worker training from his own pocket, and even paid his staff overtime to attend classes.
Unaware of the necessities of cost control, Liang did not accumulate sufficient production capital to achieve optimal robot development. However, his focus on professional training and reliable technology interested a Guangzhou investment company to the extent that it became Liang's partner and injected capital into his company. It has a 55 percent shareholding and is responsible for financing and management. Liang has a 43 percent shareholding and provides the technical platform for robot production. The remaining two percent went to Liang's colleagues, who helped him out when he was running on empty. The capital infusion yanked Liang's company back from the verge of collapse. It at the same time compensated for the non-inclusion of foreign-funded enterprises in its professional training and absence of standardized management in the capacity-building process.
In 2014, the Dongguan municipal government published the No.1 document entitled "Several Opinions on Further Support of the Development of the Real Economy." It proposed that funding enterprises switch from manual laborers to robot production lines to raise the level of industrial automation. It also encouraged labor-intensive enterprises to update traditional industry through use of mechanical arms, automatic facilities and intelligent assembly line techniques. Liang acknowledges that his company has benefited from the industry transformation and upgrading trend.
Nowadays, Liang is engrossed in the study of such subjects as management, sales and interpersonal communications, psychology, and philosophy. He buys books on these subjects at the airport each time he goes away on business. In his view, "If they hope to become qualified managers, competent salesmen must be skilled at marketing, and know how best to communicate with government officials, peers, suppliers, customers, and technicians." Liang now plans to set up an online retail platform. He is full of vitality and eagerness to learn since the rebirth of his enterprise.
Opportunities open doors not only to medium-sized and small enterprises like Liang's. The Dongguan Shinano Motor Co. in Yantian has a workforce of 4,000. CEO Hideo Aoyagi told the reporter that, despite global economic turmoil, salaries have risen 40 percent since 2007. He has also perceived new business opportunities by virtue of anti-corruption, environmental protection, and industrial transformation and upgrading policies; also the Belt and Road Initiatives the Chinese government has proposed. The surging development of Chinese high-speed railways, city-rail-transit and private cars have already provided a broader market for the company's motor products.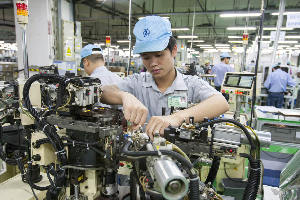 Assembly line workers at the Japanese-funded Dongguan Shinano Motor Co. in Yantian.
Integration into Yantian
Liang admits that, born to a rural family, he has internalized his parents' conservatism, and so hopes to settle in his hometown. Despite earning a considerable income, he has not bought any property in Yantian Village, but has built a villa in his hometown. "But this doesn't affect my child's schooling, as we still have the option of sending her to a private school here in Yantian. The New Century School, for example, provides general education from kindergarten to high school, and has clearly specified tuition fees."
With a perfect medical insurance and educational system, Yantian Village maintains both public and private hospitals and schools, so guaranteeing national medical treatment and inclusive education. Gan Yunhu and his wife, who moved from their Jiangxi Province hometown in 1994, have successfully applied for residence permits, bought an apartment, and are covered by local social security. In 2011, they became the first registered residents to settle in Yantian Village through the point accumulation policy. Gan's daughter is now a first grade student at a public senior middle school. She hopes eventually to study at Zhongshan University in Guangdong Province. 
Owing to his education background, Deng seems more far-sighted as regards education. He bought a house in Shenzhen's Longgang District, close to Yantian Village. His children study at Shenzhen public schools, and he drives to work every day in less than 20 minutes.
In Yantian Village, anyone with wisdom, competency, and ambition can discover opportunities and become enriched. With the benefit of sound educational resources, the second-generation migrant workers are genuinely integrating into this convivial village, adding to it even more vitality and maintaining their ancestors' pursuit of dreams.  
Services