The Green Desert Entrepreneur
By staff reporter ZHOU LIN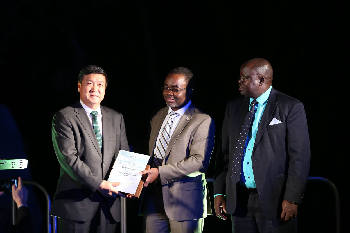 Wang Wenbiao proudly displays the Global Dryland Champion Award from the UNCCD in recognition of his company's achievements.
SOMETIMES I cannot believe that I've been engaged in Kubuqi's desertification control for 27 years," Wang Wenbiao, president of Elion Resources Group, told some 300 participants at the fifth Kubuqi International Desert Forum in July. Wang, who was born in Kubuqi, frequently got lost as a boy whenever there were sandstorms in the Inner Mongolian desert.
Through the joint efforts of Elion, local farmers and herdsmen, the once barren land has become home to eight oases, and 11,000 sq km of it is under desertification control. Monique Barbut, executive secretary of the United Nations Convention to Combat Desertification, calls it "the miracle of Kubuqi."
Desertification Control
The 18,600 sq km Kubuqi, China's seventh largest desert, is located to the north of Inner Mongolia's Ordos Plateau. Situated 800 km away from Beijing, it used to be among the top three sources of sandstorms that would blow into the Chinese capital. When Wang was a child, sandstorms were common in Kubuqi, and resulted in isolation, poverty and hunger. Controlling desertification was the only way people could survive.
In 1988, the then 28-year-old Wang was given an important mission: to manage the near-bankrupt saltworks in the hinterlands of Kubuqi. Since the salt mine was in the middle of the desert, vehicles needed to travel 350 km to ship the salt out – though a straight path would only have necessitated a 60 km drive. To increase the mine's profits, Wang spearheaded the construction of a highway that ran through the desert. But high winds quickly covered up the new road.
Knowing that the road was their lifeline, Wang and his colleagues began working on desertification control. Without much experience in the project, they tried every possible method, from grid cultivation to bottled planting to trickle irrigation. Today, Wang is convinced that the key to Elion's successful desertification control was innovation.
His company cultivated at least 1,000 types of cold- and drought-resistant and saline-alkaline-tolerant seeds, making Kubuqi the largest genetic resource center for desert shrubs and endangered plants in Northwest China. "We've also independently come up with over 100 planting methods involving biologic sand consolidation," Wang said, "such as planting desert willow through a 20-second airflow method, which has a survival rate of at least 90 percent."
Kubuqi now boasts of oases totaling 6,000 sq km. In the past 27 years, sand-dust weather has been reduced by 95 percent and precipitation has increased six times. A 10-fold increase has also been seen in the variety of organisms, such as swans, hares, desert poplar and a hundred wild plants and animals that for years were endangered.
The first desert highway built by Wang and his team is still in use. From 65 km, it now stretches 500 km, after four more highways were added to it. Elion's desertification control efforts, Wang said, have gone beyond the original intention to "protect the road"; it has turned into a drive toward development.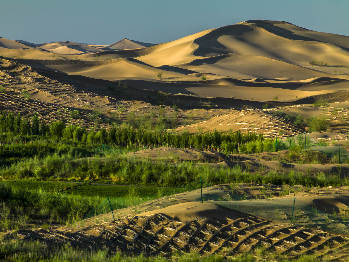 The green advance over Kubuqi's golden desert.
Make Use of Sand
At the same time that Elion is working on controlling desertification and utilizing sand, it is also intent on promoting business and ecology, Wang said. As an old Chinese saying goes, those living on a mountain live off it and make use of local resources. Since it's sand that is abundant in the desert, how to utilize it has been Wang's biggest concern.
Wang and his people have spent close to 30 years developing ecological industries involving health care, animal husbandry and tourism. In the desert, they planted 140,000 hectares of licorice, 20,000 hectares of cistanche, and developed medications such as compound licorice tablets. The company has employed organic fodder and livestock breeding based on the high-protein psammophytes, a local resource.
Elion has carried out ecotourism projects, such as horse racing, ecological sports and star gazing, which attracts about 200,000 tourists annually. It is now promoting water-saving agriculture by adopting world-leading technologies.
The company is also helping to improve local lives. In the past, farmers and herdsmen led nomadic lifestyles and lived at the mercy of the elements. Today, some of them sublease idle land to companies or become their shareholders. Others contract desert land for planting trees, grass and medicinal materials, while the rest work at local businesses or go into tourism-related fields.
As a result, at least 100,000 local residents have risen above the poverty line and have moved from their thatched cottages into residential buildings.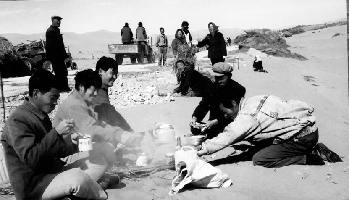 Lunch onsite during the early period of desertification control.
The Transformation
Desertification control, what Wang calls "green land," is Elion's main business. Another priority is developing green energy.
In the hinterlands of the Kubuqi Desert, the group's 100 Megawatts-peak photovoltaic generation project has entered the main grid. It has a generating capacity of 650,000 kilowatt-hours and desertification control over 300 hectares. Under large photovoltaic panels, grass grows abundantly thanks to the moderate temperature and low evaporation rate. Flocks of sheep gather under the panels to graze, a reversal of the most common image people have of a desert.
"This integrates desertification control, seeding, breeding and electricity generation," Wang said. Every square meter of photovoltaic panel controls about six sq m of desert, which provides local employment in an integrated industrial chain of green energy, he added. After the completion of a new 1,000 Megawatts-peak photovoltaic generation farm, the annual energy output is expected to reach 1.5 billion kilowatt-hours, which will control 3,000 hectares of desert and benefit the lives of 10,000 people.
Solar thermal energy ranks second in Wang's green energy plan. "Solar thermal energy has been around for more than 40 years, but the market in China is still small," he said. Kubuqi, Gansu and Hebei provinces will be included in Elion's plans to implement the project.
Another part of the green energy plan is haze control. The company owns patented technology on the utilization of clean coal. By introducing aviation eddy technology, Elion achieved the efficient pulverization of processed fine coal. With its low coal consumption and emission, as well as high-heat availability and optimal performance, the technology has already been applied in places such as Tianjin, and Hebei and Shandong provinces.
Elion's transformation actually started in 2011, said Wang. That year they moved the management headquarters to Beijing, promoting the company's transformation based on the capital's superior talent, information, technology and finance.
Last March, Elion launched the Green Silk Road Private Equity Fund, the world's first private equity on improving the ecological environment in the Silk Road Economic Belt and developing solar energy. With an expected funding of RMB 500 million, the equity fund aims to afforest desert along the Silk Road Economic Belt through investments in ecological energy industries. Wang calls this "green financing."
During the Desert Forum in July, Elion signed contracts with Huawei Technologies and the CP Group respectively, expecting to apply Internet technologies to the group's green initiatives. Green land, green energy, green finance and the Internet is another step in the company's present-day innovation.
Services