Régis Lansade: Falling in Love with China
IN mid-March, Régis Lansade met his Chinese readers in a Beijing comic book store specializing in stories about Western heroes. Meanwhile, the Chinese edition of Les Ignorants: Récit d'une Initiation Croisée [When a Comic Book Author Encounters a Wine Maker] by Étienne Davodeau, based on Lansade's life-story, had recently been published by China's Hinabook Company in late 2016.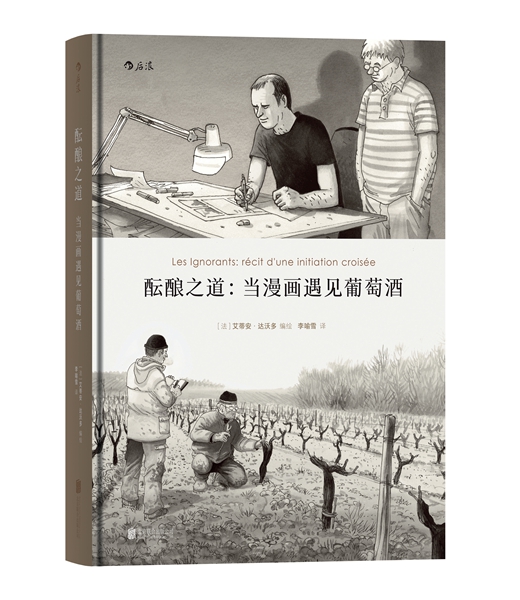 Régis said he had read a French translation of The Analects of Confucius and understood no Chinese apart from three simple words: nihao (hello), xiexie (thank you) and Xi Dada (a nickname for President Xi Jinping meaning "Uncle Xi").
From Combat Medic to Winemaker
Régis is good-natured, full of witty banter. He joked that his current image is no comparison with the younger him in pictures from Le Photographe (2016) [The Photographer] – now he is old and fat, minus his luxuriant moustache and hair.
In 1986, he went to Afghanistan as a member of MSF (Médecins Sans Frontières, Doctors without Borders). He was an anesthetist in a medical team operating in combat areas. MSF is a neutral humanitarian organization that treats the wounded, rescues the dying, and provides assistance to those without access to medical help in developing countries.
Didier Lefèvre, a French photographer, accompanied Régis on this tour. They had to cross 15 mountains on the way north from Pakistan in order to reach the war zone in Afghanistan. Didier used 100 rolls of films and took almost 5,000 photos to record their experiences. Twenty years later, French comic artist Emmanuel Guibert retold this heart-stopping experience using cartoons and photographs, the result being his highly realistic graphic novel Le Photographe.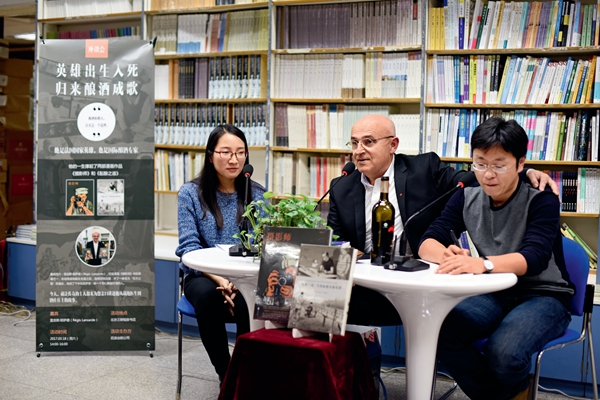 Régis's at the book launch of the Chinese edition of Les Ignorants: Récit d'une Initiation Croisée.
Régis was amused to appear in a comic book. He pointed out that comic book characters are usually either dead or imaginary, so for him, becoming a cartoon character was quite surreal. In the book, when asked about his plans for retirement, Régis said when he stopped being a doctor, he might consider becoming a winemaker.
After his tour in Afghanistan ended, Régis went back to France and really did buy a winery with the help of some of his colleagues. Their winery is in Bergerac, in southwest Bordeaux, the famous wine region, and it is called Les Chemins de l'Orient (Roads of the East). "The East" refers to Afghanistan.
From Bordeaux to Ningxia
If Le Photographe tells one chapter of Régis's life, then Les Ignorants: Récit d'une Initiation Croisée tells another. At heart, Régis is a person who refuses to be labeled.
Why decide to become a winemaker? Régis's answer is quite sincere: "Making wine and healing patients are actually the same. As a doctor, your job is to heal your patients' body and soul; while as a winemaker, you can also soothe the body and heart with your wine."
Régis likes to keep busy and enjoys a change. After 15 years of managing the winery, he sold it without hesitation.
In August 2016, he came to China as a consultant for French winemaker Clovitis, and worked as executive winemaker for Ningxia's Holansoul Company. This was the first time he had ever come to China. Ningxia greeted him like an old friend, as the "mountains in Ningxia look exactly like those back in Afghanistan." When he saw that mountainous landscape, it was love at first sight.
About 2,000 years ago, the techniques of grape planting and winemaking were introduced to China via the ancient Silk Road to Xinjiang, Gansu, Ningxia and Shaanxi (all in the northwest part of China). Régis found that Chinese wine is improving in leaps and bounds.
When strolling in the vineyards of Ningxia, Régis felt a great connection with the wonderful land and the winemakers there. "People from China's west are simple and kind," he said, and that was why he felt so at ease there.
"I have long been yearning to go to China"
Forty years ago, Régis read the first book he had ever encountered about China: Quand la Chine s'éveillera ... le Monde Tremblera [When China Rises, The World Will Tremble] by Alian Peyrefitte. He said he had wanted to come to China for years, and stood in awe of this ancient country. Now he is here, he is "not at all surprised" at China's rapid development.
He loves Chinese culture. The Analects of Confucius got him thinking and the nickname Xi Dada is such a good one. "This is a good one, why not give one copy to Xi Dada?" he joked, showing me his new book.
Régis first heard the guqin (a traditional Chinese musical instrument) played by a Chinese friend's wife. The next day he asked one of his Chinese colleagues to take him to a guqin studio in the 798 Art District in Beijing so that he could enjoy hearing it again. He was curious and asked the player a lot of questions about how to make and play the guqin.
Once Régis borrowed a trishaw from a local near Ningxia Airport. He was quick to notice Chinese people's efforts to protect the environment as he saw the ubiquitous e-bikes and bike-sharing programs, though the latter are facing management problems. "The problems are temporary and can definitely be solved with time."
Régis dislikes living in hotels. He stays at his Chinese friends' homes when he visits Beijing. Once he went out to an event that finished too late, and forgot the key to his friend's home. Not wanting to bother his friend, he went instead to another Chinese friend's place and slept on the floor.
Later he emailed the author of Le Photographe and told him to "come to China! It's comfy to crash on the floor!"
In his eyes, people in Beijing are "always in a rush." He said: "Nothing is worrying, there are only worried people."
ZHOU JIN is a reporter of China Pictorial.
Services