Livable Smart City or Megacity Best Avoided? – Beijing's Vision for a New Greater Capital Zone
By staff reporter VERENA MENZEL
FOREIGNERS are avoiding China because of its poor air quality, low salaries and high cost of living," declared the German television news service Tagesschau earlier this year. The program also claimed that German employers are finding it increasingly difficult to persuade German employees to work in China and are having difficulty retaining staff already working in the country, whether for private or public companies.
Unsurprisingly, during the last few months, the Chinese capital, Beijing, repeatedly made headlines due to its severe air pollution, crowded subway network, and gridlocked ring roads. Pictures of people wearing masks next to a sea of commuting vehicles have left a firm imprint on the minds of Westerners.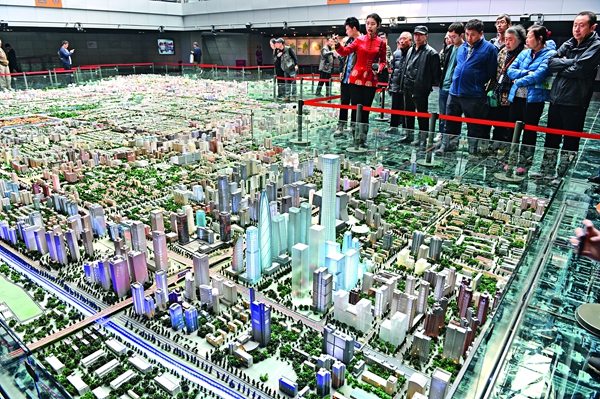 A model in Beijing Planning Exhibition Hall illustrates local urban planning.
However, is life in China's capital really so bad? What about life in cities within the capital zone? It was announced in early April that a new high-level special economic zone will be built right on Beijing's doorstep – what are its prospects? Will Beijing end up with a tongue-twister for a name, like "Jing-Jin-Ji"?
Common Problems for Megacities
I talked to Peter Tichauer, an old China-hand, born in 1960. He first came to Beijing in the mid-80s to study Chinese, and settled there in 2006. He is currently editor-in-chief of China Contact. This economic magazine, with a focus on China, is published in German. Peter helped start this magazine 21 years ago.
"I won't go anywhere else," said Peter, who voluntarily became a Beijing resident. He first came to Beijing in 1984, at a time when you could still run into sheep on streets. The Third Ring Road was under construction and beyond that was just villages. Perhaps this scene now exists only in the memories of old Beijingers. The ancient city has since developed into a thriving metropolis, and Beijing struggles with the same problems as other densely populated cities.
Peter Tichauer told me he would never return to his native country, not his hometown Berlin or anywhere else in Germany or Europe. Could this be true? I believed him, in spite of the poor air quality that sometimes dampens the spirits of those who love China.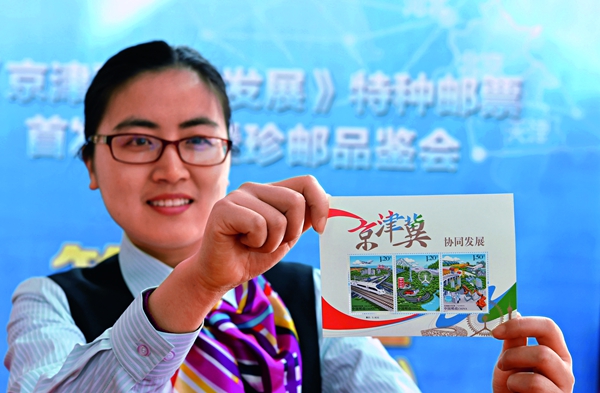 Stamps on the theme of the coordinated development of the Beijing-Tianjin-Hebei region are
released in Shijiazhuang, Hebei Province on March 9, 2017.
"Air pollution is a problem, but with the help of modern technology I think we are more sensitive to this topic," said the former lithographer-turned Chinese scholar and expert on Asian issues. "In the last year or two, we periodically experienced a deterioration in air quality for a couple of weeks in Beijing. No doubt people feel low when this happens. However, we can't ignore what China is doing to improve air quality. The overall air quality has really improved over the last two years. Compared with several years ago, Beijing and the surrounding areas have seen a dramatic increase in greenery. These environmental problems cannot be solved overnight though. I am sure the Chinese government considers this problem of great importance. Over the last few decades, other industrial countries also had to combat serious pollution. I remember in the 1970s – I was in middle school then – it was reported that oxygen vending machines had been installed on the streets of Tokyo, but now Tokyo is very clean."
Peter Tichauer sees no sense in pointing the finger at China. "People should not forget that we Westerners are partly to blame for the deterioration in air quality," he pointed out. "Western companies set up factories in China when the country first began to open up and they enjoyed favorable policies."
One reason for the deterioration in air quality is that Beijing has very rapidly developed into a megacity over the last decade. If we include the surrounding areas, a total of 16,807 square km (an area slightly larger than the state of Schleswig-Holstein in Germany), the city has a population of 21.5 million (according to statistics in March 2016), which is equivalent to almost a quarter of the total population of Germany. Beijing residents come from all over China as well as many different nationalities.
It is a huge task providing such a large population with electricity, water, food, jobs and services. The average annual rainfall in the barren mountainous areas of northern China is only 578 ml, 62 percent of which occurs in July and August, leaving the rest of the year quite dry. Sandstorms from the deserts in Inner Mongolia strike every few years, engulfing glamorous high-rise buildings in apocalyptic dust clouds.
The expanding scale of China's megacities has risen above humans and nature. How can the problem of overcrowding be addressed and a more balanced development achieved?
In Search of a More Balanced Development
The Chinese government has lost no time in its search for solutions and has turned to urbanization as part of a more balanced development. In terms of the capital zone, the government strives to produce visible results and functional differentiation. In the future, large numbers of people will not be allowed to flock to the capital but instead will be scattered around the coastal metropolis Tianjin and various regions of Hebei Province encircling Beijing and Tianjin. The building of a new metropolis area called "Jing-Jin-Ji" is planned using this urban model. Jing and Jin are characters taken from Beijing and Tianjin, while Ji is another name for Hebei Province.
"The main aim here is not what some foreign media reports are saying, which is to build a new megacity with an unpronounceable name – the actual plan is to build a city cluster, gathering potential with one hand and providing services with the other in order to achieve powerful results," said the German economics journalist. The Chinese government has already implemented this type of strategy in the Pearl River Delta, the Yangtze River Delta, the municipality of Chongqing and the surrounding area in Sichuan Province, Southwest China. "The principle is that the different areas can benefit from each other. In the process of constructing a new capital zone, the less developed Hebei Province can expect to gain momentum from the central government's plan."
The three counties under administration of Baoding City, Hebei, are 100 km south of Beijing and will play a key role in the new zone. At the moment these counties are development blind spots. In early April this year, Chinese President Xi Jinping announced plans to establish the Xiongan New Area, a state-level special economic zone. Situated to the southwest of Beijing and Tianjin, it will form one corner of the new golden triangle – Tianjin, Beijing, and Hebei.
But the significance of Xiongan is greater than this. It will become an exemplary model, developing cures for traditional "urban ills" through economic transformation and urbanization. Services like management, education and industry will be shifted from Beijing to the New Area in a bid to aid development.
Does This Mean a"New Shenzhen"?
Chinese leaders and experts have likened the new economic zone to the successful models in Shenzhen of Guangdong and Pudong New District, Shanghai. Will the same economic miracle occur in the environs of Beijing? How will Xiongan New Area improve quality of life in the capital?
Peter Tichauer gave a comparative analysis. "Parallels definitely exist. The plans for Xiongan New Area have gained the same high-level support as Shenzhen and Pudong. But there won't be any mass manufacturing bases in Xiongan like there are in Shenzhen." He went on to say, "A small fishing village at the gateway to Hong Kong rapidly developed into a prosperous densely populated metropolis known as the Factory of the World. As part of this new technological revolution, a new model of smart city, an ultra-modern economic zone, will be developed in Xiongan; an eco-city featuring cutting-edge technology, combining industry with a good environment and high quality of life."
The plans for Xiongan offer a host of opportunities to foreign businesses, including city planning, sewage disposal, environmental protection, environmentally friendly industry and Internet start-ups. These new opportunities will spread from Xiongan to other parts of China.
But will these plans on the drawing board actually be implemented? Will Xiongan New Area manage to cure megacity ills like overpopulation and environmental damage?
In answer to this, Peter Tichauer said: "People should bear in mind that an economic zone is not built overnight. We should adopt a long-term perspective. Xiongan will not develop as rapidly as Shenzhen did."
"In order to integrate the Beijing-Tianjin-Hebei Region," Peter noted, "it is vital to develop city clusters and satellite cities." His evaluation is positive: "The implementation of the strategy will aid development throughout the capital region, benefiting Hebei Province especially."
To relieve traffic congestion and reduce the huge number of commuters, jobs and housing should be provided in satellite cities. The Chinese government has moved the Beijing municipal government headquarters to the suburb of Tongzhou. Whether these measures will actually manage to reduce traffic remains to be seen. This problem also applies when relocating other institutions and jobs to the Xiongan New Area. "Most workers in urban administration departments live downtown, so their commuting problems won't be solved in a short period of time. The problem is just shifted from one place to another," Peter Tichauer remarked. "A key issue for the capital zone is to what extent satellite cities can develop into attractive new residential areas and whether Beijing residents are willing to move to such areas."
Combination of Planning and Natural Development
To closely link new city clusters and make them a model for development, right conditions must be created. Peter Tichauer thinks China is on the right track. "The Chinese government has created favorable conditions for city clusters, with proper infrastructure and intercity railway networks, Park and Ride areas near subway stations for the convenience of commuters, etc. All these form the infrastructure framework. Then other fields should be given space to develop naturally. The city itself must be fresh and alive. It takes time for satellite cities to become vigorous."
"In terms of air quality, Beijing citizens are expected to benefit from the construction of Xiongan New Area, because a number of factories adjacent to the capital will soon be relocated to other areas of Hebei Province. This will both improve Beijing's image and galvanize the economy in less-developed Hebei. People should not think that old industrial facilities are simply being dismantled and re-installed in surrounding areas." This industrial shift will be accompanied by upgrading and stricter environmental controls which will contribute to improving the environment and air quality."
Xiongan New Area will also bring new energy to the capital region in the form of e-commerce. Peter Tichauer thinks that Beijing has overtaken Europe in the areas of digital services, mobile payment and e-commerce. "Not long ago I saw a graph detailing Germany's targets for mobile payments in five years' time. In Beijing, these targets have already been met! We can use mobile payment anywhere in Beijing. Residents can go out without wallets, rent shared bikes, and order meals using mobile apps. Beijing has unlocked the digital future."
"To our excitement, these new ideas are readily accepted in China. People are happy to integrate advanced technology into their daily life. Chinese people are very pragmatic in this respect. These new technologies bring people both fun and convenience." Peter Tichauer, who considers himself a local, thinks that, in view of their flexibility and desire for development, people in Beijing are looking forward to the development of the capital zone and Xiongan. Beijing residents have already felt the vitality of development. The reality of the new megacity will be even better.
Services