The Transformation of China through the Eyes of Robert Carl Cohen
By staff reporter LU RUCAI
WHEN I was first here in 1957, everyone wore what was called the National Uniform, but today we see all sorts of clothing from every possible part of the world; quite a different scene." Fifty-eight years later, Robert Carl Cohen stood once again in Tian'anmen Square, watching the scene unfolding in front of him and feeling the beauty of it all.
In 1957, Cohen, together with 40 other young Americans, spent six weeks in China filming and conducting interviews as a special correspondent for NBC-TV. He was the first American photojournalist ever to film a documentary since the People's Republic of China was founded in 1949. In 2015, 85-year-old Cohen returned to retrace the route he took that year, and found that the China he had seen through his lens had experienced a huge transformation.
A Little-known History
Robert Carl Cohen was born in Philadelphia in 1930. He graduated in 1952 and got his Master of Arts in Film in 1954 from UCLA. In 1956, inspired by an advertising campaign, Cohen, along with many other young Westerners, arrived in Moscow to take part in "The 6th World Democratic Youth Day." On this day, numerous young people, including Cohen, received an invitation from representatives of the All-China Federation for Democratic Youth.
At that time, the U.S. government strongly discouraged American citizens from entering China, but insatiable curiosity led Cohen to make the journey, in spite of the travel ban. Of 180 young Americans who received the invitation, only 41 accepted. Amongst them was Cohen, who went as a special correspondent for NBC-TV.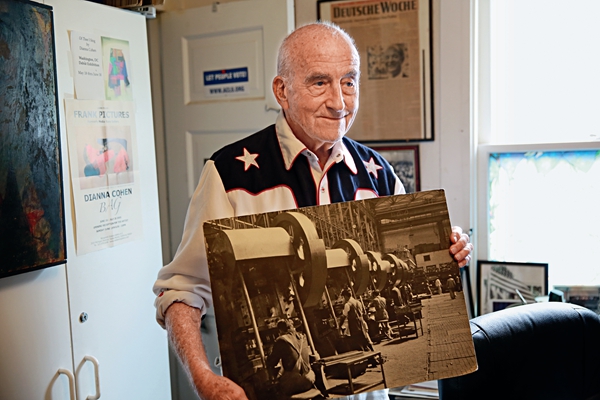 Cohen shows a picture of a factory he took in China decades ago.
"As a special correspondent for NBC, I ran the risk of being put on the U.S. government's blacklist. This would mean I wouldn't be able to enter any government department or state-owned enterprise ever again, not to mention the possibility of being labelled a communist spy," Cohen said. "But being able to film the situation inside China, and allow Americans to see the lives of people there, that was a very rare opportunity." With that, Cohen prepared himself to accept all possible consequences and in August 1957, he travelled from Moscow to China.
Cohen carried with him a 19-mm camera and 11 rolls of black and white film lent to him by NBC. He used this camera to document the American Youth Delegation's travels through eight Chinese cities – Beijing, Dalian, Changchun, Wuhan, Shanghai, Nanjing, Hangzhou, and Guangzhou. He shot 300 hours of source material, and parts of the footage were broadcast on NBC's news program shortly after it was sent back to America, offering a few precious images of distant China to an American audience. Cohen thereby became the first American journalist and filmmaker to be granted permission to film a documentary in the New China.
After returning home, Cohen used this film footage to compile a 50-minute documentary called "Inside Red China." In the following decades, this documentary was shown in over 100 universities, libraries and communities in the U.S. and Canada, and Cohen was invited to give talks at these institutions about his experiences of filming in China.
Cohen later revisited China in 1978 and 1988. With camera in hand, he documented the early years of China's reform and opening-up. Through these visits, China gained a special place in Cohen's heart.
A New Account
In October 2014, Zhang Mingyu, head of the Changchun Broadcasting TV Station, received a rather unusual message on LinkedIn. The message was from an old man in Colorado, who had attached a still from the treasured film he had shot in China over 50 years ago. This old man was Robert Carl Cohen.
"In the course of our correspondence, I learned that as early as 1957, an almost unheard of diplomatic event had taken place between the people of the US and China. An American Youth Delegation of 41 people had visited China, gone to Changchun, and had even taken part in the National Day Ceremony celebrations that year." Zhang Mingyu said that he and Cohen simultaneously came up with the idea of using these rare images to illustrate China's "rocket-like" development. And so, a new documentary was made, entitled Robert Carl Cohen's China Today.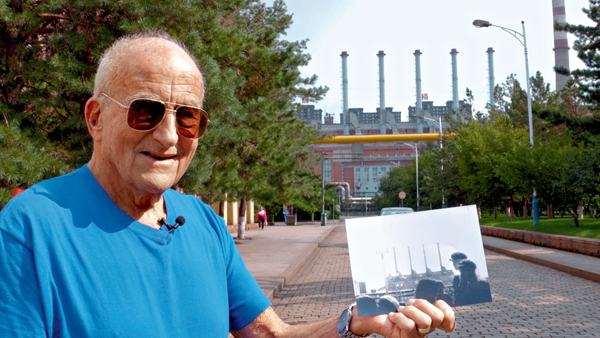 Cohen revisits the FAW Group Corporation, China's leading automobile manufacturer, in Changchun in 2015.
In November 2014, the documentary project was formally given the go-ahead. By May 2015, the production team was on their way to the U.S. to finish interviews and filming in the U.S. On August 22, the China portion of the shoot officially began in Dalian. In addition to the eight cities he had visited previously, this time Cohen also travelled to the Shanhai Pass, Jiayu Pass, Jiuquan City and Shenzhen City, crisscrossing the entire country on a journey of 12,000 km, lasting 70 days, during which he accumulated over 300 hours of film footage.
The TV version of the documentary was split into four episodes, entitled "Development and Problems," "Reform and Revolution," "Life and the Environment," and "Traditions and Modernity." The footage was accompanied by a voiceover, where Cohen described the changes he observed in modern China.
The documentary reflects the huge changes that have occurred in China across the span of half a century, by comparing old and new China, and interviewing scholars and public figures. It also reveals Cohen's own reflections and observations on issues common to both modern China and the rest of the world.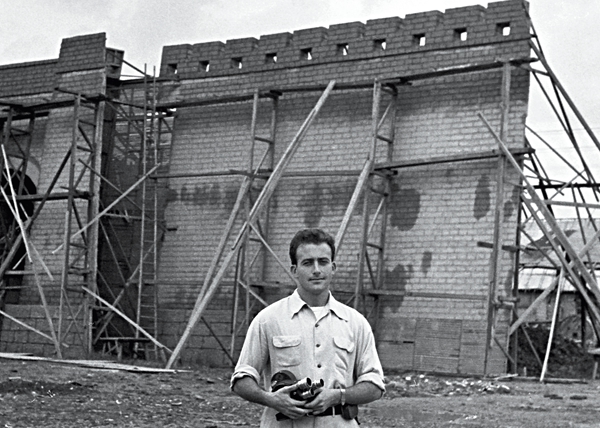 Cohen visited China in 1957 as a special correspondent for NBC-TV.
On seeing the documentary, Yin Aiqun, chairman of Jilin Province's Federation of Literary and Art Circles, said, "The film touches upon various topics, including environmental protection, anti-corruption, traditional festivals, the economy, the aging population, and Peking opera. This will allow foreigners to gain a more comprehensive understanding of China, and see its changes from a much more three-dimensional perspective."
A Story of China through the Camera Lens
At the beginning of the documentary, Cohen describes how, as he followed China's rise over the last few years, he always had a little voice whispering in his ear, "go back to China." He wanted to be like the Monkey King in the famous Chinese novel Journey to the West, and have piercing golden eyes that could see straight through China and thoroughly understand it. He laments that China is like a "fairy tale world" undergoing huge changes against all the odds in just a few short years.
Gong Baohua, director of the cultural information department at Jilin Daily, said "when I heard Cohen recount the story of the 'short stay that changed my direction in life,' in reference to the six weeks he spent in China over 50 years ago, quietly repeating 'there was always a little voice that whispered, go back to China' – to be honest, seeing a foreigner with such strong feelings about China, you cannot help but feel deeply moved."
But what the audience found touching was not only these honest expressions of emotion, but also Cohen's thoughts on China's current development and the problems it faces. Cohen witnessed the fast pace of life in the migrant city of Shenzhen and the important role it has played in China's development.
In Shanghai, China's financial center and a cosmopolis, Cohen noticed the clash between rapid economic development and traditional culture. Gazing upon the skyscrapers, Cohen sighs, "Today the enthusiasm for building high rises is greater than at any time in China's long architectural history," but "the city's skyscrapers risk it losing its once distinctive features." Standing in Jinze, a water town on the outskirts of Shanghai, Cohen looked upon yet another scene – due to the severity of the aging population, all the young people here have moved to the big cities for work. Some wealthy Chinese people have started buying the ancient houses here, building private gardens, and restoring these old, historical buildings.
In 1957, Panjiagang near the Suzhou River in Shanghai was a typical slum district. The locals used to throw their garbage directly into the creek, and got their drinking water from it too. In 1957 when he was filming there, the local children surrounded Cohen, and curious of his hairy arms wanted to know if he "was some sort of monkey." But in the same place of today, all the filth and mess seen through the lens 50 years ago is gone. Neat and orderly residential compounds now dominate this area. But most importantly, Cohen said he felt the passion and openness of the Chinese people wherever he went, like the old man exercising in park of the Temple of Heaven in Beijing, who, after hearing Cohen's story, gave him a thumbs-up and said: "You are great."
In the closing scene of the documentary, Cohen says he hopes to return to China on his 100th birthday. At this point, text appears on the screen showing comments from members of the audience saying, "Great idea! Come back when you are 100!"
Services