Cultivating Innovative and Practical Talents
BRITISH scholar Joseph Needham made this famous observation in his book Science and Civilisation in China: "China has made great contributions to technological advancement, but why was modern science born in the West and not in China?" American economist Kenneth Boulding called this the Needham Problem. Its solution relates directly to talent cultivation.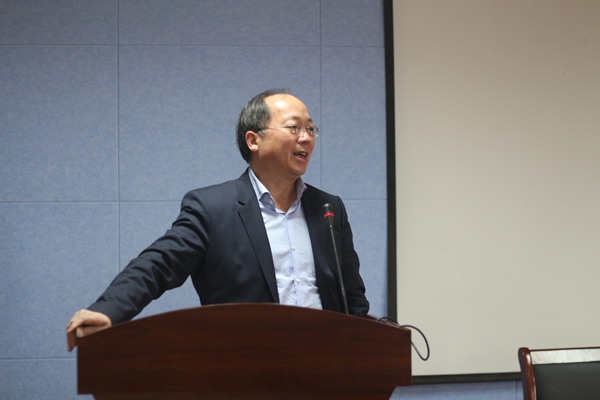 Dean Li Fanzhang gives a speech.
"We have fostered students for many years, yet none of their academic successes match those of the masters cultivated during the Republic of China period," famous scientist Qian Xuesen remarked in 2005 when he met the then premier Wen Jiabao. "Why can't our universities cultivate such outstanding talent?" This was the famous "question of Qian Xuesen." Like the Needham Problem, it expresses concern and high expectations with respect to revitalizing the country by developing science and technology and fostering talent.
Chinese President Xi Jinping also said that China's standing in the world and whether or not it can span the middle-income trap largely depends on its hi-tech innovation capacity."
Talented people are the key to a country's technical innovation, and education fosters talent. As Liang Qichao (1873-1929), a prominent Chinese political reformer, said: "Better education cultivates talented youth, talented youth creates advanced technology, and advanced technology builds a strong country."
What, in the age of Internet Plus and artificial intelligence, is the best way of carrying out innovative education? This question has been widely discussed by education experts worldwide. The road to knowledge has changed from relying on teachers and textbooks to relying on the Internet. Teaching, meanwhile, has evolved into the multiple dimensions of "the teaching faculty, talent cultivation, scientific research, teaching research, social services, and internationalization."
A team led by Dean Li Fanzhang of the School of Computer Science & Technology of Soochow University has carried out proactive exploration and practice of IT talent cultivation. Focusing on the combination of theory and practice, it emphasizes students' creativity while strengthening their practical ability.
Through majors like computer science and technology, software engineering, and network engineering, the school has carried out practical explorations and theoretical research. It includes personalized talent cultivation and innovative teaching resources. It has also set up a cross-discipline integration platform, re-modeled the teachers' professional development mechanism, and expanded international exchanges.
The school has also created a "multidimensional cooperative education" personnel training model. It entails introducing scientific research projects into the classroom, such as inviting members of National Natural Science funded projects to give academic lectures to undergraduates, and setting up platforms for students' research and practice through collaboration with businesses. In the past five years, more than 100 of these academic lectures have taken place, and 15 such university-industry cooperative platforms established, so enhancing undergraduates' academic knowledge and practical capabilities.
After years of exploration and practice, the school has devised a multidimensional theoretical framework of cooperative education encompassing educational principles, collaborative education, and evaluations and methods applicable to training IT talent. The team's achievements were published in December 2016 – Theories and Methods of Multidimensional Cooperative Education.
Since 2011, 30 percent of the school's graduates have gone on to study at such prestigious institutions of higher education as Peking University and Stanford University. The school has also set up a national experimental teaching demonstration center and a national engineering practice education center.
The exploration and practice of "multidimensional cooperative education theory" has the propelled innovation and development of China's higher education.
Services