Innovative, Vital Tong Ren Tang Overseas
TONG Ren Tang, leading producer of traditional Chinese medicines (TCM), has for years promoted its products through a global strategy that has made it a popular brand in such diverse cities as Sydney, Oakland, Dubai, and many others around the globe.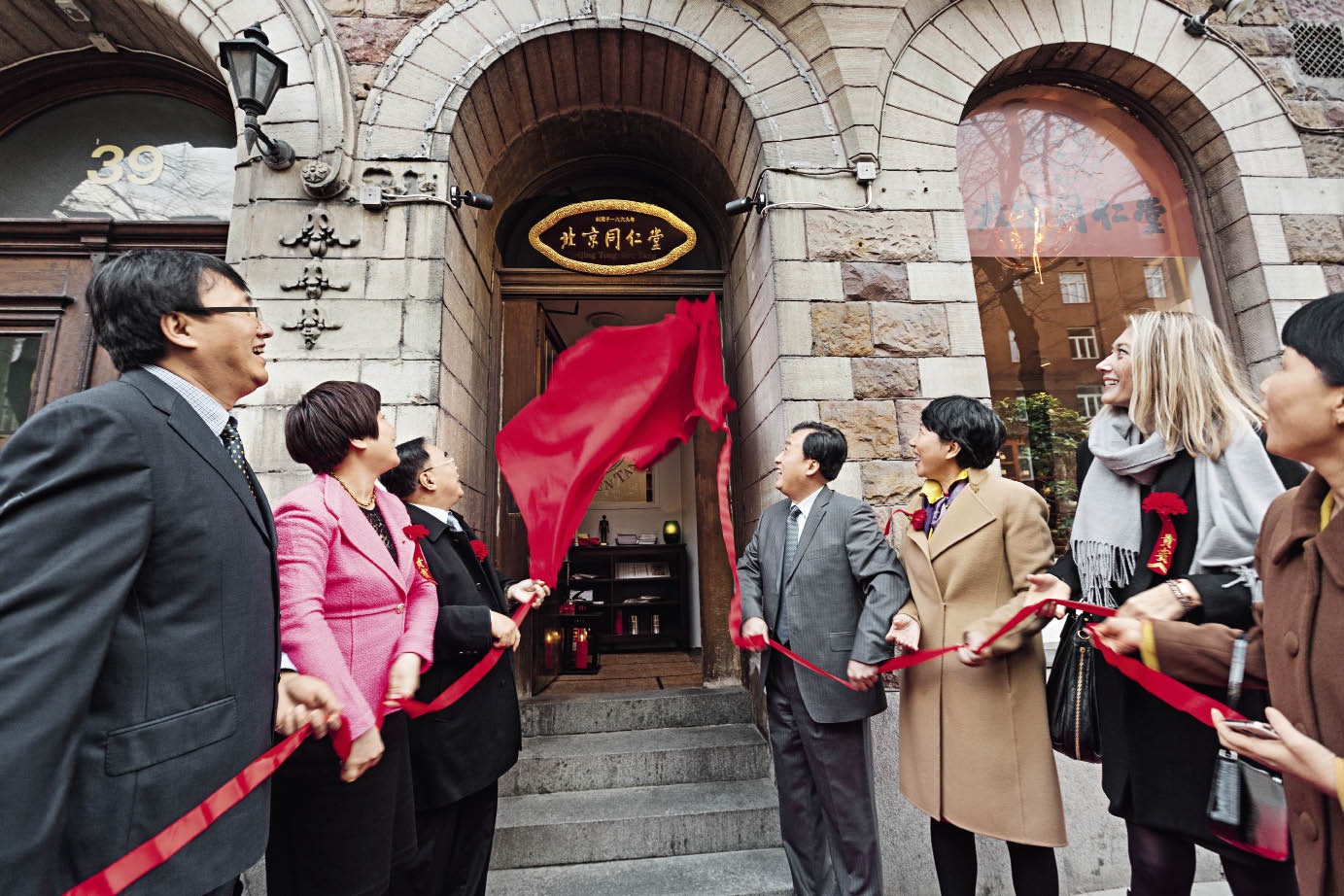 The grand opening in December 2015 of the Tong Ren Tang store in Sweden.
Tong Ren Tang opened its first pharmacy outside China's mainland in 1993 in Hong Kong. From there it expanded to countries throughout the world. The establishment in 2003 of Tong Ren Tang International in Hong Kong marked preliminary fulfillment of the company's goal to cover the market wherever Chinese consumers reside worldwide. A decade later in 2013, Beijing Tong Ren Tang Chinese Medicine Co., Ltd. went public in Hong Kong, so paving the way for the brand to venture into European and U.S. markets.
Spreading Chinese Culture
Developing and spreading TCM culture are key factors of the company's global scheme. The two driving forces have helped Tong Ren Tang establish an overseas development mode that emphasizes its particular characteristics.
Tong Ren Tang pharmacies often play the dual role of both substantive store and culture messenger. TCM culture is displayed on TV programs and bulletins on TCM knowledge and health maintenance in all Tong Ren Tang stores. Customers thus not only experience the amazingly curative effects of acupuncture and massage as applied by the store's trustworthy practitioners, but also have the chance to learn traditional Chinese regimens such as Tai Chi and Baduanjin Qigong. Endeavors to spread its culture that have won outstanding public commendation and have resulted in Tong Ren Tang's global acknowledgement as a premium brand.
Modernized Time-Honored Company
Pharmacy, retail, and health service constitute Tong Ren Tang's overseas business.
In 2006, Beijing Tong Ren Tang Chinese Medicine Co., Ltd. set up its first manufacturing and R&D bases outside China's mainland in Hong Kong. Covering an area of more than 10,000 square meters, it is Hong Kong's largest, top-level TCM factory with the best facilities and equipment. Key products, including angong niuhuang pills (bezoar chest functioning pill) and sporoderm-broken ganoderma lucidum spore powder capsules, have witnessed steadily growing sales since their launch on overseas markets in 2008.
Today, the brand is registered in more than 70 countries and regions. Its production lines have been authenticated by the Hong Kong Department of Health, Japan's Ministry of Health, Labor and Welfare, and the Australian Good Manufacturing Practice of Therapeutic Goods Administration. They also qualify as halal and kosher, so facilitating the "going global" of Tong Ren Tang products.
As of June 2016, Tong Ren Tang had 115 stores, clinics, and health maintenance centers in 25 countries and regions outside China's mainland. Meantime, it has innovated regimen development modes.
TCM practitioners in Tong Ren Tang stores worldwide have treated various complex illnesses and so earned patients' trust. Those treated in Tong Ren Tang overseas branches total an estimated 30 million person-times.
The first vertical cross-border health e-business platform on China www.trt.hk was launched in October 2015. It laid the foundation for this time-honored company's better adaptation to the Internet era.
Foster All-round Development
The company's global strategy can be defined as "stepping out, entering, getting close to locals, and edging into the mainstream market." It starts with internationalization of products, services, and the Tong Ren Tang brand. "Entering," the second step, refers to localization through opening stores that provide quality TCM service. Next come activities to promote TCM culture, including Tai Chi classes and lectures on TCM in efforts to help overseas consumers lead a healthy way of life. The final step is aimed at facilitating approval of TCM in overseas markets at governmental level, advancing TCM legislation, advocating the inclusion of TCM in local health insurance systems, and improving the environment for TCM development.
By virtue of this four-step approach, the company has made outstanding achievements in such markets as Southeast Asia and Australia, so providing experience for its further development.       
Services