Wujin – A Sustainable Development Area along the Yangtze River
CHANGZHOU's Wujin District, in southern Jiangsu Province, is the birthplace of Wu culture, with 5,000 years of human civilization, buildings dating back some 2,700 years, and 2,500 years of written history.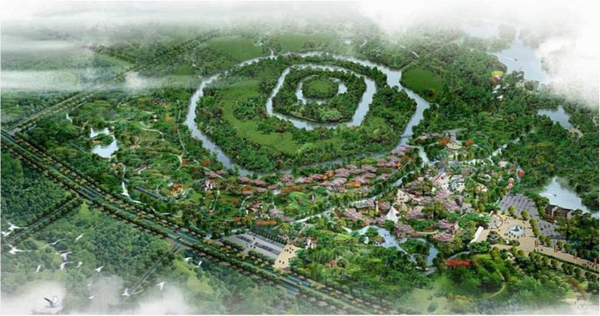 An aerial shot of Yancheng Imperial Palace in Wujin.
But when I drove past Wujin in the early 1990s, I didn't even bother to stop because I saw nothing but farmland and factories on one side and Taihu Lake on the other. I learned later that Wujin was home to the exotic 2,500-year-old Yancheng Imperial Palace (aka Spring and Autumn Flooded City) – the remains of an ancient city from the Spring and Autumn Period and Warring States Period (770-221 BC), with its three concentric moats and walls. And this age-old city has also become China's hope for the future as well.
China's Agenda 21 decided in 1994 that neither humanity nor nature benefited from mega cities – that the future was in small and medium sustainable cities. China's choice of Wujin as its model city (Wujin was a county-level city from 1995 to 2002) of the future was ironic, given that Wujin is right upriver from Shanghai, the world's largest city by population.
A decade later, the ancient palace was still the heart of Wujin, but the formerly foul moats teemed with fish, fowl and wildlife and green coverage had tripled from 11.1 percent in 1997 to 30.25 percent in 2007.
Wujin pays great attention to protecting both its natural and cultural heritage, spending three percent of its GDP on greening its environment, which in turn has boosted the local economy. It is now a major tree producer with 1,500 varieties of trees and flowers. I was told that half a billion U.S dollars in annual expenditure was paid as the salaries to Wujin's 70,000 flower and tree workers.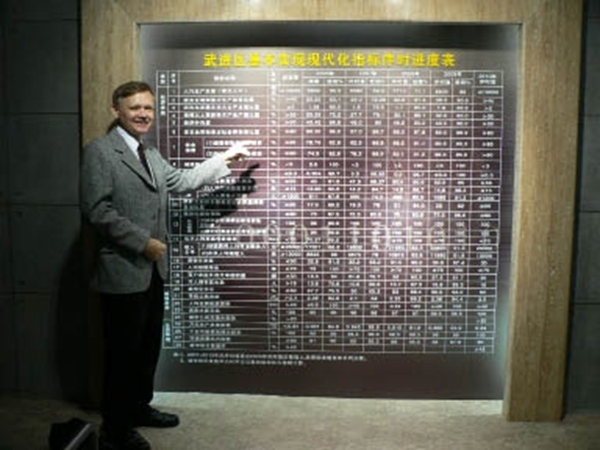 Bill Brown points out an item on the modernization indicators progress chart.
Traveling around China, you may discover that city planning is often of little interest to most people, but when I visited Wujin's 8,000-sq-m Urban Planning Exhibition Hall, it was teeming with groups of students, families and retirees – all enjoying the multimedia exhibits. Wujin residents are proud of their achievements because many changes began with citizens suggestions on the government website. In just three years between 2007 and 2010, for example, locals made over 200 suggestions just for cultural heritage management, including my favorite – the renovation of the Old Town.
Wujin residents are proud of their 143 protected cultural relics, including the Helü City site (built during the State of Wu, 11th century to 473 BC), Bailong (White Dragon) Temple and Dalin Temple, where Bai Juyi (an outstanding poet of the Tang Dynasty who lived between 772 and 846) wrote his evocative poem "Peach Blossom at Dalin Temple." I especially like Wujin's ancient streets, buildings and bridges arching its many rivers, giving the place the feel of an oriental Venice. But like many places around the world, many of Wujin's traditions, arts and crafts were vanishing until locals determined to perpetuate the past with over 20 cultural projects and 30 folk arts and crafts. My personal favorites include dancing dragon lanterns, stilt walking, copper ore carving, steel sheet sculpture, miniature carvings, and the unusual "Liuqing" bamboo carvings that, even with age, have a beautiful variation of light and dark colors.
Wujin also involves everyone, from residents to businesses, in protecting the environment. Recycling is often just a slogan in some cities but it's a way of life in Wujin. People waste almost nothing, recycling virtually everything. What can't be recycled is cleanly burned to create electricity. Wujin produces 46 percent of China's laminated veneer lumber – much of it from recycled straw. With a house made of Wujin strawboards, the three little pigs could have kept out the big bad wolf! Wujin also produces high quality tires from recycled tires, steel from a zinc company's waste materials, and hi-tech new energy products such as wind power equipment and the popular Golden Motors electric bikes.
I was surprised that even as Wujin grew, it reduced both air and water pollution – important for Shanghai, which is downriver. Wujin also reduced its energy use and embraced alternative energy. Government, businesses and homes use solar and wind energy and generate electricity from methane or burning trash.
Wujin leaders once told me that they solve problems not with rules and bans but education and changed lifestyles. All 147 primary and middle schools teach the "Wujin Environmental Education" curriculum. Over 40,000 volunteers of all ages participate in events such as Earth Day, No Car Day and Anti-White Pollution Day. Wujin people also love tree planting. Children plant "Youth Forests," families plant "Harmony Trees," and newlyweds plant "One Heart" trees. I even planted a tree – celebrating Wujin's success in winning the medal at the International Awards for Livable Communities.
Wujin volunteers offer free medical and legal aid and educational programs to disabled and low-income residents, and run community charity supermarkets, perform in community festivals, and help organize annual cultural and sports events. It has been particularly innovative in tackling the global problems of aging population and urbanization. The city has senior citizen activity centers, colleges, health programs, and discounted transportation and social activities. As I have just turned 60 years old, maybe I can move to Wujin when I eventually retire from Xiamen University!
Wujin has tackled urbanization with "Garden Countrysides" – improving rural life and moving jobs from city to countryside. Cities, of course, will always need labor, so Wujin provides migrant workers with medical insurance and educational opportunities as well as residential suburban areas.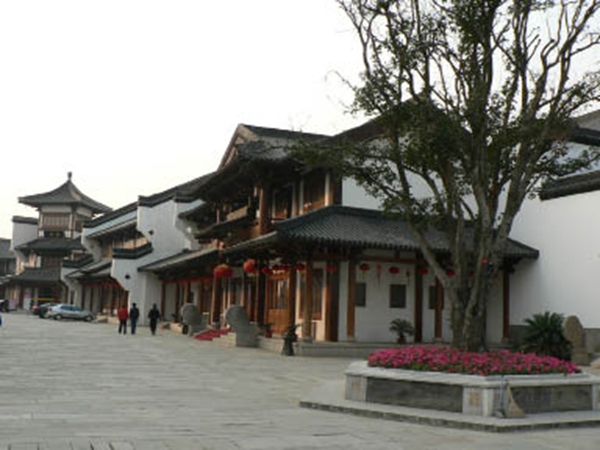 Newly built architectures in Wujin.
Wujin's changes have been remarkable but it has even greater plans for its future, including a West Taihu Lake Ecological Leisure Town, Taihu Bay Holiday Town, and my favorite – the Wujin Science and Education Town which provides research bases and campus for talents from around China, with over 100,000 students at Jiangsu Polytechnic University, Changzhou College of Information Technology, Changzhou Institute of Engineering Techology, Changzhou Textile Garment Institute, and Changzhou Institute of Metal Technology. I wonder whether they might need an MBA professor in the future!
Wujin's miles of bicycle lanes are my favorite as riding bikes are healthy, green and cheap. I told Wujin locals that in Europe and the U.S., even mail deliverers ride bikes. They replied, "Well, in Wujin, even policemen patrol on bicycles." I was also happy to learn that Wujin is China's National Hockey Training Center because I used to play hockey!
Nowadays, if you travel to Wujin, a new landmark – the city planning bureau's Lotus Building will immediately come into sight, which is as distinctive as Sydney's Opera House. The massive, multi-colored "lotus flower" floats amidst a lake and has offices and conference facilities. It is a work of art, beautiful day and night, and a model of futuristic green architecture. The 2,500 geothermal piles beneath the lake's base use lake water to cool in summer and heat in winter. Beautiful, creative and practical – the Lotus Building is just like the people of Wujin!  
DR. BILL BROWN is a professor at the Xiamen University MBA Center and Academic Director of its OneMBA program.
Services