MY first trip from Xiamen to Shenzhen was in 1981, and took an incredible 18 hours. I was then not overly impressed with Shenzhen. Mostly fields and rice paddies with the odd drab concrete building here and there, it had few streetlights, and was almost pitch dark at night.
I still clearly remember how the lady selling bus tickets asked me if I'd like to take the 7 am or 1 pm bus. I chose 7 am so that I'd get there earlier. But when, six hours later, we reached Shantou (500 km from Shenzhen), the man at the bus station said, "You must wait six hours here for the people who left Xiamen at 1 pm, because you'll all take the same bus to Shenzhen."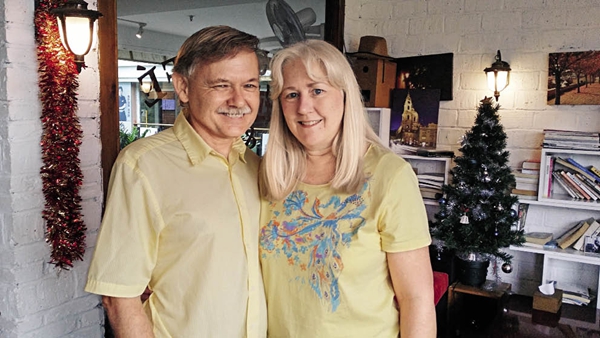 Bill Brown and his wife Sue.
On my second trip, in 1993, I drove myself. It still took 18 hours, and we spent half an hour just getting across the Shenzhen border. The roads in the city were so bad that a truck in front of me flicked a gravel fragment right through my car window.
"I'll never visit Shenzhen again!" I told my wife Sue. But in 1996, Shenzhen opened China's first Walmart and Sue insisted on seeing it. "I'm not driving 18 hours just for you to go shopping," I argued. But in the end we made the trip because I wanted to check out the new store for my business strategy class at the Xiamen University MBA Center.
What a change in only three years! Walmart was, of course, pretty impressive. I'd never seen such a large store in China. But what amazed me most was how much the city had changed. In just one decade, it had transformed from an agricultural community to one of China's most advanced cities.
Shenzhen, like any place in China, has a long history. People have lived in the area for 5,000 years, and during the Han Dynasty (206 BC-AD 220), the area was under imperial protection due to its salt monopoly. For centuries, Shenzhen was a stopping-off point for the famous sea trade between Canton (officially called Guangdong), India, and the Middle East, and Shekou claims to be site of the tomb of the last Song Dynasty (960-1279) emperor. First called Shenzhen in 1410, it was site of the successful battle against the Portuguese in 1521.
In 1980, Shenzhen became one of China's first five Special Economic Zones (SEZ). Like Xiamen SEZ, however, its growth did not really take off until after Deng Xiaoping's southern tour of 1992, when he reminded people of his old maxim, "It doesn't matter if a cat is black or white. If it catches mice, it's a good cat." His point was that people should quit arguing and just do what works – pragmatism that the Chinese have shown for millennia. And nowhere in China is Deng's pragmatism and socialist market economy more evident than in Shenzhen. It is today home to the Shenzhen Stock Exchange and Chinese business giants such as Huawei, the only real competitor to Samsung and Apple. It is hard to believe that 25 years ago it took me three years to get a telephone, yet today China is a leader in mobile phone manufacture, and has more Internet users than any other country in the world.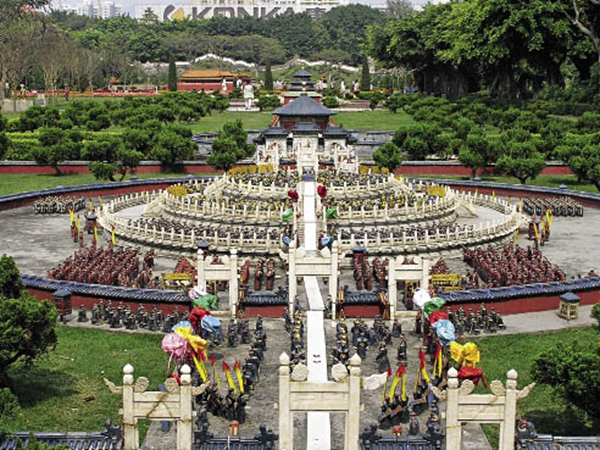 The exquisitely detailed reproduction of the Temple of Heaven in Window of the World.
By the year 2000, Shenzhen had become a fun place to visit (and today, we don't even have to hassle with the border crossing). Not only did I visit to teach XMU MBA courses in Shenzhen, but our entire family enjoyed exploring this growing city which seems even more modern than Hong Kong – but a lot more spacious.
When I told a reporter I moved to China because Chinese food was too expensive in America, I was only half joking. I love Chinese food and Shenzhen is the place to sample all Chinese and foreign cuisines. Almost every Shenzhen resident comes from somewhere else in China or abroad, and all brought their own cuisines with them. Just a short walk from our hotel we could find restaurants serving every kind of Chinese food imaginable, as well as Thai, Vietnamese, Korean, Japanese, French, Italian, Mexican, German, Russian, Turkish – even British fish and chips.
One of my favorite places is the Food Street on Bagua Road. It comprises nine streets of diverse restaurants, some of them open until 2 or 3 am. Another area popular with both locals and foreigners is the Overseas Chinese Town Food Street, in the Huaxia Art Center.
We can not only eat every kind of cuisine in Shenzhen but also visit most of the world's famous landmarks without leaving the city. The 48-hectare Window of the World has 130 exquisitely detailed reproductions of famous international landmarks, including a 1/3 scale model of France's Eiffel Tower and the Palace of Versailles, Germany's Cathedral of Cologne, the Acropolis of Greece, Italy's Coliseum and Leaning Tower of Pisa, Russia's Moscow Kremlin and the Winter Palace of St. Petersburg, India's Taj Majal, Egypt's pyramids, the U.K.'s Stonehenge and Buckingham Palace, America's Mount Rushmore, White House and Statue of Liberty, and many more.
We can also visit all of China in one day at the Splendid China and Chinese Folk Culture Village. The folk culture village reminds me of the people I met during my 40,000 km drive around China in 1994 – but it doesn't take three months to see it all!
The village stages dramas, dances and comedy shows throughout the day, as well as several cultural festivals of the Dai, Miao, Mongolian ethnic minorities, including the Dai's famous water splashing festival.
I also like Shenzhen Museum, which has over 20,000 relics, among which some have been proven to be more than 100 million years old, according to scientific records. The Ancient Shenzhen Exhibition is a trip through time from the Neolithic Age to the Qing Dynasty (1644-1911). But my favorite is the Shenzhen Folk Culture Exhibition, which showcases traditional Cantonese and Hakka culture. Of course, if you really want to know Hakka culture, visit the UNESCO-protected Hakka round houses in Fujian Province (I've visited over 30 times and am finishing a book on them).
In 1989, I'd never have guessed that the backwater city of Shenzhen would become such a vibrant, futuristic city with a rich culture and a large community of people from all over the world. No wonder it's now one of my favorite towns.
Best of all, it is no longer a bumpy, 18 hour stop-and-go drive from Xiamen, but a smooth glide on a four-hour bullet train. One of these days, I might just hop the train to Shenzhen for lunch and return home to Xiamen for supper!  
DR. BILL BROWN is a professor at the Xiamen University MBA Center and Academic Director of its OneMBA program.