The Value of Our Land: Humanity's Roots
By staff reporter LIU YI
Jeff Herrick shows the LandKPS app that his research team developed to help farmers share their experience and find solutions.
DR. Jeffrey E. Herrick, the lead author of UNEP's first report on land evaluation, "Unlocking the Sustainable Potential of Land Resources," was present at the global launch of the report in Beijing last June. Herrick works at the Agricultural Research Service of the United States Department of Agriculture (USDA), and serves as member of UNEP's International Resource panel (IRP). As the pressure on land resources everywhere continues to mount, Dr. Herrick is calling on people to become better acquainted with their land, so to tap its unique potential and achieve high, long-term productivity.
"Two pieces of land, even when adjacent, can have entirely different potentials," Herrick said. His deep understanding of the diverse characteristics of land and soils originates in a three-month backpacking trip through China nearly 30 years ago.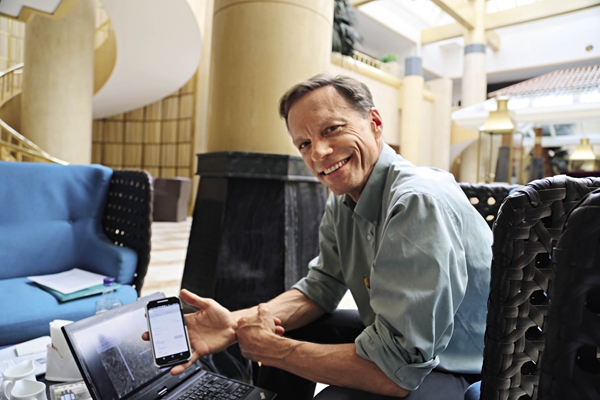 Jeff Herrick shows the LandKPS app that his research team developed to help farmers share their experience and find solutions.
In 1987, Herrick was a Fulbright Fellowship graduate student in New Zealand majoring in agronomy. After finishing his studies in New Zealand, he decided to take a global trip culminating in China. Having at that time only recently opened to the world, China was then still a traditional agricultural country at the pre-industrial stage.
 Herrick and his traveling companion started their trans-China trip in Shenyang City, a key agricultural base in Northeast China. He took a hard seat on a train pulled by steam locomotive – the only long-distance transportation mode available then – heading south to the capital Beijing. He then went east to Shanghai, in the Yangtze River estuary of the East China Sea, and sailed up the Yangtze by steamship to Chengdu, in the fertile southwest plain. From there Herrick took the train northwest to Lanzhou and Golmud, oasis cities in the northwest deserts, and shortly after set out on the two-day bumpy bus journey southwest to Tibet. He eventually left China from Guangzhou in South China.  
The huge contrasts among regions impressed the young Herrick even more than the differences between North America and East Asia.
Assess the Land's Potential
"Farmers of course know the lands they are working on, but the land itself keeps changing," Herrick said. Land loses nutrients from excessive planting, and suffers incessant water and wind erosion. It is also threatened by chemical contaminants, and induration, or hardening due to urbanization, and extreme weather as a result of climate change.
Therefore, timely evaluations of areas of land in a comprehensive way are necessary to determine their most appropriate use, and thus increase productivity. This is the intention behind the draft of UNEP's new report, Unlocking the Sustainable Potential of Land Resources, for which Herrick served as lead author. "When talking about improving productivity, people think of buying better seeds and better fertilizers," he said. "However, the land itself, its characteristics and potential, are neglected, when they in fact constitute the very foundation necessary for sustainable agricultural development."
Today, two land evaluation systems are widely used throughout the world: the USDA's Land Capability Classification system (LCC) and the FAO Agroecological Zoning system (AEZ). The former focuses on land degradation management, and the latter on how to increase output. Herrick, however, advocates a more holistic evaluation framework that raises more specific targets.
"The potential of a piece of land is determined by three elements: soil, topography, and climate," Herrick said. "The combination of all three decides what we can plant on the land, and how." He holds that land evaluation should take into consideration as many essential factors as possible in assessing the soil's characteristics. It can then help farmers match their use of land with its potential, and thus maximize farming efficiency.
Herrick raised the example of a piece of land in Mexico. The slopes were planted with maize while the flat lands beneath them were given to pasture. On some slope areas subsoil was exposed, while the flat land, covered by thick forage grass, was in good condition. Herrick surmised that as the slopes are more vulnerable to water and wind erosion, the soil on their surface gets washed down to the flat land. If famers were aware of such changes in their lands they might reconsider its use, for example, by planting grass on slopes and maize on flat land. An action as straight forward as trading uses could thus bring a win-win result: increased maize output and restoration of slope topsoil.
Farmers Help Each Other
However, this ostensibly "simple" trading theory is not that easy to put into practice. "Slopes and flat land might be owned by different people, who might have different needs," Herrick said. "It's easy to follow scientists' recommendations, but if they fail, farmers will starve, while to scientists it's just another experiment that they can try again."
This could explain why a blizzard of land evaluation data carried out by the current two systems has been shelved rather than put to use. For farmers, scientists are often considered to be outsiders who arrive and start tinkering with equipment, on the strength of which they start giving orders, and so their advice may not be adopted.
Herrick and his colleagues are developing a solution: let farmers help themselves and each other. He is now head of the team that is developing the Global Land-Potential Knowledge System (LandPKS). Its aim is to connect farmers via smart phone, so making a scientific database as well as one another's experience accessible to all.
The system's app is available at Google Play, and will be in the Apple Store soon. Upon opening the app, the system automatically positions the users' location and in the near future will extracts soil maps and weather data from the server's database. At the same time, users are asked various questions about the local soil, including environment, shapes and forms of slopes, stoniness, vegetation coverage, grazing, etc. Each question has multiple options that appear as images or videos. Farmers can therefore make the right choice even with no knowledge of the relevant scientific terminology.
The system synthesizes all the information, assesses potential productivity, and eventually identifies management options that help farmers to make appropriate decisions.
Meanwhile, the system informs farmers what has happened in other parts of the world, especially those with similar conditions. "The problems of a farmer in Lanzhou might have been solved in northern Namibia," Herrick said. If a farmer has successfully adopted innovative ways of using his land, others can be inspired by such new ideas, so reducing the costs of trial and error.
The system has so far been used in many countries including the U.S., Kenya, Argentina, Namibia. Herrick is also discussing with Chinese colleges the localization as soon as possible of this app. "I know there are many ecological farms in southeast China where the land is used very efficiently and nutrients are recycled," the soil scientist said. "All land management innovations are worth learning."
Knowledge Sharing
Herrick has found in his 30 years of investigations throughout the world that many environmental issues are by no means unique. Problems can be solved sooner, or even prevented, through sharing knowledge and cooperation. An obvious example is that of sandstorms in North China over the past decade. As early as the 1930s, the U.S. suffered from the "dust bowl" in the central plains that brought crop failure, environmental disaster, and social dislocation. Years of degradation management, including fallowing and planting trees, finally banished the nightmare.
In recent years, Chinese people have become more aware of soil pollution. In 2013, the first 10-year soil pollution investigation concluded. It revealed that as many as 200,000 square kilometers of farmlands, or one fifth of the total, were contaminated. Earlier this year, the Environmental Protection Ministry set up a special department to supervise soil management. On May 31, the State Council issued the Action Plan on Soil Pollution Prevention and Control, the first ever in China on soil issues.
"It reminds me of the U.S. in the 1960s and 1970s," Herrick said. "Americans became more concerned about environmental issues after the publication of Silent Spring. The federal government subsequently established the Environmental Protection Agency, and a batch of laws was formulated."
Though there are no specific laws on soil, those on pollutant management are stringent. Both companies and individuals must exercise extreme care in their handling of solid wastes, chemicals, and heavy metals, on pain of serious penalties. The Clean Water Act, effective in the 1960s, also encompasses soil problems, as soil pollution directly influences water quality. The U.S. government also requires that owners of "highly erodible land" take action to restore the land as a prerequisite to qualifying for certain government programs and "crop insurance." These laws and measures contributed to an impressive 40 percent reduction of soil erosion between 1982 and 2007 of U.S. croplands.
Herrick believes that growing awareness of soil issues, along with the recently released action plan on soil pollution prevention, provides huge scope for cooperation between China, the U.S. and international organizations.
As of today, all countries face the risk of land degradation. However, although the population keeps growing, productivity has not significantly increased, and nor has per capita food consumption fallen. All these factors have exerted higher pressure on land resource shortages. Fully understanding the potential of the land, and matching land use with its potential will help us maximize its productivity, as well as protect land resources, which are at the core of "sustainable growth."
Services