Nanjing: Building an Innovation-driven City
By staff reporter ZHOU LIN
AS innovation brings vitality to the world economy, Chinese cities have constantly explored their innovative development mode.
"Jiangsu's economy always ranks high among China's provinces, while its capital city Nanjing is the best within the province!" Hu Biliang, a professor of economics and dean of the Emerging Markets Institute of Beijing Normal University, remarked after a business trip to nations along the Silk Road Economic Belt.
Developing Featured Industries
Nanjing, ancient capital of six dynasties in China's history, is now the economic center of the Yangtze River Delta, and a vital port city in East China's Jiangsu Province. In 1960, the renowned Nanjing Yangtze River Bridge was listed in The Guinness Book of World Records as the longest bridge with both a highway and railroad in the world.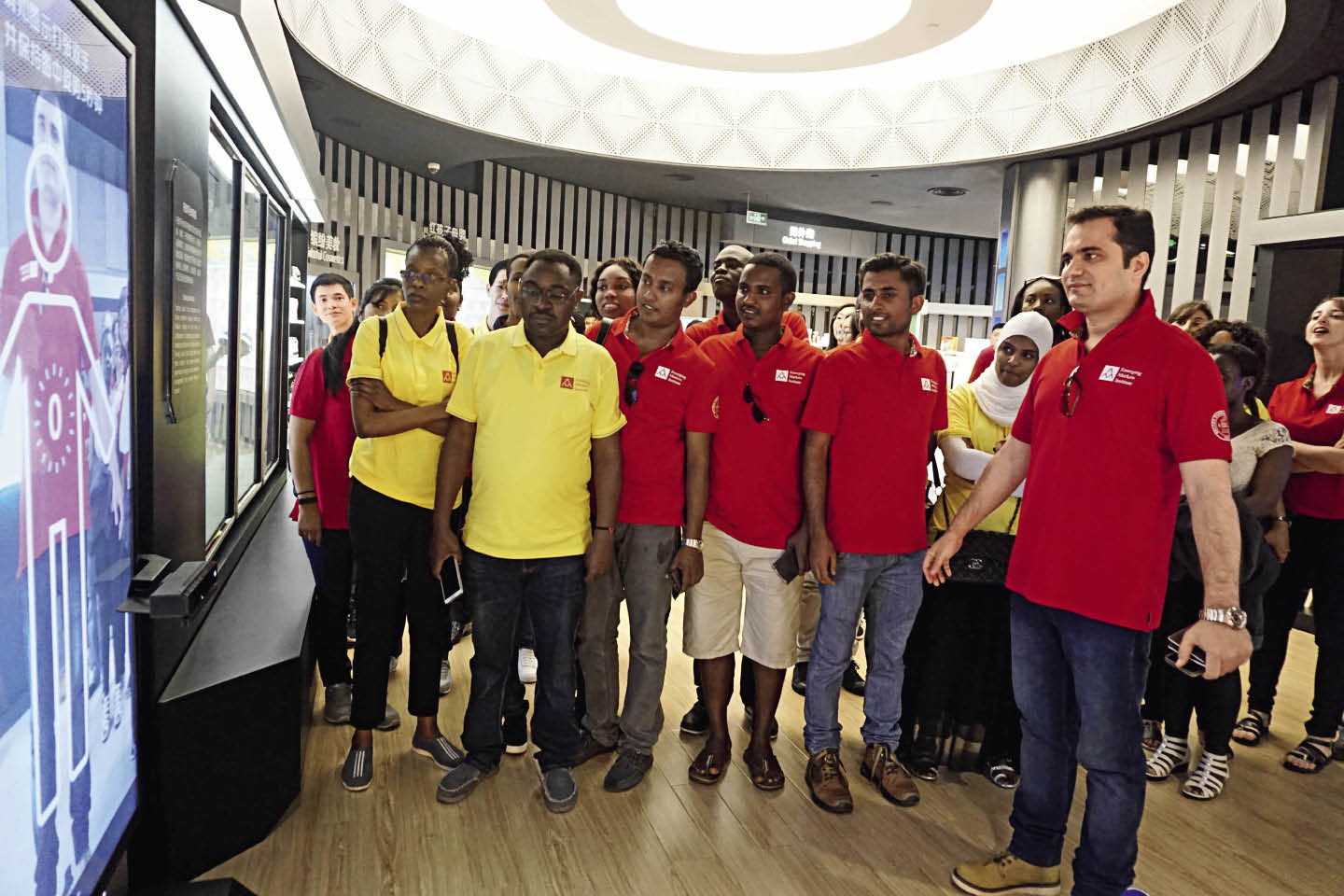 A foreign student views himself in try-on items through virtual fitting software at Suning headquarters in Nanjing.
"Entrepreneurship and innovation" are nowadays familiar words among Nanjing citizens since the Nanjing Development Zone (aka. Nanjing Economic and Technological Development Zone) embarked on its pioneering journey in 1992.
Shen Yinlong, vice director of the development zone's management committee, summarized the experience over the past two decades, "Innovation based on sheer acknowledgement of our own resource endowment is important for setting up a farsighted development approach."
After careful analysis of its advantages, Nanjing Development Zone is now focusing on four leading industries: photoelectric display, biomedicine, high-end equipment, and modern service industries. It has established clusters of technology centers, R&D centers, sales centers, and logistics centers and headquarters. As a result, over 3,500 enterprises from more than 60 countries and regions worldwide have settled there to share their innovative resources.
More than 70 enterprises from the photoelectric display sector in the zone, such as China Electronic Corporation, LG and Sharp, are evolving into an industry cluster worth RMB 300 billion. Nanjing Liquid Crystal Valley, with an area of 18 sq-km, boasts an ever-increasing productivity of sixth-generation LCD panels as its leading project. The world's first line of 8.5th generation of metal-oxide crystal panels has already gone into production, supplemented by a number of supporting projects, including glass substrate, color filter, liquid crystal material and optical film. This contributes to a solid foundation for a photoelectric display industry base with a leading position in China and a first-class role in the world.
Meanwhile, the Life Science & Pharmaceutical Industrial Park, covering an area of 12 sq-km, has made a grand entrance in a planned region to leverage development opportunities for China's life science industry. The output value yielded by more than 30 famous biomedical enterprises, including Jinling Pharmaceutical Co., Ltd., Chia Tai Tianqing Pharmaceutical Group Co., Ltd., Nanjing Sanhome Pharmaceutical Co., Ltd., and C&O Pharmaceutical Technology, accounts for two thirds of the total output of Nanjing's pharmaceutical sector.
"Internationalization is a global trend that innovation-driven Nanjing would never overlook." Shen Yinlong spoke of how more than 40 high-end equipment manufacturing enterprises from Germany, Sweden, and Japan have grasped the great opportunity presented by the "Made in China 2025" plan and eyed China's booming market in new energy vehicles. In response, the development zone introduced the new energy automobile battery project invested by LG Chemical with globally leading technologies in the sum of US $3.5 billion. This in turn has attracted a large number of companies dealing in new energy automobiles as well as relevant spare parts to the zone, making the area a trailblazer of the new energy automobile industry in China. 
"We are speeding up infrastructure construction, and at the same time enhancing governmental efficiency," Shen Yinlong told the reporter. "In Nanjing Development Zone, well thought-out details beyond your expectations and overwhelming sincerity are always placed at the center of everything we do."
Qualified services have helped Nanjing attract investors worldwide. Almost 100 modern logistics and trade enterprises – from Singapore, the U.K., Italy and other countries – have set up and operate subsidiaries here. This greatly boosts the modern service industry in the city, enabling it to compete on the global stage. Nanjing Integrated Free Trade Zone, with a planned area of 3.83 sq-km, provides powerful support for the economic development of Nanjing and the Yangtze River Economic Belt on the whole, in particular the region's strategic emerging industries. It has established six centers for logistics, trade fairs, R&D, etc., and 10 platforms including imported wine, food, and mechanical products, all of which are stimulating the transnational e-commerce trade of newly developing businesses.
Entrepreneurship & Innovation
The government announced in 2016 the "Nanjing Entrepreneurship Plan" to build an economy based on innovation and service industry, featuring openness and environmental friendliness. It plays a pivotal role in the region and the nation as a whole. The plan aims to attract 100 leading technology experts and 3,000 high-end entrepreneurial talents, nurture 200 innovative entrepreneurs,  and coach 20,000 college students in their start-up programs. It will thus build an innovation incubator cluster with distinctive advantages and far-reaching global impact.
This plan is not the first of the kind in Nanjing. On April 25, 2016, the "Nanjing Overseas Chinese Professionals Start-up Contest" Final was launched at Nanjing's International Conference Center. It was sponsored by the municipal government's talent recruitment office with support from several associations and institutions which aim to promote cultural and people-to-people exchanges.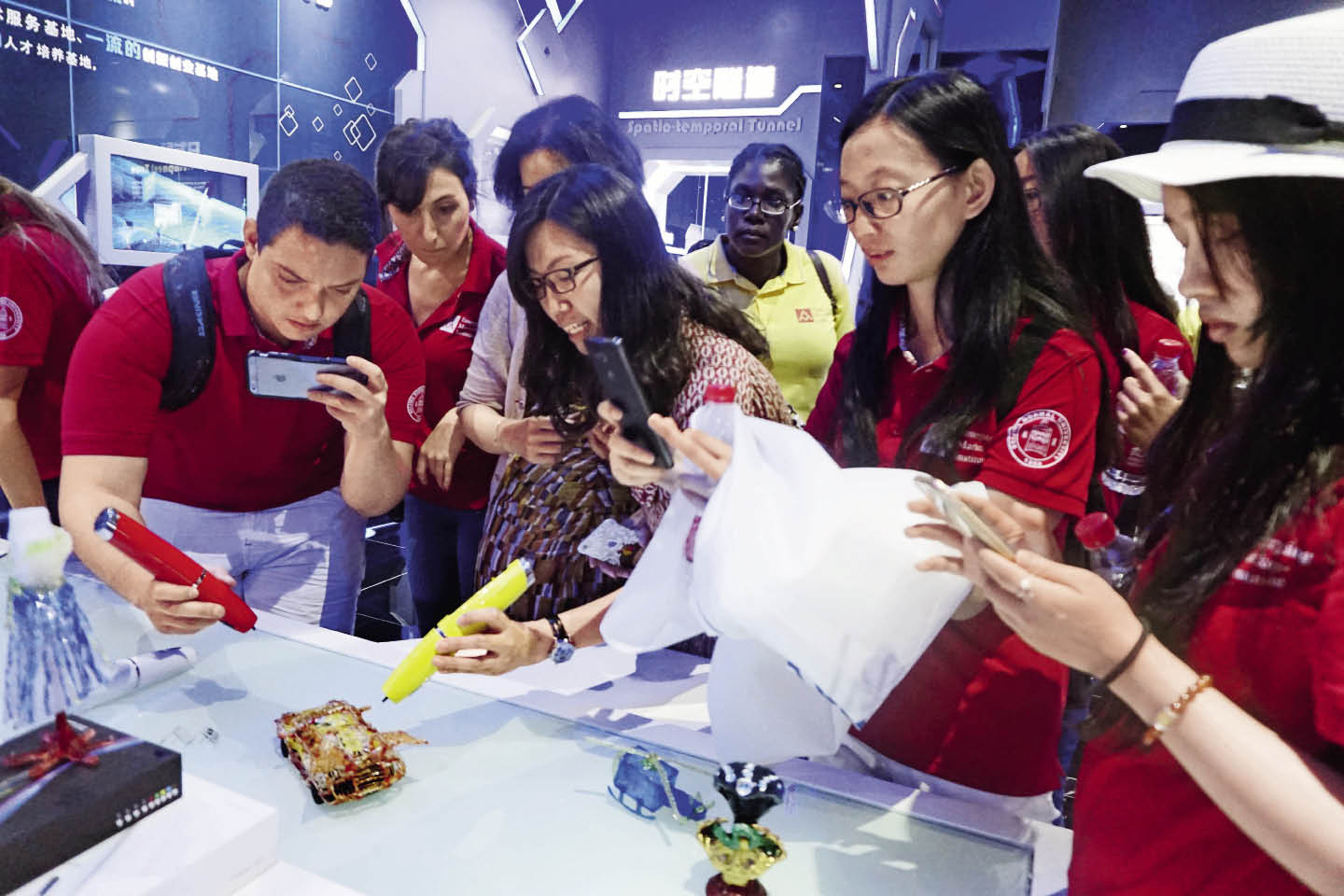 Visitors experience laser printing in Nanjing Institute of Advanced Laser Technology.
Four sessions of the contest have already been held to inspire enthusiasm for entrepreneurship and attract high-caliber overseas talents and programs to Nanjing. This year, four competitions have convened respectively in Munich, Germany, Silicon Valley, the U.S., Melbourne, Australia, and Hangzhou, China. The 2016 contest has attracted 258 global experts and overseas students, among whom 26 participants stood out in a showdown.
The final contest was divided into two parts. In the first half, participants in 13 categories performed a road show of applications of such technologies as virtual reality, wearable monitoring equipment, iCloud storage, big data in the architectural industry, and rehabilitation robots. In the second half, road shows included 3D printing, air purifying nano materials, food preservation, Internet-based intelligent retails, and other forefront areas.
Liu Yongjian from the United States introduced his virtual fitting software program, by which customers can easily view themselves in every try-on item from hats to glasses, earrings, necklaces and ties. 
"The idea originated from one of my experiences several years ago when I bought a pair of glasses online but could not try them on," Liu Yongjian said. His invention could accurately grasp 65 features on people's faces and perfectly showcase the effect of wearing 14 types of products above the shoulders. Now both Chinese and American customers are demonstrating an interest in this technology.
Shen Yinlong further indicated that Nanjing Development Zone is concentrating on establishing Peking University's Institute of Innovation in Nanjing. A growing number of talents are gathering there from over 20 colleges, universities and research institutions. This helps Nanjing rank among the top three cities in China in terms of scientific and educational resources.
Environmentally-Friendly Enterprises
Nanjing's innovation is coupled with the concept of green and sustainable development. Everywhere, people see streets lined with lush trees, picturesque plazas decorated with beautiful landscapes, classic and gracious theme parks, and environmentally-friendly and low-carbon garden-like enterprises. 
Walking into the main building of Nanjing TICA Air-Conditioning Co., Ltd., visitors are instantly surrounded by greenery and cool fresh air. The company specializes in R&D, manufacturing, and sales and services of central air-conditioning and refrigeration. It has developed into one of the four leading brands of China's central air-conditioning industry, with over 70 sales and services offices and more than 30 air-conditioner product lines globally. Serving nearly 40 pivotal metro lines, it has become the largest supplier of central air-conditioning in China's subway market.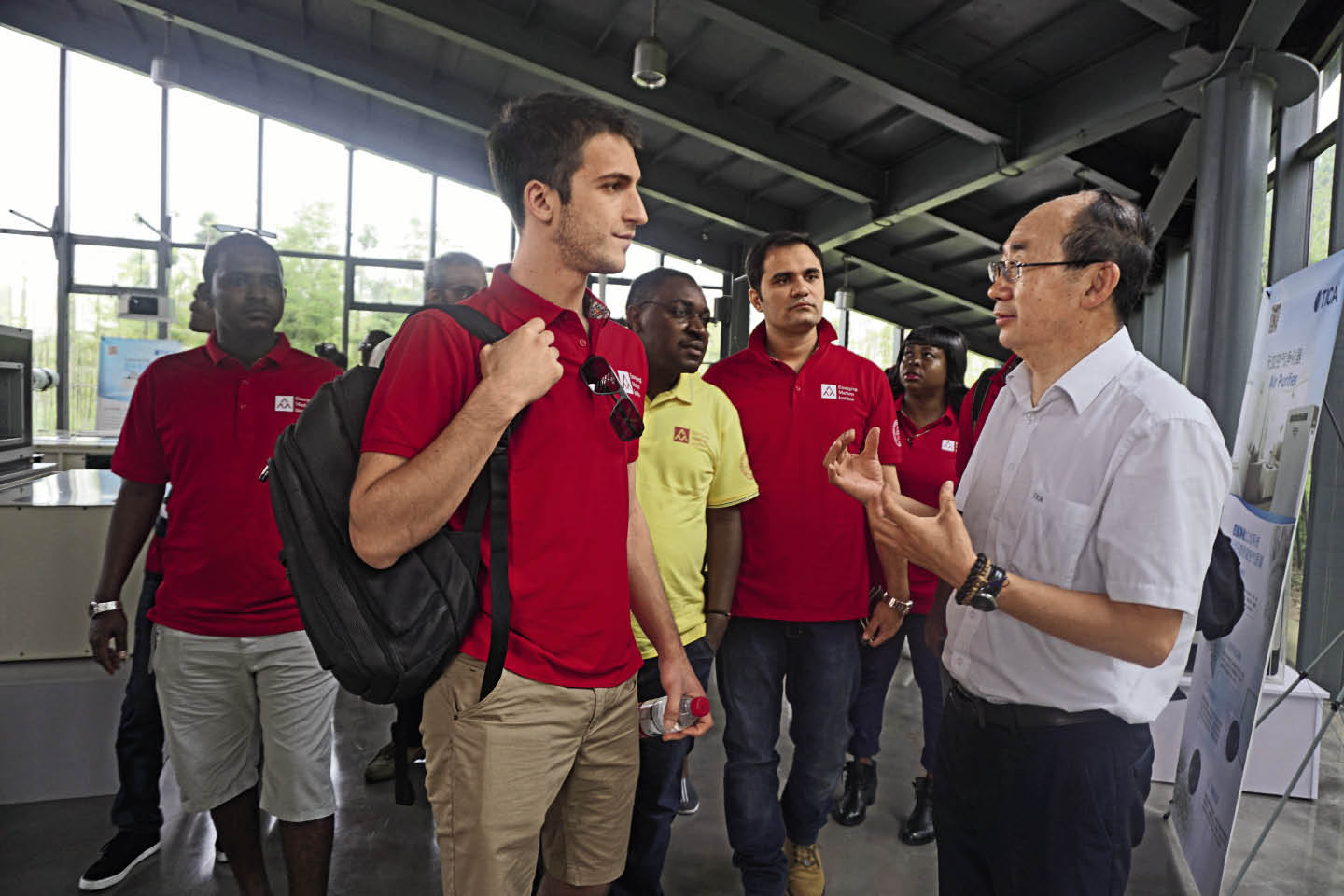 Marketing director Liang Lujun of TICA, one of the four leading central air-conditioning brands in China, introduces the company's products.
In recent years, TICA has provided a large number of domestic and foreign customers with energy-saving central air-conditioning solutions. In 2015, the company had an output of 387,000 units. Marketing director Liang Lujun told the reporter, "Our products are widely used in various architectures, major projects and headquarters of big companies including the central government compound Zhongnanhai, the Great Hall of the People, the Bird's Nest National Stadium, the Water Cube National Aquatics Center, the C919 Aircraft Project, CNPC, Sinopec, and the State Grid of China, as well as Manila Ocean Park and Unilever Global."
TICA has established academic workstations employing renowned experts in heat transmission science like academicians Tao Wenquan and He Yaling of the Chinese Academy of Sciences. At the same time, it has founded a technical institute in Japan, and conducted strategic cooperation with UTC in the United States.
Nanjing, with its open-mindedness and inclusive attitude, innovative and pragmatic actions, welcomes the bright prospect of green and sustainable development.
Services