A Young Man's Dream of Serving Elders
By staff reporter HOU RUILI
Yan Shuai, a 26-year-old Beijinger, is the head of Puleyuan Nursing Home, located in a Beijing suburb. The facility currently caters to over 300 seniors, the oldest 106 years of age. Sixty percent of the residents are incapable of taking care of themselves.
A decade ago Chinese people turned to nursing homes only when they had no family to depend on. But attitudes have changed dramatically in recent years. Increasingly more elders with children consider moving to care homes when they have trouble taking care of themselves, as they don't want to become a burden to their children.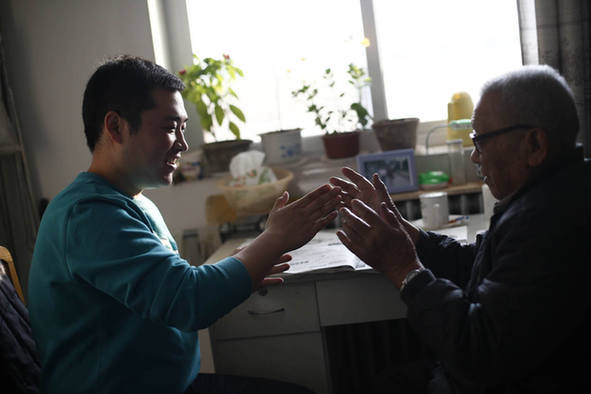 Yan befriends newcomers to help them adapt to the new environment.  
Grown-up Overnight
Yan is the only child of an affluent family. At the age of 18, he graduated from a technical secondary school and found a job in the IT industry. He was not earning much, yet managed to maintain a lavish lifestyle as he still lived with his parents. The young man squandered most of his free time going to nightclubs and street dances, or playing computer games. The same year, Yan's parents invested over RMB 5 million to establish the Puleyuan Nursing Home. He didn't give it much thought. At that time he was dreaming of becoming a pop-star and never concerned himself about the family business.
However, things changed all of a sudden. One year later, when the nursing home, which had cost almost all the family's savings, was still struggling, Yan's mother was diagnosed with cancer, soon after which his father suffered a stroke and developed uremia.
Yan Shuai grew up quickly under this unexpected misfortune. He quit his IT job and took over the nursing home from his father. As the business could not bring in enough money to support his parents' medical expenses, Yan had to take several part-time jobs for some time, including selling souvenirs and purses, and driving taxi, in order to feed the family. It was not rare for him to sleep only for two to three hours a day.
But the nursing home became his priority. Yan quickly adapted to his new role as the top manager of the seniors residence. He started learning every single skill involved, including nursing, cooking, procurement and first aid, so as to become a professional service provider. For the first time in his life, he helped to turn paralyzed people over in their beds, give them sponge baths, treat bedsores, and change diapers, to name a few tasks. He not only learned about the traditional customs for funeral ceremonies, but also handled almost every detail for many funerals. As he became experienced and established in this trade, Yan was invited by some universities and companies to give lectures on eldercare to graduates venturing into this field.
Becoming so familiar with all types of work in the nursing home has enabled Yan to improve its management and reduce costs, which led to a fall in the price. Consequently, the seniors could pay less for the services.
Services