Establishing a World-Class Conservatory in China
By staff reporter ZHANG HONG
Chu-fang Huang, passionate and elegant, is a Chinese American pianist. As I watched her walk gracefully toward the piano and play a composition by Chopin, I felt every corner of the venue resonate with her performance. Huang was in Beijing at the invitation of the famous anchor Dong Qing to star in "Readers," a reality show that combines real life stories with prose and poetry. Huang gave an excellent speech about music on the program, but I felt the moment that she completely connected with the audience was when she started to play the piano.
Reading and Practicing Piano
Huang's career appears to have been smooth sailing. She burst onto the music scene as a brilliant finalist of the 2005 Van Cliburn International Piano Competition and won the Cleveland Piano Competition the same year. After participating in the competition, Huang embarked on a world tour, giving over 100 performances in two years. In March 2011, she received an Avery Fisher Career Grant for her outstanding achievements at several international competitions. The Avery Fisher Prize is rather like the Oscars for classical music.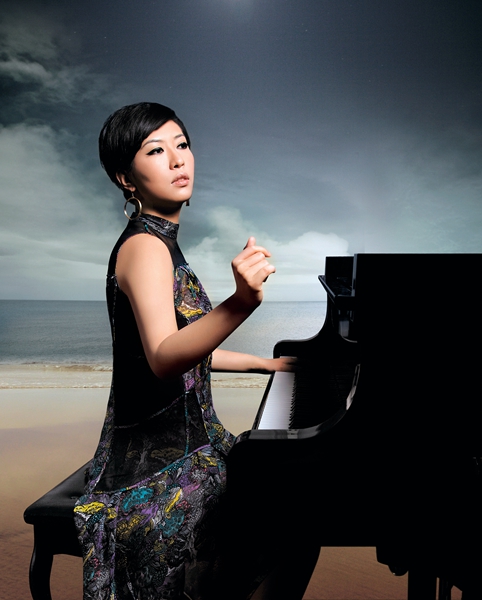 Unlike many teenagers who complain that piano lessons are a form of torture, Huang enjoyed her piano practice very much. In 1989, Huang, who had just entered elementary school, saw a piano performance on television and decided that she would study piano.
At that time, piano lessons were not very common in China and the cost of buying a piano was extremely high for average families. Her parents had to sacrifice a couple of years' worth of earnings to buy one; a great difficulty, even if the whole family lived frugally. However, to allow their daughter to pursue her dream, Huang's parents borrowed money to buy a piano for her. At first they didn't have enough space for this large musical instrument in their small apartment. "We had to put it in a storage," Huang recalled, "and after we moved to a new place I had my piano in my room."
Huang had not expected piano practice to consume so much time and energy. She didn't even have enough time to read, which was difficult for her because she liked reading so much.
Huang remembered with a smile that she used to read books in secret, as her parents didn't allow her to read when she should be practicing piano. She hid books all over the place, under the piano or behind the radiator. She read plenty of history books and great novels such as Five Thousand Years of the Chinese Nation, Les Misérables, La Dame aux Camélias, The Count of Monte Cristo and A Dream of Red Mansions.
All her efforts paid off. In 1994, she passed the entrance examination for the Shenyang Conservatory of Music. After that she got a place to study at the Curtis Institute of Music, which is renowned for being one of the most selective musical institutions in the world.
Founding a Music Association
Huang is the founder of Ameri-China International Music Association. She wants to encourage more young Chinese pianists to develop a deeper understanding of music.
Huang studied with many brilliant musicians at the Curtis Institute, which gave her a completely new perspective on music. She once asked her teacher: "How did Richard Clayderman [a pianist who enjoyed great popularity in China when Huang was a child] never hit any wrong notes?" Her teacher replied: "Because Richard only plays the music."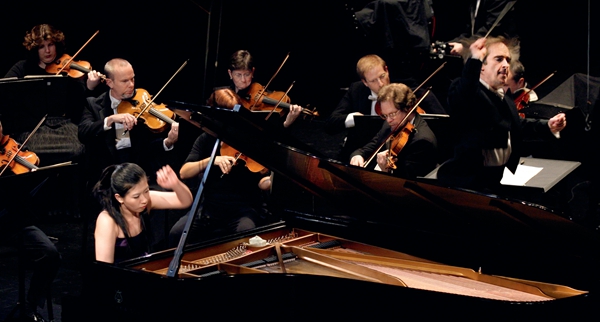 Huang performs with musicians of the Fort Worth Symphony Orchestra.
Huang understands that different sounds encapsulate different emotions. If we just play the music exactly as it is written, it will be tedious and boring. To play the notes in different ways, we must adopt variety of approaches, changing the tempo and dynamics, and even the angle with which you approach the keys. But doing this means it is difficult to avoid hitting some wrong notes, and that is the tricky part of musical interpretation.
"If you just want to learn how to hit the keys, I think six months is enough. All you need to do is learn how to read the musical notes and remember where the keys are. That is simple," Huang said. But she believes the real duty of a musician is to dive into the music, and quotes the Russian pianist and composer Rachmaninoff: "Music is enough for a lifetime, but a lifetime is not enough for music."
"Obviously learning to play the piano is not about just hitting the keys," Huang continued. "Many kids are forced to mechanically practice the piano for 10 hours a day. No wonder some of them end up wanting to burn it!"
Children born in China in the 1980s, like Huang, only studied piano with the aim of getting accepted by a music conservatory. Huang achieved her goal. She enjoyed playing piano but not practicing. After two years at the Curtis Institute, she made up her mind to become a concert pianist. "Before that I thought of playing piano as a hobby, just like reading," said Huang.
After making a reputation for herself winning prizes, Huang's playing was much in demand. When playing at concerts, she said her five senses, especially hearing, are extraordinarily keen.
Perfect communication is based on tacit understanding, which is very enjoyable. Once when Huang played at the Concertgebouw in Amsterdam, she intentionally paused for a second. In that moment of silence she even felt that everything, even the air, had gone still in the concert hall packed with an audience of 2,000 people.
"When I am playing, my hearing is extremely sensitive. I can hear every sound, even if a needle is dropped on the floor."
Since 2007, Huang has performed all over China, her tours taking her to Wuhan, Shenyang, Beijing and cities in Xinjiang Uygur Autonomous Region. She remembers a power cut in the middle of one of her performances, and she had to finish the show with the help of a torch.
It takes years of strenuous effort and practice to put on such a bravura performance. The prizes, flowers, applause and being invited to give concerts, thrilled Huang. However, years later, she found these things are not what she really wants.
"At that time I was passionate to share my music with the whole world," explained Huang, "but now I believe I need to educate my audience. If the audience can't really appreciate the music, they will forget this art form as soon as the Chinese piano craze ends."
Interacting with the Audience
From Huang's point of view, it is simple to play piano. There are 88 keys, divided into seven octaves with eight notes per octave and semi-tones in between. Sounds made by different combinations of keys are just like words composed using the 26 letters of the alphabet.
"The notes themselves are meaningless, but melodies composed of notes can convey emotion and arouse feelings in the audience," said Huang. She found that many kids who study piano in China have superb technique, "but they are not interpreting anything. Most of them don't understand what they are doing."
"We don't need any more pianists. If the audience can't understand the music, the pianists are not touching their souls," Huang commented.
In the 1980s, Western classical music spread to China. Over the past 30 years, many Chinese teachers went to study the piano abroad in countries such as Poland and Soviet Union. "After they returned, they cultivated a generation of hard-working students. They trained pianists just like training athletes," Huang commented.
"The result is that there are now 60 million children learning to play piano in China. They are learning to play piano, but they are not learning about music." Huang thinks this is a great pity.
According to Huang, it might sound attractive to study music for the fame, the distinguished career and the prize money, but it is actually all quite meaningless. "Music brings us truth, goodness and beauty, which instills kindness in our hearts and saves us," said Huang.
Huang totally immerses herself in the charm of music. Learning music is never about trying to be the best. "You will discover that music is such a great thing!" she said.
Huang is talented and clear about her goal. While studying at the Curtis Institute, she spent 10 to 12 hours a day practicing piano, which brought both hardship and happiness. She never had enough time. Preparing for international competitions, like the Van Cliburn Piano Competition and the Cleveland Piano Competition, involved practicing three solo pieces, two concertos and one chamber music piece. Huang couldn't practice all the pieces in one day. It usually took her three to four days to rehearse properly.
Performing with great passion to shine a light on the inner world of composers, Huang wanted her interpretation to move the hearts of her audiences. However, she didn't always get the response she had hoped for. Instead, people focused on the sound and length of the piece, on how fast she could play the pieces and how accurately she had memorized the notes. She was very disappointed.
"Most people don't understand the emotion behind the songs, such as the pain the composer felt after his country was destroyed, how much he missed his family, how angry he felt with the traitors, how ashamed he was of his weakness and how he redeemed his soul by confessing before God," said Huang.
This also occurs outside of China, in developed regions such as the U.S. and Europe. Huang believes that when she interprets the pieces, the audience should feel how she feels but also express their feelings too, completing the circle. She needs feedback. "If it is just about giving, without feedback I will feel tired and my inspiration will quickly run out," said Huang.
Huang explained that she founded the Ameri-China International Music Association with the explicit goal of spreading the love of music through education. Since its establishment, the association has devoted itself to helping more people understand music.
Huang believes that an art form will have no future if it is no longer popular. "Nowadays classical music is obviously not as popular as pop music. Although there is currently a piano craze in China, it doesn't mean that there are 60 million people who really understand music," said Huang.
Why Is There No "Curtis Institute"in China?
Huang tries to help children learn what music is from when they first start learning to play piano. Every year, the association invites famous professors from world-class music conservatories in the U.S., such as Juilliard and the Curtis, to attend music festivals it organizes in various Chinese cities. During their visits, the professors select promising talent to join their classes. Teachers from the U.S., Germany, Finland and Italy are invited to coach top students to an international standard.
"I have to do this," said Huang wholeheartedly. Every year, she flies across the Pacific Ocean to cities all over China. Some of her friends told her that it was too tiring and wasn't worth the effort, but Huang believes deep down that this is her duty. "I was born and raised in China; I want to do something for my motherland," said Huang.
So far the association has successfully held nine music festivals. In 2016, the festival was held in Wuhan and Chengdu, during which scores of students were selected from hundreds of applicants. Those that passed the entrance exam for music conservatories in the U.S. also receive financial support from the association to enable them to further their studies. Eleven of the association's students have gone on to study at Juilliard; 27 were awarded places at the New England Conservatory; 19 went to the Eastman School of Music and other students have been accepted to such famous American music institutes as the Manhattan School of Music and the Peabody Institute at Johns Hopkins University.
In the long run, Huang's dream is to establish a world-class conservatory in China, like the Curtis Institute, which will require long-term support from the government and the establishment of a knockout system to select the best teachers.
Since ancient times, world centers for culture and the arts are normally political and economic centers as well and are among the most powerful countries in the world. "If we establish a top music school like Curtis in China and attract the most talented teachers and students from around the world, we can make China a music and cultural center," said Huang.
Huang is confident that China will become the world's music and cultural center. "It is much more important to train a good teacher than to train a good student, as one good teacher can help 100 good students."
Services