Solar Spells
Lesser Heat (xiaoshu) falls on July 7 in the Gregorian calendar this year. Shu means heat, while xiao is an adjective in Chinese indicating the small extent the heat reaches. From the day of the Lesser Heat, the weather gets hotter across China, and crops all over the country grow faster and stronger. The Plum Rain, or "mold rain" season in some parts of southern China, is about to end, while everything under the sun prepares to welcome the hottest summer days. In many places of China, people eat dumplings on this day in hopes of a good appetite during summer.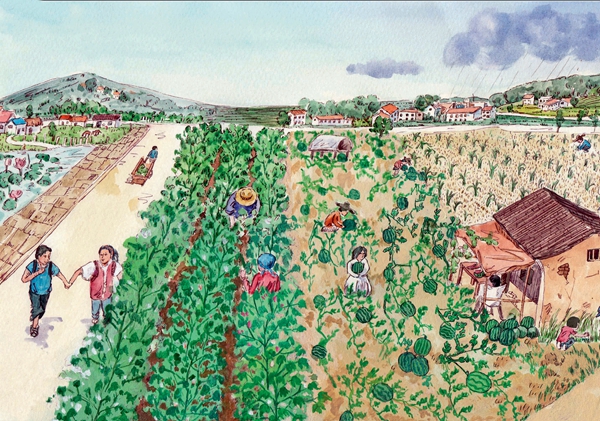 Apart from this, days around the Lesser Heat mark the perfect time of year to go on watermelon binges! Do you know how to pick the most watery and sweetest watermelons? Here are three tips: first, touch the rind. The ones with a smooth rind are totally ripe while those which don't feel smooth might not yet be ripe enough to be eaten. Second, listen to the sound. Tap the watermelon gently and listen for a clear sound. Third, pay attention to the stems. The ones which are totally ripe will have withered stems instead of green ones.
Lotus flowers, from snow white to pink and dark red ones, bloom under the burning sun in the ponds, while dragonflies alight on top of them from time to time, creating a most adorable scene in summer. Chinese people from ancient times have appreciated this graceful flower as it comes out of the dirty mud, yet always remains unsoiled. Lotus flowers and their big round green leaves are not only a delight to the eye; they also produce one of the favorite vegetables on Chinese dining tables: lotus roots.
Outdoors, crickets which usually live underground in holes or in the grass stridulate the loudest in the wilderness during scorching weather. Indoors, as there's plenty of rain at this time from south to north, it's easy for clothes, books, food or furniture to go moldy, so it's highly important to air them when the sun rides high in the sky.
Hot summer is always the favorite season of children as they have enough reasons to enjoy ice cream to the fullest, to eat different kinds of fruit and above all, to have a long summer holiday! The summer vacation in China spans two whole months, from early July to early September. This exciting holiday begins around Lesser Heat; at this time children have just finished their final exams and can't wait to throw away their heavy schoolbags and homework and go out to have fun with their pals. In the countryside, children go to the streams to catch fish and shrimps, or go to the woods to catch cicadas; in cities where the urban heat takes control of the whole place, children like to go to museums, libraries, and swimming pools to stay cool and enjoy the day!
Great Heat (dashu) falls on July 22 in the Gregorian calendar this year. As its name suggests, it ushers in a period much hotter than the Lesser Heat. Indeed, it heralds the dog days called futian in Chinese. To be more specific, the hottest periods of summer are usually divided into three periods: mid-July, late July to early August, and mid-August. During these three periods, the sunshine reaches its maximum, and plants and crops which favor high temperatures thrive. At the same time, meteorological disasters such as drought, floods, and windstorms occur frequently. As it's sweltering during this period, most Chinese prefer eating cold food to stay cool although in some parts of China, people choose hot food to welcome this solar term. After Great Heat, autumn will quietly step in.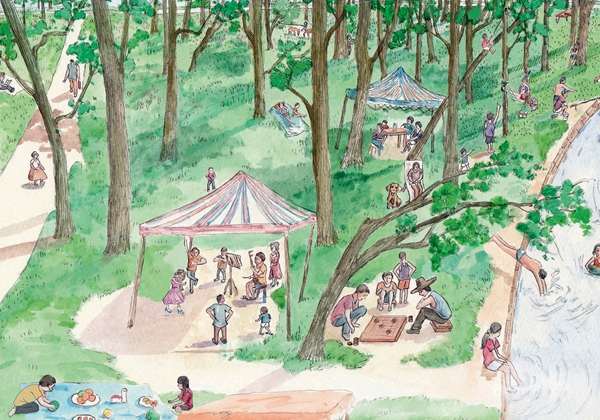 The weather is volatile after Great Heat, just as described in a poem: "It is sunny in the east while rainy in the west." Thundershowers come frequently but on the brighter side, they can help to make it less stuffy.
The glowworm is called fluorescent fire beetle in Chinese. There are aquatic ones and terrestrial ones. The latter prefer inhabiting warm and moist places such as living under grass, which is why the ancient Chinese thought they were born out of decayed grass. On a calm summer night, if glowworms are seen flying hither and thither, that's a sign that the cool autumn is just around the corner.
Jewelweed enjoys sunlight. It is a folk remedy known for its skin healing properties. The flowers are butterfly-like and colorful. Chinese people have nicknamed it "fingernail flower" as girls like to mash them up to color their fingernails. It is believed in traditional Chinese medicine that this fingernail dyeing method can reduce the internal heat of the human body and help people to stay calm during hot days.
To farmers, Great Heat is the perfect time to harvest rice. Though it's suffocating to undertake farm work in the fields, farmers still need to race against time to ensure that every rice grain is returned to their barns.
In the evening, when the heat in the air dies down a little, cool breezes brush people's faces. After a busy day, people can relax and recuperate by the river, or under the tree, chatting with each other to enjoy the cool of the night and also to get prepared for another day.
(Compiled by China Today based on The Twenty-Four Solar Terms Published by Dolphin Books)
Services