Promoting Chinese Culture, Adding Splendor to World Culture
CHINESE culture and arts keep drawing worldwide attention, along with a fever for learning Chinese language, and the expanding influence of Chinese academic works. All of this derives from the cumulative legacy and innovations of a 5,000-year-old culture, the flourishing of the Chinese economy, as well as the progress of Chinese society.
Attracting More Attention Worldwide
Alongside its enhanced economic strength, China plays an increasingly important role in the international arena. The rise of China has sparked world interest and more attention to Chinese culture and arts. For instance, Europe, in particular Germany, shows growing interest in China's modern arts, traditional culture and architecture, as well as cultural preservation and heritage. Based on their own traditions and development, Western countries wish to understand contemporary China through its modern art and culture.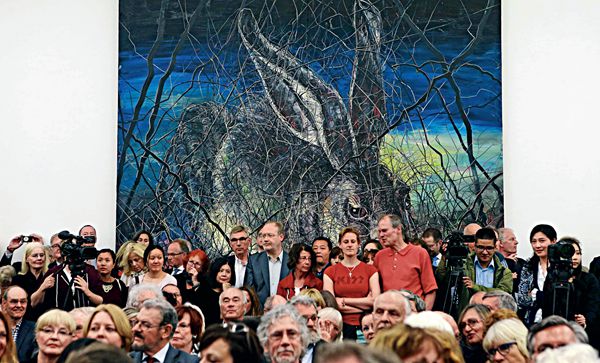 The "China 8" exhibition debuts in Ruhr, Germany in May 2015.
In 2015, "China 8," a large-scale modern art exhibition launched in Ruhr, Germany, demonstrated the intense German interest in contemporary Chinese art. Held in nine galleries in eight cities, the four-month exhibition showcased over 500 works from 120 Chinese artists, attracting nearly 120,000 viewers and the attention of local media and officials. After attending the exhibition German President Joachim Gauck praised it highly. During a visit to China's Tongji University in March 2016, he mentioned "China 8" again in his speech, commending its positive role in promoting cultural exchanges between China and Germany. Artists from the two countries now plan to hold a "Germany 8" in China.
Fever for Chinese Learning
Along with its mounting economic power, China has also seen increasing economic and trade contacts with the world. Some transnational enterprises have made the ability to speak Chinese a priority in staff recruitment, reflecting the growing popularity of Chinese language in the world. According to the Confucius Institute Headquarters, by December 2016, 511 Confucius Institutes and 1,073 Confucius Classrooms had been established in 140 countries. In 2016, Confucius Institutes hosted 46,000 teachers and 2.1 million students, holding diverse cultural activities for a total of 13 million participants.
Another phenomenon is the growth of international students studying in China. Chinese language is both a communication tool, and a carrier of Chinese culture. International students thus learn Chinese language and advanced science and technology, while getting a better sense of Chinese culture and tradition, so deepening their understanding of China. By sharing what they have learned with family and friends, they play a role in introducing the real China to the world.
According to the Ministry of Education, 397,635 overseas students from 202 countries and regions studied in China in 2015, including 240,154 from Asia, 66,746 from Europe, 49,792 from Africa, 34,934 from the Americas, and 6,009 from Oceania. The Chinese government has also increased scholarships to encourage more international students to study in China. In 2015, a total of 40,600 overseas students were granted scholarships, an almost 10-percent increase over 2014.
More Say in the Academic World
Through joint efforts of the academic world, three major international academic conferences, namely the International Congress of Historical Sciences, World Congress of Art History, and World Congress of Philosophy, have taken place or been scheduled in China. The International Congress of Historical Sciences was held in Jinan of Shandong Province in August 2015, and the World Congress of Art History in Beijing in September 2016. The 24th World Congress of Philosophy will be held in China in 2018. These three academic conferences are usually held in Western countries, reflecting their leading role in international academic circles. Along with the 2008 World Congress of Philosophy held in Seoul, South Korea, this marks the first time the other two conferences were held in Asia. This not only indicates China's enhanced academic influence, but also demonstrates growing scholarly interest worldwide in China, and the desire for related communications and exchanges.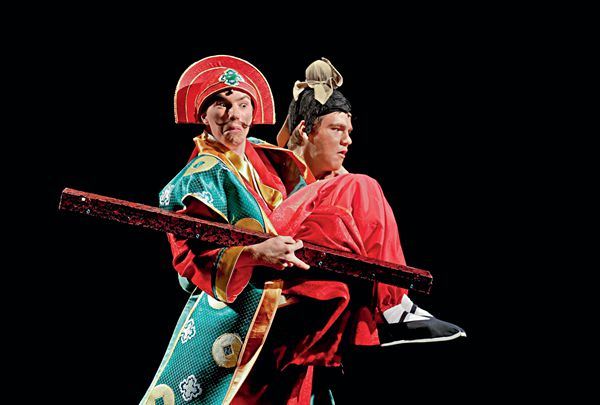 The Idiom Cube, an opera jointly produced by China and the U.S., is performed during the Sixth China Children's Drama Festival on July 9, 2016.
An ancient and well-established Chinese culture rests on a mighty foundation. Yet the two questions China still needs to confront are: why is it still not a powerful country culturally? And why doesn't its soft power match its status as the world's second largest economy?
According to The Soft Power 30, released by Portland Communications in 2016, China's soft power ranked only 27th among the 30 countries, the top 10 exclusively comprising developed countries. Beyond doubt, as a large developing country, China has made great contributions to the common development of human society. However, its national image has still not been properly established worldwide, and certain misreadings about China's development have arisen. Compared to economic development and military buildup, enhancing soft power is even more complicated, and needs more time while seeking a suitable methodology and strategy. It is a long-range objective to enhance cultural soft power, fulfill cultural confidence, and promote Chinese culture, which requires our joint efforts.
Gain Greater Acceptance
The differences between China and Western countries as regards ideologies and values will remain for a long time. Taking Sino-European cultural exchanges as an example, alongside increasingly close Sino-European economic and trade ties, people in Europe have become more interested in China. However, restricted by limited channels through which to learn about China – mainly Western news and media reports – Western people's understanding of China is often one-sided and subjective. In such circumstances, it is necessary for China to enhance its external communications to help more people in the world know the real China. Facing the ideological divergences with Western countries, it is of great importance to enhance dialogue and discussion, so as to positively resolve any misunderstanding or prejudice.
At present, China has built more than 400 Confucius Institutes. By 2020 the number of overseas cultural centers will reach 50. These organizations may be used to host a wide range of activities with overseas cultural organizations, including theme year seminars, exhibitions, and concerts. Theme years would help Chinese people to strengthen their understanding of their own culture and imbue cultural confidence, and enhance overseas public education in terms of Chinese traditional culture, so helping the world to better understand China.
Architectural design contains national cultural elements, as a tangible cultural carrier and permanent symbol. As buildings become landmarks in a city, their influence increases and endures. After years of study and practice, younger generations of Chinese architects have established themselves in the global arena. Such famous architects as Wang Shu, winner of the Pritzker Architecture Prize, and Ma Yansong, who designed the Lucas Museum in Chicago, have inherited the essence of Chinese culture along with international perspectives. In addition, China also possesses numerous qualified designers. Yet generally speaking, Chinese architects are rarely known overseas. Compared to the success of foreign architects and designers in China, a scant number of Chinese architects have had the chance to design overseas buildings.  
LI GANG is a research fellow at the Institute of European Studies under the Chinese Academy of Social Sciences.
Services