Promote Cultural Exchanges and Seek Cooperation and Common Development — The First Silk Road International Cultural Expo Will Kick off in Dunhuang City in September
By staff reporter JIAO FENG
THE First Silk Road (Dunhuang) International Cultural Expo (SRICE) will take place from September 20 to 22, 2016 in Dunhuang City, Gansu Province. The event will be held annually after the first session in Dunhuang, a key location along the Ancient Silk Road, which has been designated as a permanent venue for the expo. According to the plan, leaders and guests from 72 countries around the world and 12 provinces, municipalities, and autonomous regions in China will be invited.
Its purpose to promote cultural exchanges and seek cooperation and common development, the SRICE will present the history and culture, intangible cultural heritage, ethnic customs and folklore, and innovations in modern times of different countries and regions. Through launching comprehensive people-to-people and cultural exchanges and relevant activities that facilitate mutual learning and win-win cooperation, the SRICE aims to encourage various countries and provinces, municipalities, and autonomous regions along the Silk Road to form a community of a shared future, interests, responsibility, and development.
The Summit Conference
The first SRICE will include a summit conference and an annual cultural exhibition. The summit conference consists of a forum and a series of sub-forums. Centered on the theme of "carrying on the spirit of the Silk Road and promoting mutual learning and cultural exchanges," leaders from home and abroad and officials of various international organizations will make speeches during the forum. High-level leaders of China and participant countries, government officials of provinces, municipalities and autonomous regions along the Silk Road, distinguished experts from home and abroad, and managers of cultural enterprises will attend the forum.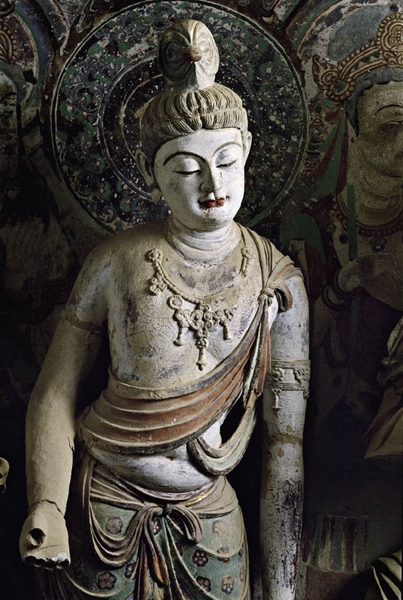 Mogao Grottoes boast a good number of time-honored statues.
The sub-forums will cover such themes as "mutual learning and win-win cooperation against the background of a shared future," "culture plus: promote innovation and development of human civilization," "cultural industry and trade and economic cooperation," "value of the Dunhuang culture in modern times," and "protection of intangible cultural heritage." Participants in the sub-forums are expected to hold in-depth dialogues on the new mechanism of cultural cooperation among countries along the Silk Road, mutual learning about cultures, cultural exchanges, and development and innovation of traditional cultures, the current status quo and prospects of international trade in the cultural sector, and preservation of intangible cultural heritage.
Moreover, the Dunhuang Declaration is expected to be adopted during the summit conference and a signing ceremony for cultural exchanges and cooperation will be held.
Cultural Diversity Along the Silk Road
From September 20 to October 10, a 20-day cultural exhibition will be held, with an exhibition area covering 34,000 square meters.
The cultural exhibition will have four zones: an international zone, a China zone, a Gansu zone, and a themed zone. The event will reflect cultural exchanges, dialogue, and cooperation among countries and regions along the Silk Road, showcase the diverse cultures around the world, and also exhibit the Gansu culture, represented by the Dunhuang culture. In the international zone, there are five sections devoted to France, guest of honor of the first expo, plus sections displaying works of art and oil paintings from countries along the Silk Road, and modern art from China, Egypt and Italy.
   In the China zone, visitors can appreciate cultural relics from 13 provinces, municipalities, and autonomous regions along the Silk Road, maps from the Ming Dynasty, Dunhuang-themed porcelain, collected Qiaopi (literal meaning letters from overseas Chinese, a form of family correspondence combined with remittances sent by immigrants in Southeast Asian countries to their families in China's mainland in the 19th and 20th centuries), and works of art by famous contemporary Chinese artists.
The Gansu zone features local world cultural heritage, prehistoric culture and local folklore, and abundant cultural resources. This is significant considering that the earliest cultural heroes, such as Fuxi, are rooted in the province, which is also site of a section of the Great Wall and the Mogao Grottoes. Visitors can also hear stories of the Red Army in Gansu and see the modern culture of the province and achievements that have been made since the Chinese Civilization Inheritance & Innovation Zone was established in Gansu in 2013.
There will be 14 themed exhibitions, covering a wide range of items related to the Silk Road, such as art works, books, stamps, animations, and painted pottery. They also include exhibitions on intangible cultural heritage of the countries along the Silk Road, innovative cultural products from Hong Kong, Macao, and Taiwan, photographic works collected from around China, and fine porcelain works of the Yuan (1271-1368), Ming (1368-1644) and Qing (1644-1911) dynasties. So far about 8,500 items have been collected from 61 countries around the globe and 15 provinces, municipalities and autonomous regions in China for the exhibition.
Colorful Art Performances
In addition to the summit conference and cultural exhibition, the Expo will hold a number of sub-project activities, including conferences and forums, displays and demonstrations, as well as festive and sports events. Various selected projects will be held in Dunhuang and other cities.
The city of Dunhuang will present 13 brilliant shows, four of which will be presented by artists from countries along the Silk Road, five by troupes from Gansu Province, and four in the form of Sino-foreign collaboration. These shows will consist of dance, drama, large-scale live-action performances, French ballet, a fashion show, a concert by the Orchestra de Paris and the Lanzhou Symphony Orchestra, and a combined program by artists from Pakistan, Spain, and Kyrgyzstan. These shows will be presented daily from September 18 to 30.
Among them, the large-scale ethnic dance drama Along the Silk Road has enjoyed an enduring popularity for more than three decades and is known as the model of China's national dance drama.
Intense Echo
As a cultural exchange platform including top-level forums and cultural presentations, the Expo is sponsored by the People's Government of Gansu Province, the Ministry of Culture, the State Administration of Press, Publication, Radio, Film, and Television, the National Tourism Administration, and the China Council for the Promotion of International Trade, and will be co-organized by 12 provinces, munipalities and autonomous regions along the Silk Road.
So far, the organizers have sent invitations to 72 countries, five international organizations, and 25 provincial-level sister cities, all of which have enthusiastically responded. France has agreed to be the guest of honor of the first Expo.
Twelve provinces, municipalities and autonomous regions along the Silk Road will also send delegations and cultural enterprises to the Expo. Leaders of 20 domestic ministries and commissions, famous experts and scholars from home and abroad, including Mo Yan, winner of the 2012 Nobel Prize in Literature, will attend this international pageant.
The Charm of Cross-culture
As a large-scale international cultural exchange event, the Expo will mix the oriental and occidental culture in Dunhuang and Gansu Province.
The Silk Road stretches 1,600 kilometers in Gansu Province and is abundant in cultural deposits. The province boasts seven world cultural heritage sites, two UNESCO intangible cultural heritages, 131 national relic protection units, and 3,240 first-class cultural relics (including 30 items of national treasure). The province has also preserved a number of intangible cultural heritages, such as sachets, brick carvings, and shadow puppets. The TV documentary Hexi Corridor won the best cameraman award at the "Gold Panda" Documentary Festival.   
As a place of strategic importance along the Silk Road, Dunhuang is known as the repository of human civilization and gene pool of cultural development, and has exerted a significant influence worldwide. China's distinguished scholar Ji Xianlin once said that Dunhuang was the only place that integrated the cultures of China, India, Greece, and Islam. The city owns 306 historical spots and three world cultural heritage sites. The Mogao Grottoes were listed as a world cultural heritage site by UNESCO in 1987. In addition, Dunhuangology, which focuses on posthumous papers and grotto art, has become an international academic field.  
To guarantee the success of the Expo, Dunhuang Airport is under expansion. The project will be completed in late July. More than 20 air routes will connect major cities like Beijing, Shanghai, and Hong Kong. Dunhuang Railway Station will operate block trains and tourist-dedicated trains to Urumchi, Lanzhou, and Xi'an. The line to Beijing started operation on May 15.
In order to better serve guests from home and abroad, the city has comprehensively launched upgrading projects to its hotels, restaurants, scenic spots, and key tourist sites.  
Services