Horgos: New Star on the Silk Road
By staff reporter DANG XIAOFEI
HORGOS is a frontier city 670 km from Urumqi, capital of Xinjiang Uygur Autonomous Region. For over 130 years it has served as a land port on the border with Kazakhstan. Its history as an entrept in transnational trade and exchanges dates back two millennia, however.
Occupying a pivotal spot along the northern route of the Old Silk Road, Horgos was a junction for the intercourse of Eastern and Western civilizations. Today this status is revivifying with the initiation of the Silk Road Economic Belt, which positions Horgos as the portal for China's further opening-up to its neighbors to the west.
Door to the West
The port of Horgos serves a region of 1,000 km in radius, one with the highest population density in Central Asia. Since the opening in 2011 of the Horgos China-Kazakhstan Border Cooperation Center, it has attracted ever more buzz due to the preferential tax policies it offers.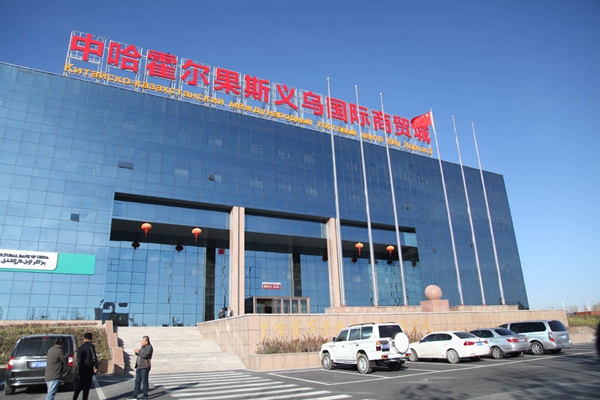 The Yiwu International Trade Tower at the China-Kazakhstan Border Cooperation Center.
The Belt and Road Initiative has further accelerated its growth. Last September Horgos was upgraded from a port to a city, the youngest along the Silk Road Economic Belt. "Special" rules have also been issued allowing Chinese and Kazakh passport holders to visit the Border Cooperation Center for shopping and sightseeing without restriction. Their number now exceeds 10,000 per day.
Customs data show that 22.91 million tons of imports and exports transited through Horgos in 2014, with an aggregate value of US $14.9 billion.
The expressway linking Horgos with Lianyungang City in Jiangsu Province 4,400 km away is completed. The first electric railway – the China-Kazakhstan Railway – is also in operation, as is the China-Central Asia natural gas pipeline, while Yining Airport is expanding in line with its future operations as a port. These facilities will enable Horgos to become a key node of international transport and the land port with the largest cargo volume in Northwest China. Its position in China's opening-up to its western neighbors is therefore unparalleled.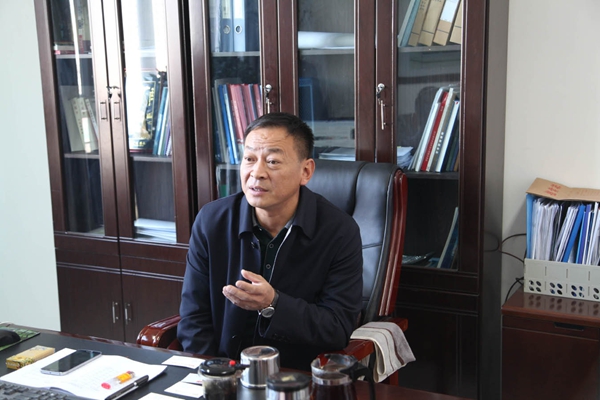 Guo Jianbin, deputy director of the Work Committee of the Horgos Economic Development Area.
According to Guo Jianbin, deputy director of the Work Committee of the Horgos Economic Development Area, Horgos is a mere four hours drive from Kazakhstan's capital of Almaty, which lies 378 km away, while Rotterdam is a 15-day journey by train. Shipments from China's eastern provinces towards the Dutch city or other major ports in Europe can cut their journey by 5,000 km by land via Horgos.
"Last year Horgos passed three major evaluations by the state, for its qualification as a grain import port, and a complete car import port, as well as for the zone adjunctive to the Chinese part of the Border Cooperation Center. These successful evaluations have laid a solid foundation for the future long-term development of Horgos," Guo said.
First FTZ Straddling a Border
The China-Kazakhstan Border Cooperation Center is China's first cross-border free trade zone with its neighbors, and a pilot program for regional cooperation under the framework of the Shanghai Cooperation Organization. It encompasses manufacturing, processing, commodities transfer, financial services, and tourism, among other functions and activities.
Spanning Chinese and Kazakh territory, the center is 5.6 sq km in total, with 3.43 sq km in China and 1.85 sq km in Kazakhstan. Operations started in April 2012. The movements of personnel, vehicles and goods are unrestricted on its premises, and stores within and visitors to the center are entitled to preferential policies including those on taxation.
"Construction in the Chinese sector of the Cooperation Center is underway, and its bonded zone will soon come into service," Guo revealed. "On the Kazakh side more facilities including a trade center will be inaugurated within the year."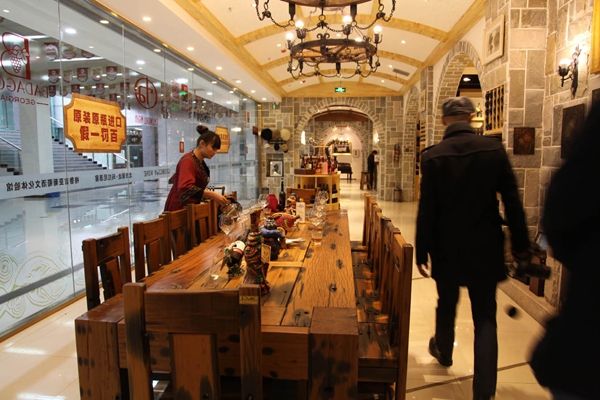 A store at the center selling wine from Georgia.
"The Cooperation Center is open 16 hours a day and 365 days a year," said Hai Sha, an official with Horgos Customs. "A Chinese tourist here can buy at the most RMB 8,000 worth of duty-free commodities per day, and is allowed to take €1,500 of duty-free purchases into Kazakhstan." This policy is a big draw for people on both sides of the border.
With just the swipe of an ID card, both Chinese and Kazakh citizens may enter the Cooperation Center from their respective countries. Kazakhs wishing to go further and embark on an excursion away from the center and out into China can apply for a visa on arrival, for stays of one day, five days or three months.
Abundant Opportunities
By the time the Cooperation Center opens its doors at 10 am (dawn comes much later in Xinjiang than in eastern cities) many have already queued up at its gate on the Chinese side. They include both businesspeople and shoppers.
Merchants from China's neighboring countries are ubiquitous throughout the center. They gather here in quest of all sorts of commodities, ranging from electronic devices, to tires and textiles. Apparel and other textile products from Jiangsu and Zhejiang provinces are sought after in Central Asian countries, which import up to 80 percent of their light industrial products, a big share of them from China. "The huge demand for cotton products like socks, towels and gloves in Central Asia presents great opportunities for Chinese businesses," said Pan Junqing, head of the trade and commerce authority of Ili Prefecture.
The Zhongke International Trade Tower, one of the many edifices on the Chinese side of the center, receives roughly 2,000 Kazakh customers per day. "In winter they buy down coats, hats and socks in bulk. The center is a wholesale emporium for them," said Shi Yu, a Zhongke manager.
Liu Linjun from Hunan Province, among the first tenants of Zhongke, runs a handbag and suitcase store in the center. Liu came to Xinjiang 12 years ago, and initially operated in the regional capital Urumqi. As business was static there, however, he moved to Horgos on the advice of friends. "Monthly turnover is around RMB 30,000-40,000. The peak season is summer," Liu said. Favorites among his Kazakh customers are bags and cases with distinct Xinjiang features.
Kong Lingquan, 45, runs a textile shop in the building. In the busiest days prior to the May 1 Labor Day holiday he can scarcely find time to eat lunch. "Transactions in a single day can easily exceed RMB 10,000," he said. But he also stresses that border trade is highly exposed to the impacts of shifts in either policy or individual nations' economic circumstances. "The depreciation of the Kazakh Tenge in the second half of last year had a negative impact on our businesses here," Kong said.
Services