Union of Sino-British Operas Bestrides Four Centuries
By staff reporter ZHOU LIN
THE year 1616 mourned the simultaneous loss of two masters of drama in both the oriental and occidental worlds: China's Tang Xianzu (1550-1616) in the Ming Dynasty (1368-1644), and Great Britain's William Shakespeare (1564-1616) in the Stuart Dynasty. Four centuries have passed, and the two great playwrights are now "meeting" in China.
On February 18, Beijing's National Center for the Performing Arts (NCPA) was ablaze with brilliant lights as the venue for the Royal Shakespeare Company (RSC) as it staged its "King and Country" trilogy, the first performance of its China tour. At the same time, Tang Xianzu's masterpiece The Four Dreams, including The Peony Pavilion, The Purple Hairpin, A Dream under the Southern Bough and Handan Dream, was playing in the form of Chinese Kunqu Opera at NCPA.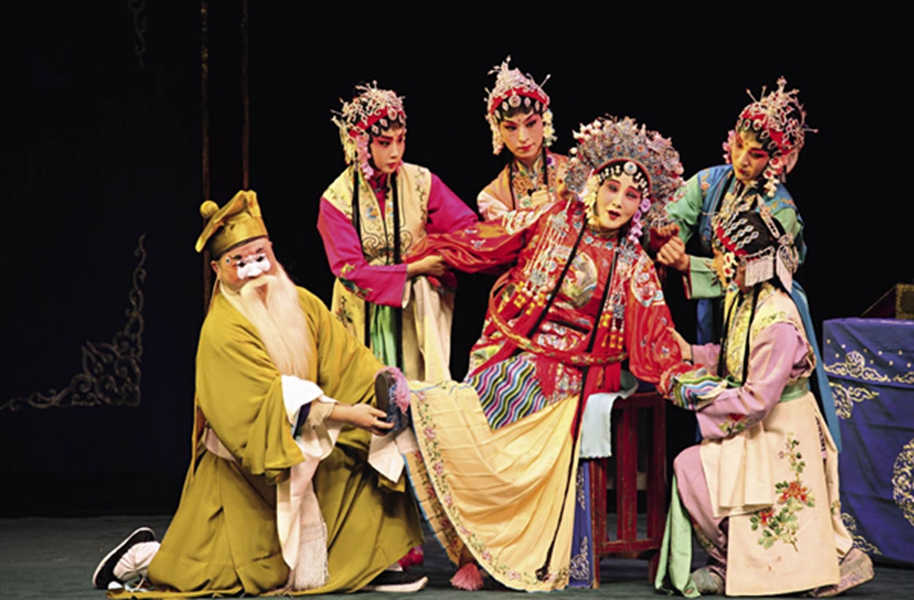 Chinese playwright Tang Xianzu's The Peony Pavilion.
Meeting of Shakespeare and Tang Xianzu
Hailing from the bard's birthplace of Stratford-upon-Avon, the Royal Shakespeare Company (RSC) brought to China their King and Country Tour, including Henry IV Part I and Part II, and Henry V, shown over four days, and which raised the curtain on a series of activities titled "A Dialogue between East and West: a Meeting of Shakespeare and Tang Xianzu."
As Gregory Doran, RSC art director, said, "Shakespeare's dramas present a widespread human experience through abundant stories and vivid characters, instructing us in the nature of love, sorrow, envy, ambition, depression, life and death, themes which resonate with audiences. He is a humanist, a towering figure of a raconteur."
During their Shanghai leg in March 36 performers from the RSC visited the Shanghai Kunqu Opera Troupe to rehearse with Chinese performers, listen to Kunqu Opera and learn to perform with "water sleeves" (long double white-silk sleeves attached to the cuffs of a Chinese opera costume) and wear the "phoenix coronet" (richly ornamented headress), and also watch Tang Xianzu's representative work The Peony Pavilion. Many averred that their first close contact with traditional Chinese opera was a moving experience. Despite the language barrier, everyone smiled when the hero and heroine met. "The demureness of the heroine is in sharp contrast to Shakespeare's bold characters, but the pair's passionate inner hearts are the same, as we can see by their eye contact and body language."
Gregory Doran was full of admiration for the troupe's skill and acting. "The stage presentation and arias are fabulous," Doran enthused. "The gorgeous costumes and makeup form a magic balance with the unstudied theater design."
Li Zhixiang, vice president of the NPCA, announced that audiences will enjoy in total 12 operas with 40 performances over the entire year. Brilliant stars, such as tenors Placido Domingo, Daniel Oren, and Hugo DeAna, will perform in the brand-new Macbeth, while Les Ballets de Monte-Carlo and the Stuttgarter Ballett will stage A Midsummer Night's Dream and Romeo & Juliet respectively.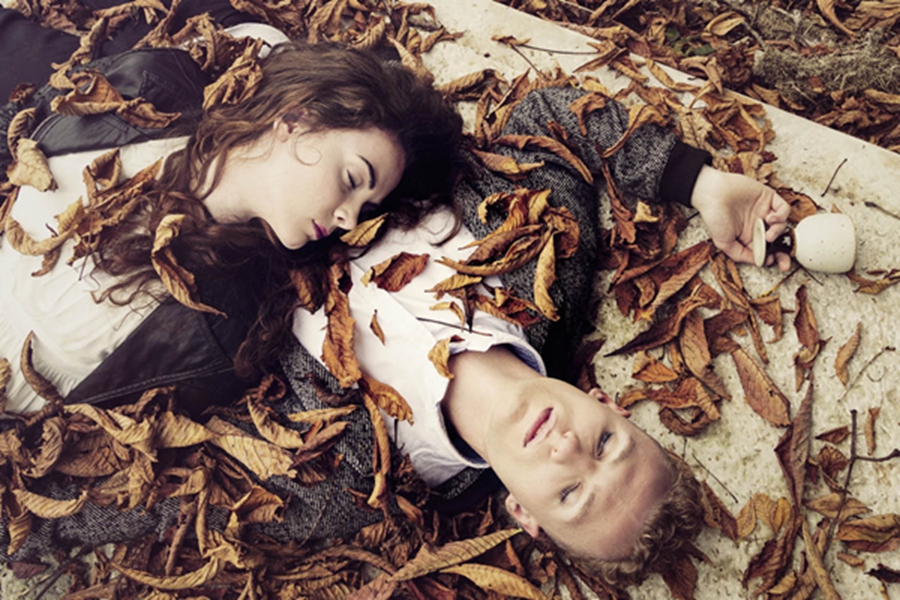 Romeo and Juliet. Anneleen Lindsay
The Chinese original melodrama With Love, William Shakespeare will soon debut at the NPCA, following the performance of Tang Xianzu's magnum opus The Four Dreams.
Enlightened by the decisive role of dreams in both plots, Britain's Gecko and the Shanghai Drama Art Center are working on a performance that will combine Shakespeare's A Midsummer Night's Dream with Tang's The Four Dreams.
In Li Zhixiang's view, differing cultural backgrounds will not hinder people's understanding and pursuit of art, because great playwrights tend to depict the common emotions of all human beings. "The simultaneously commemoration of these two great masters is the best means of carrying on the essence of the legacy we inherit."
Common Human Emotions
Chinese President Xi Jinping talked about Shakespeare's life-long influence on him during his state visit to the U.K. in 2015. He recalled, "To be, or not to be, that is the question," this line from Hamlet has left a lasting impression on me. When I was barely 16 years old, I left Beijing for a small village in northern Shaanxi Province to be a farmer and spent seven years of my youth there. Back in those days, I tried every means to lay my hands on William Shakespeare's works. I read A Midsummer Night's Dream, The Merchant of Venice, The Twelfth Night, Romeo and Juliet, Hamlet, Othello, King Lear and Macbeth. I was captivated by their dramatic plots, vivid characters and emotional intensity. Standing on the barren loessland of Shaanxi as a young man, I often pondered the question, to be or not to be. Eventually I made up my mind to dedicate myself to serving my country and my people. I am sure that Shakespeare not only appeals to readers with his literary talents, but also inspires people's lives in profound ways."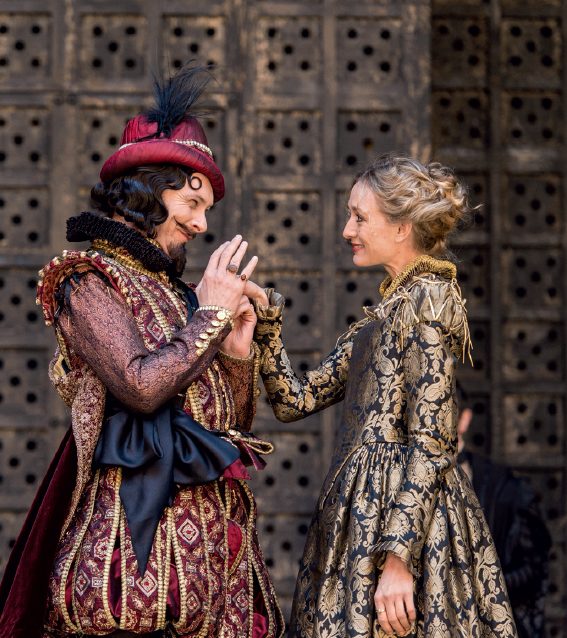 The Merchant of Venice performed at Shakespeare's Globe. Cesare De Giglio
As the year 2016 marks the 400th anniversary of the death of England's Shakespeare and China's Tang Xianzu, President Xi Jinping suggested that, "China and the U.K. could jointly celebrate the legacy of the two literary giants to promote people-to-people exchanges and deepen mutual understanding."
British Ambassador to China Barbara Woodward asserted that Shakespeare's greatness inheres in his depiction of humanity and various emotional experiences. "The common feelings and emotions of love, hatred, revenge, envy, loyalty, betrayal and greed don't vanish along with time, and will never lie beyond our understanding due to differing cultural backgrounds or changes of eras."
Carma Elliot, director of the British Council of China and minister (culture and education) at the British Embassy in Beijing, stated that, artists from the National Ballet of China gave a successful performance of The Peony Pavilion at the 2010 Edinburgh International Arts Festival, while the Shanghai Peking Opera Theater performed the Chinese version of Shakespeare's prestigious screenplay Hamlet, thus demonstrating the allure of Eastern and Western cultural exchanges.
Dong Shangde, a professor from China's Intangible Culture Heritage Research Center at Sun Yat-sen University, stated, "Dialogs between China's Tang Xianzu and Great Britain's Shakespeare are possible, because both plays express a common concern for people's inner world." Therefore, The Peony Pavilion and Romeo & Juliet are comparable works."
Specifically, the themes of both stories originated in folkloric tales. Romeo & Juliet has had various narrative permutations in Italy, France and the U.K. The Peony Pavilion was created from legends spanning the period from the third century BC to the AD sixth century .
With reference to emotional content, Romeo & Juliet enshrines the sacrifice of two lovers amid a family feud, while The Peony Pavilion lauds the unyielding pursuit of the hero and heroine's avowed love for one another.
From the perspective of their dramatic impacts, both plays display a dramatic dislocation between reality and ideality. The young lovers portrayed are from two bitterly feuding families. Du Liniang, the female protagonist of The Peony Pavilion who pursues her true love, has grown up in a cloistered family and must strictly follow feudal ethics. In a sense, this reflects the same cognition of the opera among different nationalities that there is no drama without star-crossed lovers.
Gregory Doran said, "I know China has a bountiful opera heritage, in large quantities and with complicated plots. I am firmly convinced that we can achieve a cultural consensus via sharing ideas and artistic exchanges."
More Than Art Itself
In 2012, when Gregory Doran was the director of the English adaptation of Chinese opera The Orphan of the Zhao Family, he discovered that China abounds in splendid opera traditions. "However, these achievements have not been acknowledged worldwide. I would like to read some Chinese opera masterpieces, but unfortunately there are few renditions of these classic plays," he said, "so, I exchanged ideas with Chinese scholars and directors and was advised to interpret some Chinese classics for Western audiences. I thus embarked on my quest to unearth Chinese operas."
The RSC hopes to engage in cooperation with the NPCA, including offering children's opera classes, inviting domestic actors to participate in theater workshops, and further popularizing their groundbreaking Shakespeare Folio Translation Project, which will produce theater-focused Mandarin renditions of Shakespeare's complete plays by 2020.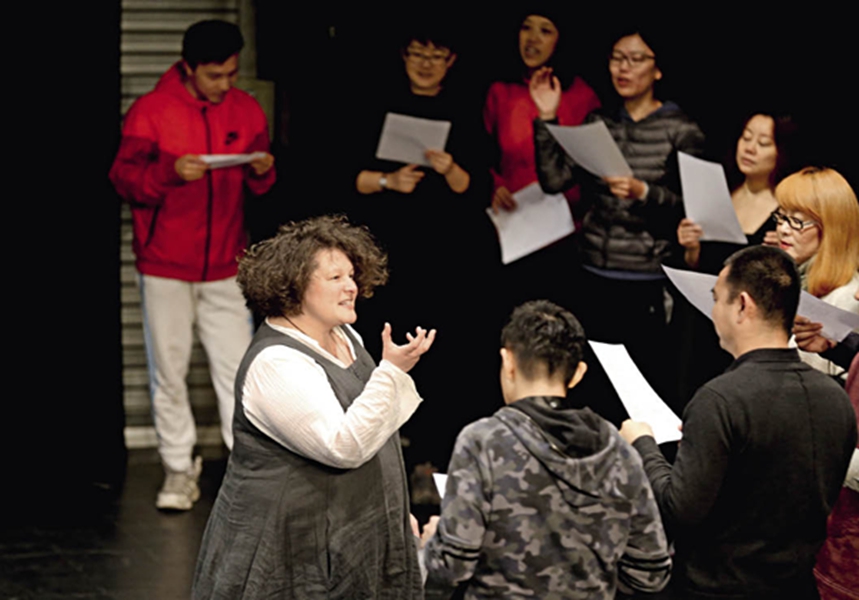 Theater workshops are jointly initiated by the Beijing's National Center for the Performing Arts (NCPA) and the Royal Shakespeare Company (RSC).
Language holds boundless power. "Shakespeare is a master of modern English. His 37 plays and 154 sonnets have contributed 3,000-plus words and hundreds of idioms which have extensively enlarged the English lexicon," Barbara Woodward said.
Carma Elliot added, "Considering Shakespeare's significant impact on the English language, the Shakespeare Lives anniversary activities launched by Great Britain will not just focus on the cultural and creative domains, but also on more education and English learning programs, including smart-classrooms, a Shakespeare Album especially designed for teachers and students in primary and secondary schools, MOOC and apps on mobile terminals for English language learning, and social media – Play Your Part."
 "At present, over 140,000 Chinese students are studying in Great Britain, among whom 108,000 pursue higher educational curricula. Shakespeare Lives will bolster Sino-British educational cooperation. We hope that more Chinese students further their studies in our nation, especially in the majors of English literature, opera, performing arts, and film," Woodward said.
Li Zhixiang added, "In addition to expressing reverence for two great masters, we also hope to nurture more modern drama talents and promote bilateral creations."
Services