China & CEE Countries Alight Fast Track of Cooperation
SINCE the establishment in 2012 of the "16+1" cooperation mechanism, China and the Central and Eastern Europe (CEE) countries have achieved rapid growth in the areas of trade and investment, cultural and educational exchanges, and political mutual trust. The inception of the Belt and Road Initiative has also enhanced cooperation between the two sides. The greater number of block trains regularly plying between China and CEE countries has motivated more Chinese cities and provinces to ramp up trade and economic dealings with these nations and highlight their specific advantages and requirements. Local level interaction is consequently becoming a new impetus towards heightened cooperation with countries in Central and Eastern Europe.
Li Gang, PhD in economics, is a research fellow at the Institute of European Studies in Chinese Academy of Social Sciences. From 2010 to 2011, he did research on EU regional policy at the Department of Public Administration at Erasums University Rotterdam. His study fields include global economic governance, social housing policy in European countries and the U.K. economy.
Trade and Investment a Dynamic Growth Point
Investment and trade are without doubt the most dynamic growth points in the "16+1" mechanism. In 2015, trade between China and the 16 CEE countries totaled US $56.22 billion – US $1.13 billion more than in 2013. Trade with CEE countries, meanwhile, accounts for 8.1 percent of the total China-Europe trade volume – 0.6 percentage points higher than in 2013. Among the 16 countries, China's top three trade partners in 2015 were Poland, with trade totaling US $17.09 million, the Czech Republic, with trade totaling US $11.01 million, and Hungary, total trade having hit US $8.07 million.
From their location in the hinterland of the European continent, the CEE countries have the backing of the EU market. Taking into account their considerable advantage as regards labor costs, they are ideal destinations for Chinese enterprises' investment and production. Relatively less developed than their Western neighbors, CEE countries have a clear need for infrastructure construction and investment. They are therefore fast becoming a favored region for Chinese enterprises' foreign investment. According to the 2014 Statistical Bulletin of China's Outward Foreign Direct Investment, China's FDI stock in the 16 CEE countries stood at US $300 million in 2007. Since then that figure has steadily risen year by year, having hit US $1 billion in 2011 and US $1.7 billion in 2014, almost five-fold the 2007 level. Hungary is the most-favored investment destination, with a total US $560 million of DFI stock from China in 2014, followed by Poland with US $330 million and the Czech Republic with US $240 million.
The Belt and Road Initiative a Motivating Force
The CEE countries are a junction for Europe-Asia interaction. They therefore constitute the keynote of the Silk Road Economic Belt and a main node in construction of the modern Silk Road Economic Belt. In June 2015, China and Hungary signed an MOU on building the Silk Road Economic Belt and the 21st-Century Maritime Silk Road. The first cooperation document signed between China and a European country, it signified the key role of CEE countries within China's geopolitical strategic layout. Hungary's capital, Budapest, is known as the "heart of Europe," a geographic position that makes it a gateway for the Silk Road Economic Belt to Europe as a whole. After completion of the Hungary-Serbia Railway, and of the express rail linking China and Europe, Chinese commodities can upon arrival in the Greek port city of Piraeus be packed into freight cars and transferred by rail to Hungary via Macedonia and Serbia, and onwards from there to Western Europe. This will considerably shorten the logistical timeframe between China and Europe. Completion of these railways will render Hungary a logistics node between Asia and Europe, and a pivot in Europe for the Silk Road Economic Belt.
The Hungary-China cooperation agreement functions as a model for other European countries to follow. More CEE countries have strengthened mutually beneficial cooperation with China, searching out points of mutual interest, and actively participating in construction of the Belt and Road. The Czech Republic, for instance, signed an MOU with China, its third largest trading partner, last November. Among the 16 CEE countries, the Czech Republic is the third largest destination for China's outward FDI stock. When Chinese President Xi Jinping visited the Czech Republic last March, he and his counterpart Milos Zeman agreed to elevate bilateral relations to a strategic partnership, boost bilateral trade and investment, and promote investment and cooperation in the areas of nuclear power, high-speed rail, and finance. A close neighbor of Germany, the Czech Republic links Central, Eastern and Western Europe, and is committed to acting as a finance and logistics center for China's cooperation with CEE countries.
Local Governments' Cooperation a New Engine
Since the first block train route opened in 2011, eight international block train lines have connected China and Europe, including Chongqing-Xinjiang-Europe, Chengdu-Europe, Zhengzhou-Xinjiang-Europe, Suzhou-Manzhouli-Europe, Wuhan-Xinjiang-Europe, Changsha-Europe, Yiwu-Xinjiang-Europe, and Europe-Harbin-Shenyang. Construction and improvement of interconnected infrastructure has drawn cities along these railways much closer, greatly facilitating bilateral trade. Growing economic and trade exchanges at local level are becoming a powerful new development highlight. Ningbo is a case in point, evident in the following aspects: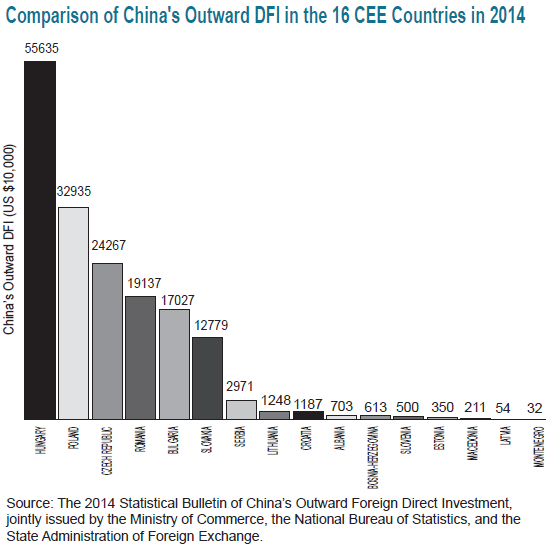 First, Ningbo has given a full play to its port, and strengthened cooperation with countries participating in the Belt and Road Initiative, especially CEE countries. In 2014, the trade volume between Ningbo and CEE countries hit US $2.44 billion, accounting for five percent of China's total trade volume with these nations. By the end of 2015, CEE countries' FDI stock in Ningbo had hit US $65.8 million, while Ningbo's FDI stock in CEE countries stood at US $14.33 million, so leading Chinese cities in this regard.
Second, Ningbo has established a long-term cooperation mechanism with CEE countries. The municipal government issued documents in the first half of 2015 boosting comprehensive cooperation with CEE countries, stipulating that the government will earmark a special fund of RMB 85 million annually, and formulate preferential policies to promote economy, trade, culture, and tourism cooperation.
Third, Ningbo boasts a high-level platform in this regard. According to the "Suzhou Guidelines," the fruit of the Fourth Leaders' Meeting of China and CEE Countries held in Suzhou in November 2015, Ningbo will this month host a ministerial conference on trade and economic promotion and an investment and trading expo.
Sub-regional cooperation between China and CEE countries is a key part of Sino-European relations. The "16+1" mechanism is a new platform that will strengthen Europe's regional integration. The Belt and Road Initiative as proposed by China is open and inclusive, and welcomes all countries' participation. It is an exploration of new path and new model of global governance.
Services