The Hungarian Foreign Vice-Minister on Economic & Cultural Exchanges
By staff reporter ZHOU LIN
ON the evening of May 13th, guests from the Hungarian government and Hungarian Cultural Institute, Hungarian enterprises, not to mention members of Hungarian dance troupes, as well as hundreds of Chinese dancers and performers, converged on the lawn of the Former Residence of Soong Ching Ling in Beijing to celebrate the Opening Ceremony of the Chinese-Hungarian Cultural Bazaar. Guests at this splendid cultural fest dined on typical Chinese cuisines and traditional Hungarian goulash to the accompaniment of fine wines.
"We can always make new friends in the course of tasting such delicacies!" Hungarian Vice-Minister of the Ministry of Foreign Affairs and Trade István Íigyártó quipped.
Hungarian Vice-Minister of the Ministry of Foreign Affairs & Trade István Íigyártó and the Hungarian Ambassador to China at the Former Residence of Soong Ching Ling. --Photo by Gao Lei
Fluent in various languages, Hungarian Vice-Minister of the Ministry of Foreign Affairs and Trade István Íigyártó graduated from the foreign languages department of Budapest University, and has a strong interest in multicultural communication. He remarked to the China Today reporter that Hungary and China share the attributes of a long history and cherished cultural traditions, and that two governments lay great store on cultural inheritance and innovation. With so much in common, the two countries should engage in even more innovative cooperation on cultural exchanges.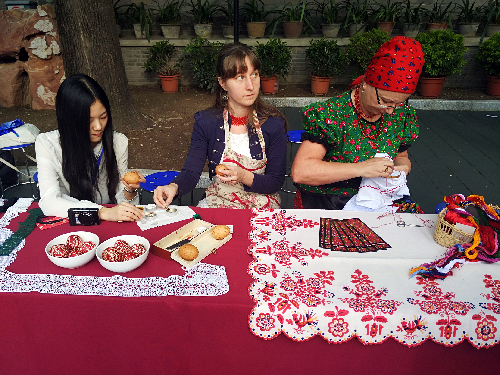 Hungarian handiworkers fashion traditional artifacts. --Photo by Zhou Lin
As a main event in the "2016 Year of China-CEEC People-to-People and Cultural Exchanges," the three-day cultural bazaar jointly held by the China Soong Ching Ling Foundation, the Hungarian Embassy to China, and the Beijing Hungary Culture Institute, regaled Chinese audiences with an exhibition of traditional and innovative Hungarian handicrafts and folk dance performances.
Qi Mingqiu, Standing Vice Chairman of China Soong Ching Ling Foundation (CSCLF), said in his speech at the opening ceremony that the friendly cultural exchanges and mutual visits that the foundation has conducted over the past 20 years have greatly deepened mutual understanding between the two peoples, especially their youth. In future, more cooperation will be encouraged in an innovative way.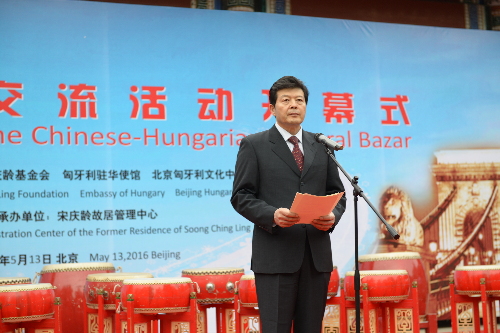 Qi Mingqiu, Standing Vice Chairman of CSCLF, delivers a speech. -- Photo by Gao Lei
Friendship between two countries lies in the affinity of their peoples. Hungary was the first country to sign the Memorandum of Understanding Regarding Promoting the Construction of the Silk Road Economic Belt and 21st Century Maritime Silk Road. When talking about the spirit of "Peace, Openness, Inclusiveness, and Sharing" of the "Belt & Road Initiative," István Íigyártó told the reporter, "The Land and Maritime Silk Road are both vital bridges linking China and the European continent. The Chinese strategic initiatives have brought new opportunities to the nations along the routes. And these opportunities are equally shared among different nations no matter how big the country, their nationality or ethnicity."
He further pointed out that, during the 5th China-CEEC Economic and Trade Forum held in Suzhou last November, leaders from 17 countries placed great importance on pragmatic cooperation, and that Chinese enterprises were extended a warm welcome to Hungary.
China and CEECs all have long histories and splendid cultures, which provide a sound foundation for collaboration in various areas such as economic and trade, culture, technology, and society. China has a huge potential market, while the CEECs, although small, are in urgent need of infrastructure reconstruction. Some Chinese high-technology enterprises, such as ZTE and Huawei, have already established branch offices in Hungary. They have thus made Chinese first-class communication technology accessible to Hungarian people and so made their lives more convenient.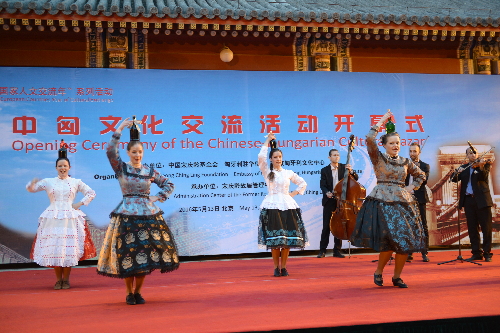 Artists perform a traditional Hungarian folk dance. --Photo by Gao Lei
István Íigyártó made particular mention of the importance of cultural exchanges. In recent years, more Chinese art forms have gone global, so attracting great attention and gaining acclaim among foreign audiences. Hungarian people are especially adept at music as it plays a main role in their lives, and Hungarian children grow up amid an ethos of singing and dancing. Music, therefore, has the power to draw the hearts of the two nations even closer. Moreover, Hungarian audiences delight in watching Chinese historical dramas, martial arts movies, and contemporary films. Ina recent years Traditional Chinese Medicine has also gained a strong foothold in the Hungarian market.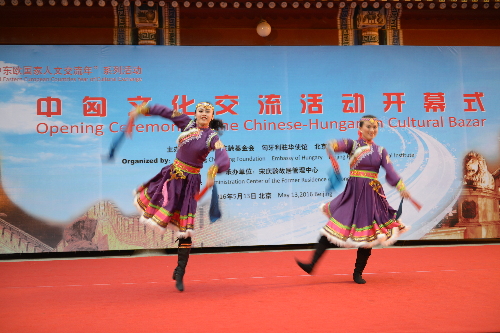 A dance performance by a Chinese ethnic minority. -- Photo by Gao Lei
István Íigyártó noted that there are no cultural boundaries among different nations. In addition, no matter whether elites or common people, all can enjoy the vitality and color of multiple cultures.
"We should consider the common people's favorite art forms. The specific areas they most love are our greatest concern, and could dramatically enhance in-depth understandings between our two countries." István Íigyártó said.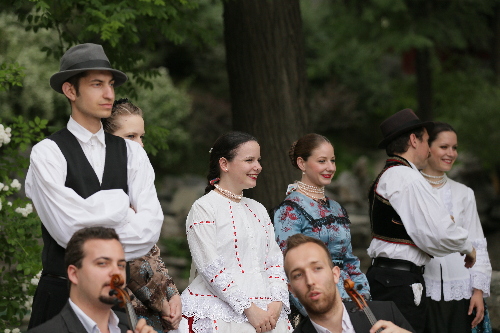 Hungarian folk artists participating  in the activity. --Photo by Gao Lei
Services