Iron and Steel Industry in Transformation
By staff reporter LI YUAN
Crucial materials for manufacture, iron and steel are described by some as the "food of industry." China now produces half of the world's output, and the iron and steel sector has long been a pillar of its economy. The sector has, however, been plagued by overcapacity in recent years, and this has impeded its healthy and sustainable development.
Earlier this year the State Council issued a decree aiming to dissolve the overcapacity in China's struggling iron and steel industry. It lifted the curtain on supply-side reform in the area following the decision made at the Central Economic Work Conference last December.
How can China's iron and steel industry stage a revival, and achieve transformation and upgrade? China Today posed this question to Cering, chairman of the Board of China Iron & Steel Research Institute Group (CISRI).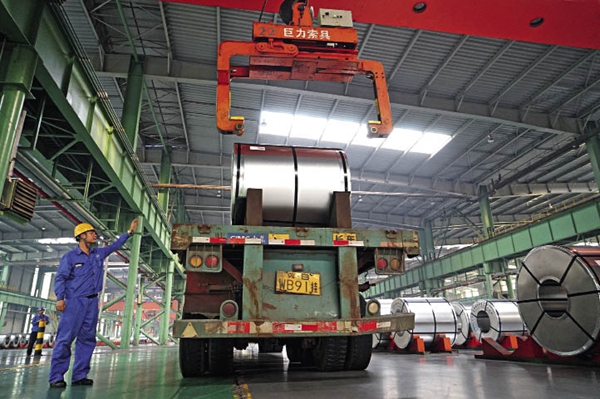 The finished products warehouse of the cold rolling plant of Shougang Jingtang United Iron and Steel Co., Ltd. in Caofeidian of Hebei Province.
Cutting Excess Capacity: The Trend
Cering, the first Tibetan MBA graduate in China, has been in the country's iron and steel industry since 1987, and has witnessed first-hand its vicissitudes during the past decades. He believes that cutting its redundant capacity represents a historical trend, as China has now entered the post-iron and steel era.
The world saw the first iron and steel boom in England, in tandem with the advent of the Industrial Revolution. After strong growth in its manufacturing, in particular the car-making and construction industries, the U.S. became the global center of iron and steel production which rose to be one of the three pillars of American economy. In the wake of WWII, the center of gravity of the world's iron and steel industry shifted to Japan and South Korea, and then started migrating to China at the end of the last century. Now China is working to reduce overcapacity in its iron and steel sector, closing some operations and shifting others abroad.
"The changes in the center of international iron and steel production chart the cycle of the industry. This geographical relay is the result of the law of industrial development," Cering said.
In the case of China's ongoing efforts to shed excess capacity, Cering warned against simply closing down or merging certain iron and steel plants, and urged reliance on market-based approaches to ensure fairness and justice. For instance, law should be strictly enforced to protect the natural environment, save energy and control discharge of industrial waste. Taxation and fiscal policies should not favor some sectors over others. The market should be brought into full play so that the businesses that employ advanced technologies and equipment, supply sought-after products, and consequently achieve better efficiency and benefits, will survive and thrive, and their rivals who don't will dissolve.
Cering insisted that removing overcapacity requires the participation of society as a whole, instead of merely those companies affected. "The enterprises involved should of course bear the brunt of the responsibility, but the government should assume a coordinating function, and staff members of these enterprises must also cooperate," Cering said. "An important issue in this respect is outplacement of laid-off workers, which entails providing them with training and necessary assistance to help them find new jobs." The 2016 government work report declared that the central government will earmark RMB 100 billion in grants and subsidies to resettle employees laid off from iron and steel, coal and other factories affected by the drive to slash overcapacity.
"Earlier this year Premier Li Keqiang presided over a meeting on removing overcapacity, thus attesting to the Chinese government's resolve in this reform. Unfortunately, certain enterprises must relocate or shut down. We have to rationally face this reality. If we leave things to luck, we will see direr consequences."
Cering believes that even enterprises with superior performance also face the pressing need to transform production modes and upgrade their operations and products.
Green and Intelligent Manufacturing
As to the impact of the Made in China 2025 program on the country's iron and steel industry, Cering said this indicates the sector's two solutions to its transformation under the pressure of cutting overcapacity – green manufacturing and smart manufacturing.
In his view, Made in China 2025 is similar to Made in America Again and Germany's Industry 4.0 in certain ways, but is distinct from them in others. "Over an extended period the U.S. has been constructing new platforms by means of information technology and the Internet. Made in America Again is not simply bringing old manufacturing back to the country, but introducing a new version on the basis of the Internet and Internet thinking. It therefore can be called Internet Plus," Cering explained. "Germany has been steadily upgrading its manufacturing system. Its Industry 4.0 is about combining Internet solutions with the existing manufacturing foundation, an approach that can be described as Plus Internet."
Cering said that China's iron and steel producers are also earnestly embracing information technologies in such fields as reduction of energy consumption, environmental monitoring and product tracking. These endeavors are, however, undertaken in a desultory manner, and have yet to converge into an extensive network. He suggested that China's emerging high-end manufacturing adopt the Internet Plus approach, and conventional manufacturing follow the Plus Internet pattern.
China Iron & Steel Research Institute Group is also gearing up for Made in China 2025. For instance, the Automation Research and Design Institute of the Metallurgical Industry, a subsidiary of the group, has shifted its focus from generic automation to energy-frugal and environmentally-friendly manufacturing and smart manufacturing. Several of its major research projects established last year involve smart manufacturing, including metal powder for 3D printing and emission reduction technologies.
The group has also set up an RMB 50 million innovation and entrepreneurship fund to encourage its entire staff to innovate and launch new businesses, and designed a structure allowing them to receive dividends from such projects. This incentive has ignited the enthusiasm for innovation among its employees, particularly the younger ones, and achieved good results.
Making China an Iron and Steel Power
As our interview concluded, Cering was just on his way to Germany to attend an international powder metallurgy event (which will convene in China in 2018). "China's metallurgy industry has maintained close communication with our foreign peers. In the past the exchange was one way – we learned from them. Today it goes both ways, as we have built our own strengths and advantages, which is the premise for in-depth cooperation."
One example is the metallurgical analysis sector. Wang Haizhou, a senior engineer with CISRI and academician of the Chinese Academy of Engineering, served two terms as Chairman of the International Committee of Analysis for the Steel and Iron Industry (ICASI). After he left office, the ICASI secretariat relocated to China, a decision Cering believes owing to China's huge market, sound industrial foundation and strong catch-up in research and development.
In addition to academic exchanges, international commercial cooperation in the iron and steel industry is also thriving. For instance, Advanced Technology and Materials Co., Ltd., a subordinate of ICASI, exports one third of its yearly output value of RMB 4 billion, and has developed strategic partnerships with agencies and customers in multiple countries.
ICASI is also in the process of purchasing and merging foreign R&D teams and companies. "The economic crisis in Europe and the U.S. has opened up more possibilities for such endeavors. We have been making necessary preparations for about two years, including legal and financial audits, sci-tech consultations, assessments, negotiations, hand-overs, foreign exchange and debt arrangements, and business plans for the merged businesses. It is a long process of work," Cering said.
According to Cering, China's iron and steel industry now ranks among the best in the world in terms of R&D and production capacity. Its only weakness is in the production of certain high-end, special-variety materials. "But the number of materials that we cannot produce is becoming less and less." China imports less than 20 million tons of steel of various kinds every year, an amount that has been in steady decline. Of these, only 200 tons are of the kinds that cannot be made domestically. But even of these 200 tons, some are undergoing experimentation and testing by Chinese manufacturers. For example, aviation materials must undergo multiple procedures such as plane prototypes, test flights and airworthiness certifications.
CISRI, the largest metallurgical research organization in China – and the world for that matter – is committed to two missions. One is to help production enterprises transform and upgrade their operations and lower costs; the other is to develop those high-end, high-tech products that currently have to be imported. "China should not only be a major producer of iron and steel in the world, but also a powerful player in this sector," Cering averred.
Services