Liu Ye: Childhood and the World Today
By JON BURRIS
"I may use certain references to things that influenced me as a child, things that first attracted me to art. But these subjects, my 'little people,' are used to describe my world today and certainly far removed from childhood."
If one were to look at Liu Ye's paintings dating from the early 1990s and to study carefully the themes he has developed over time, the impression would be like that of a fairy tale; magical, idealized but often with a dark side.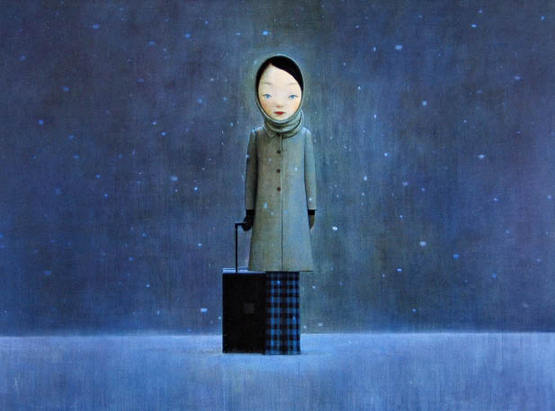 The Little Match Seller, 2004.
Meeting Ye and spending time in his studio attempting to get answers to questions that his paintings raise is a bit like confronting Peter Pan himself. He has selective memories of his childhood, mostly things that influenced him artistically, like his father, a children's author, introducing him to books with stories by Hans Christian Andersen. But he considers that this was a very long time ago, and that the memories of his childhood, mental pictures perhaps, have undergone changes to accommodate the man and the artist he has grown into.
I asked him if he objects to having his paintings compared, stylistically, to children's book illustrations. "I liked fairy tales as a child because they allowed me to escape, and there were times when I needed to. I may use certain references to things that influenced me as a child, things that first attracted me to art. But these subjects, my 'little people,' are used to describe my world today and certainly far removed from childhood."
This admission also hints at Ye's often eroticized portraits of young girls, a recurring theme in his work. I push a little harder and ask if he believes such paintings are selling well on the current market because they are somewhat sensational.
"I can't say why my work has become popular.Maybe because it is outside of the mainstream of avant-garde Chinese art. Maybe collectors want something that is not always political. While my history is certainly tied to the 'cultural revolution,' I have no interest in making paintings that speak to that past like other contemporary Chinese artists I know and admire. I only paint what interests me."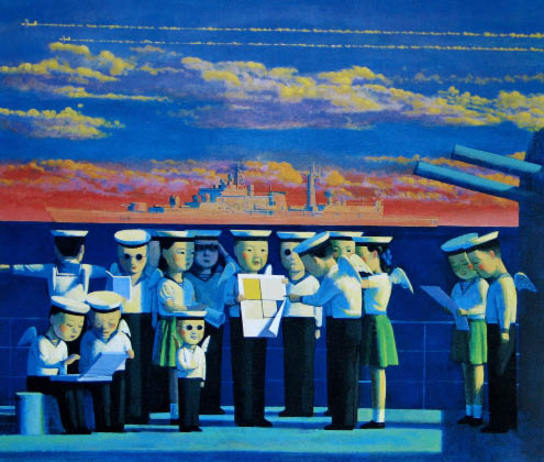 Red Warship, 1997.
What interests Ye is a cast of characters he has created and uses to relate stories that are whimsical, surreal, sometimes playful, and often melancholy. His little people are drawn with adult-size heads on children's bodies. They are innocent-looking and contemplative. And they appear to be involved in serious pursuits like consulting with sailors on a warship at sea, or lost in a foreboding landscape while reading a map that is really an unrolled Mondrian painting.
Mondrian is ever present in Liu's work. Not only are there direct references to the Dutch painter and co-founder of the De Stijl movement, Ye's little people also carry around Mondrian artworks and inhabit Mondrian-like environments. The hard-edged, geometric style and color scheme of Ye's paintings is heavily influenced by Mondrian.
When asked how he became interested in the artist, Ye said it was while studying in Berlin from 1990 to 1994. "Mondrian was meticulous yet simple in his approach. I studied design in Berlin and came to appreciate the simplicity of the geometric compositions of the De Stijl artists."
Another "character" Ye has incorporated into his work is Miffy, the cartoon bunny created by Dutch graphic artist Dick Bruna, whom he met and corresponds with. Stuffed versions of Miffy are scattered throughout Ye's studio. As we talked he was busy making drawings of the bunny. Ye told me that this figure was something of an alter ego for him; when it isn't one of his little people interacting with an artwork, it is Miffy, aka Ye. It is uncertain, though, how his audience views this new subject.
As I was finishing this book, a 1995 painting by Ye entitled Bright Road showing two of his ubiquitous children dancing against a painted backdrop of a landscape in which a large flaming object is crashing, sold at a Hong Kong auction for US $2.5 million. This set a new record for him and confirmed that the market for contemporary Chinese art remains healthy and eclectic.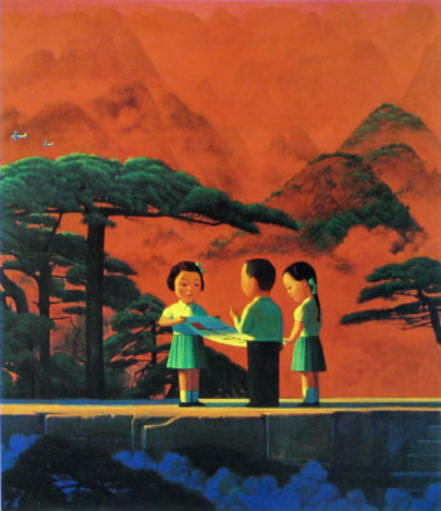 Viewing the Painting, 1999.
Services