To Live – Modern Chinese Performance Art in Berlin
By SUSANNE BUSCHMANN
Chinese performance art in Berlin? Until now most people would assume that the Peking Opera had come to town. Far from it! It was the National Theatre of China traveling to Berlin for the first time to perform a dramatic adaptation of To Live, Yu Hua's famous novel.
Modern performance art from China is still mostly unknown in Germany. With the first stop of the National Theatre of China ensemble, Berliners experienced a rare treat. Expectations were high.
Fans of Chinese literature are already familiar with the original novel, whose German edition was published in 2003. Since then many of Yu's other works have also been translated into German.
The novel was also adapted into a film by Chinese director Zhang Yimou, which was awarded three prizes at the Cannes International Film Festival in 1994.
The stage drama was presented for the first time to the German public by Meng Jinghui, one of China's most celebrated directors. Meng is known as a pioneer of avant-garde and experimental theater, and well-known for his creative and expressive style. Performances under his direction bear a uniquely comedic, critical and vivid signature. Meng's artistic influence is credited with invigorating Chinese drama and giving it a completely new appearance. Meng also has a soft spot for the German theater, having brought to stage Goethe's Faust and Brecht's Dreigroschenoper, to the artistic style of Rainer Werner Fassbinder.
Given Germany's long tradition and a well-earned reputation for avant-garde theater, it is no surprise that Meng chose Berlin as the first stop for his global tour.
The choice of the well established Deutsches Theater as the venue was also symbolic. A number of internationally celebrated directors, playwrights and actors have brought their productions to its stage since 1883.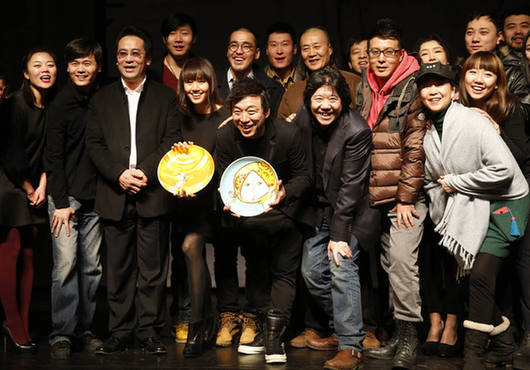 The To Live cast.
Struggle to Live
The audience at the premiere night experienced a splendid performance of modern Chinese theater. Wolfgang T., a spectator from Halle, expressed what many felt this evening: "I'm really glad to have seen this play today. This trip to Berlin was more than worthwhile. This was world theater at its best. Bertolt Brecht would have been delighted!"
Mr. Jiang from Beijing said after the performance: "The play vividly portrays China's dynamic history and the crushing burdens on Chinese people in the past. My wife and I were deeply moved."
Services