Innovation, China's New Motto in the Mobile Era
By staff reporter LIU YI 
In May 2013, Yu Jianyue left Sohu.com after 10 years to join Koala FM, a start-up team developing a smart phone-based radio application. It was one of millions of new apps in China that year. According to a report by China Central Television, the number of apps in Apple's app store alone surpassed one million in 2013, including 300,000 more than the previous year.  
Yu is now assistant president of Koala FM and Auto Radio. The core members of his team mainly come from traditional internet companies like Sohu.com. Since the mobile internet swept the world, Sohu – a firm less than 20 years old – has come to be regarded as a "traditional" company. More and more IT talents are looking to mobile internet to make tomorrow's fortunes. 
In May, the Global Mobile Internet Conference was held in Beijing with the theme of "the Next 5 Billion," referring to the market of 5 billion people. In China, the market is already too big to imagine. According to statistics released by the Ministry of Industry and Information Technology in January 2014, the number of Chinese mobile internet users totaled 838 million in 2013; they used 133 million Gigabytes of data, up 46.9 percent on the previous year, and 80.8 percent of online traffic was on mobile phones. As 4G technology matures and the smart phone spreads to second- and third-tier cities, mobile internet fever continues.  
The huge market has stimulated capital and attracted numerous talents. Despite the deluge of new apps, less than one percent will reach a million downloads; eighty percent will not reach 1,000. Facing stiff competition and constantly changing market demand, every company needs to challenge itself to create better user experiences. The market will otherwise abandon them.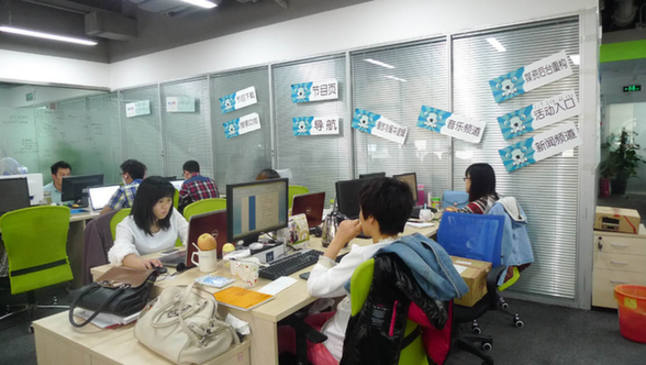 The boards of new channels are put on the wall. Koala FM has grown to a general radio app catering to multiple interests. Liu Yi
Keep Innovating
Koala FM is a radio app designed for motorists. Since 2008, China's auto market has grown exponentially. The traditional radio industry revived, but user experience was poor – fixed time slots, long shows and lots of advertisements. Yu and his team smelled a niche market. Based on the mobile internet, they developed the Koala FM, introducing a new radio experience to motorists.  
When the app opens, the phone broadcasts automatically but not randomly. Two listeners might hear two different programs. Thanks to the interactivity and big data technology, the app can understand users' preferences – when users listen to a program, they can click "good", "bad" or "skip" to indicate their interest; and then the app automatically chooses programs to match the users' interests.  
This recommended engine model allows users to concentrate on driving. They don't need to tune channels or click buttons, at the risk of driving safety. Moreover, Koala added a buffer function for users outdoors. They can download two hours of programs over WiFi, saving expenses on data traffic. Meanwhile, most of Koala's programs are five to 20 minutes long, perfect for killing time. In contrast, traditional auto radio listeners often find their enjoyment cut off mid-program. 
Services