New Energy Vehicles in China
By staff reporter LUO YAO
New energy vehicles were once again the highlights of Auto China 2014, held at China International Exhibition Center in Beijing in late April. Over 2,000 enterprises from 14 countries participated, exhibiting a total of 1,134 vehicles. Among them, 118 models were shown for the first time, 79 of which used new energy. These new energy cars represented not only international brands but domestic products as well.
Many of China's new energy cars compare favorably with international competitors. BYD's brand-new hybrid SUV, Tang, can accelerate from 0 to 100km/hr in just 4.9 seconds. Chery's Arrizo7 can travel 50 kilometers on battery power, outperforming all similar vehicles. 
The sudden greenness at Auto China is not just because of growing environmental awareness and the threat of energy shortages. A new platform of government incentives has also encouraged research and production of new energy vehicles.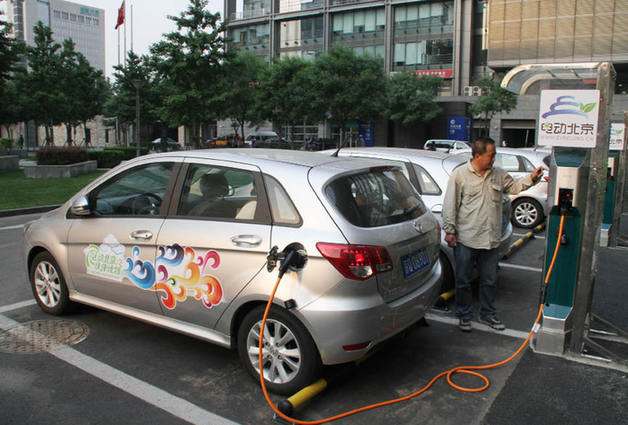 An electric car owner uses a charging post at Tsinghua Science Park in Beijing. 
New Incentives
As China chokes on haze, the fumes of industrial waste and vehicle exhaust are blamed for the smog in major cities. Faced with serious environmental problems, new energy vehicles have drawn even more attention.
"The attention is not only from society, but from the government," said Zhang Guobao, former director-general of the National Energy Administration. As the world's largest producer and consumer of automobiles, China has made new energy vehicles a priority for future development. New government incentives demonstrate the government's determination to popularize new energy cars in China.
Beginning in 2001, China invested RMB 2 billion to research and develop electric, hybrid and fuel-cell powered cars. More than 3,000 scientists, representing over 200 auto companies and research institutions, participated directly in these research projects.  As a result of their efforts, 160-plus new electric cars have entered production.
In early 2009, a project jointly led by several Chinese ministries was established to bring more new energy autos to public transportation. As of last January, 87 cities have participated, planning to put more than 330,000 green vehicles on the road.
As a pilot city, in 2011 Beijing established a lottery system for vehicle license plates to curb the influx of new cars. The city has gradually increased the license quota for new energy vehicles. It is expected that the number of licenses for new energy vehicles will rise to 20,000 in 2014, and reach 60,000 by 2016.
Governments at various levels have also offered subsidies to buyers of new energy vehicles. Those from the central government may reach RMB 60,000 depending on driving range, with parallel subsidies from local governments. Shanghai's municipal government offers RMB 40,000 to electric car buyers and 30,000 for hybrids. Beijing's subsidies match the national level; other urban centers including Guangzhou, Shenzhen, Chengdu and Zhengzhou have enacted similar policies.
Favorable policies have made China quickly develop into a vast market for new energy cars.
Services