Shanghai – Asia's City of Style
By special correspondent LIU QIONG
At Paris Fashion Week Fall/Winter 2014-2015 in March, Chinese celebrities fitted out in gorgeous gowns featuring Eastern fashion styles attracted much kudos. As China advances further onto the world stage, Shanghai is leading the fashion charge. U.S.-based Global Language Monitor (GLM) listed Shanghai over Tokyo as Asia's most stylish city in 2013, ranking No. 10 worldwide in fashion.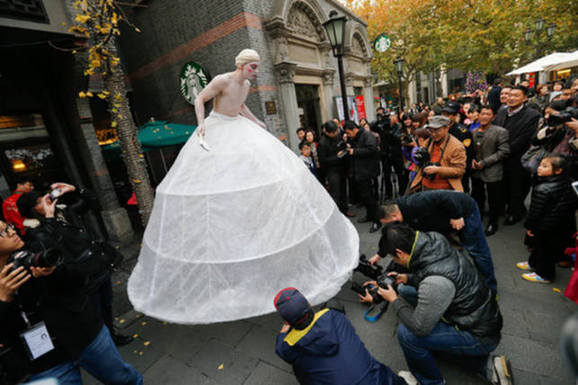 Two members of the French Arts Birds Union draw passers-by in Shanghai's Xintiandi shopping district to their street performance Crinoline.
Vast Fashion Consumption Potential
Walking through Shanghai's famed shopping districts, such as West Nanjing Road, Middle Huaihai Road and Xujiahui, one finds Hermès, Cartier, Tiffany & Co., et al. With vast arrays of luxury brands, those shopping centers resemble Avenue des Champs-Elysées and 5th Avenue.
According to Zhou Ting, head of the Fortune Character Institute, luxury brands are opening Shanghai stores one after another, due to the city's market potential for high-end products. Last year, the Beijing Trends Media Group released a report on China's urban fashion industry, noting that Shanghai topped China's cities in consumer capacity for fashion products. The report was based on a survey of consumption patterns of the "new rich" in 20 cities including Shanghai, Beijing, Nanjing, Chengdu, Tianjin, Chongqing, Guangzhou, and Shenzhen. In 2012, these cities' annual per capita consumption of fashion products for this target group averaged nearly RMB 50,000, accounting for 57.3 percent of annual per capita income. Shanghai took the lead, at RMB 86,132. At the same time, the city's consumption of jewelry, watches, cosmetics and electronic products also headed each category.
Recent research by Contact Lab, an Italian marketing company, shows that Shanghai's luxury consumers spend for more than their counterparts in New York. The company interviewed about 1,000 in each city. On their latest purchases, interviewees in Shanghai spent US $1,000 per capita, whereas the figure in New York was US $500. In addition, 91 percent of interviewees in Shanghai planned to purchase luxury goods in the next six months, as compared to only 77 percent of New Yorkers.
In fact, Shanghai has a long history as a stylish city. In the 1930s, it was known as the "Paris of the Orient." During the 1950s and 1960s, Shanghai was the center of the country's light industry. Bicycles, watches, shirts and cameras were its pride. But this glory faded away as time passed.
Although Shanghai is synonymous with fashion, insiders claim Asia's newest most stylish city still lags far behind its counterparts New York and Paris, which boast a full fashion industry chain. Ge Wenyao, president of the Shanghai International Fashion Federation (SHIFF), says it is a pity that over the last 30 years, the most popular fashion brands in Shanghai have always been foreign. "At present, the city has only a fashion consumption culture, but its fashion industry is less developed. Its European counterpart Paris, however, is a center for fashion creation and the benchmark for judging fashion," Ge remarked.
Services