Miao Drum Dancer Shi Shunmin: The Beat Goes on
By staff reporter JIAO FENG
GROWING up in the mountains of Jishou, Shi Shunmin never dreamed her drum dance performances would one day become a cultural asset, representing her people and history.
Miao drum dancing, whose origins are in sacrificial rituals, was traditionally performed in Guizhou, Hunan and other provinces with a high Miao population. But with modern civilization wiping out old norms and customs en masse, it has lost much of its luster among the younger generations.
When Shi was a child, there were very few people learning drum dancing. But when one day she saw her mother dance, she fell in love with the art and danced her way out of the mountains.
In Shi's home, there is a photo that catches every visitor's attention: Mao Zedong and Zhou Enlai stand among notable representatives of China's ethnic groups, including Shi. The photo commemorates Shi's first performance at the Great Hall of the People in Beijing. Whenever she recalls that day, her heart swells with pride.
First Encounters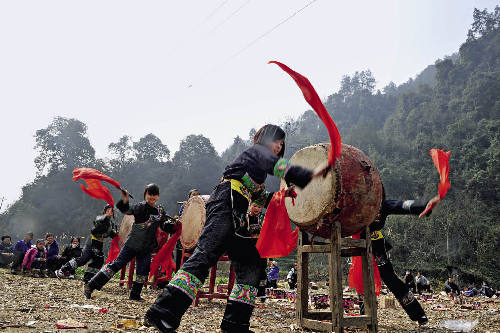 Miao drum dancing has its origins in sacrificial rituals.
Shi was born into a rural family of meager means. At the age of eight, she recalls, her neighbor held a bull sacrificial ceremony to drive out evil spirits. People gathered around a fire, beating drums, singing and dancing the whole night.
Shi can still recall the scenes of that night. With every beat of the drum, more and more Miao people gather around the fire; two Miao women dance while beating the big, red-lacquered drum; they turn, jump, tilt their heads, bend right back, contort their bodies. Shi's mother was one of the two drummers. From that night, Shi became infatuated with the dance and started to learn from her mother.
That was a time of endless imagination. As she didn't own a drum and drumstick, Shi improvised with whatever she could find – a canister made of newspaper, the wall, the rungs of a wooden ladder. In her eyes, anything could be a drum and any place could serve as her stage.
Year in, year out, Shi spent her spare time drum dancing, come rain or shine. Whether after mowing grass in the morning, after school in the afternoon, or after cleaning up at night, Shi was always full of energy and enthusiasm for dancing. Her diligence and talent contributed to her mature dancing technique, which singled her out from other local dancers.
Dancing to Beijing
Intending no disrespect to her mother, her teacher, Shi felt that her dancing skills had, essentially, been fostered "in the wild." Striving for more, Shi attended first Jishou County Dance and Drama School, then the Peking Opera Troupe of Xiangxi Tujia and Miao Autonomous Prefecture for professional training. By the end of her education she had acquired more dancing skills and learned kung fu. With these, she could perform the Miao drum dance to perfection.
In 1964, aged just 15, Shi was invited to Beijing's Great Hall of the People for a joint performance of national ethnic group troupes. She remembered that her team's Miao drum dance received three rounds of thundering applause from the ebullient audience. And after the performance, as a Miao performer representative, she met with China's top leaders including Chairman Mao Zedong and Premier Zhou Enlai.
Now, 48 years have passed, but Shi still remembers vividly the moment Chairman Mao shook her hand.
Services