Chinese Carmakers Race for Latin American Market
By staff reporter DANG XIAOFEI
After recovering from the shock of the world financial crisis, China's automobile exports to Latin America are begining to climb. Chinese auto manufacturers, represented by Chery Automobile and Great Wall Motors, are accelerating their efforts to conquer the Latin American market.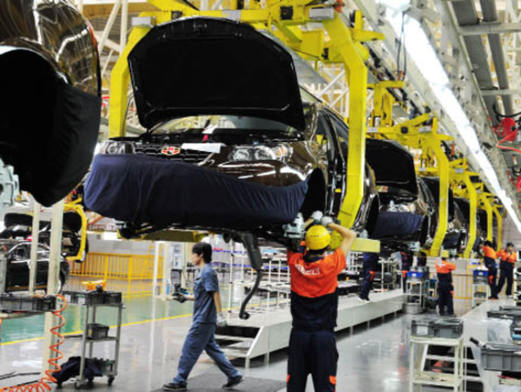 A car assembly line at the Geely automobile factory. Dong Ning
Opportunities in Latin America
After a swift rebound over recent years, Latin America is now the third largest destination for Chinese automobiles, after the Middle East and Africa.
"Latin America has been a major area of growth since 2013, and the market will grow even faster in 2014 due to high demand. Moreover, Chinese carmakers have gradually strengthened their footholds there," said the export business manager of Zhejiang Gonow Automobile Co., Ltd. "Chile and Brazil are priority markets, followed by Columbia, Uruguay and Ecuador, while Venezuela is a separate market."
Strong economic growth in Latin American countries has created high potential for the region's automobile market. Because China and Latin America are evenly matched in automotive technical requirements, the market threshold is not high.
Currently Peru and Chile offer the highest sales volumes to Chinese carmakers. According to Julio Concha, sales manager of Derco Company in Peru, Chinese carmakers have a price advantage which has helped them to successfully penetrate Peru and Chile and make inroads into Bolivia, Uruguay, Paraguay, and Columbia.
"Forty Chinese automobile brands have found stable long-term sales in Peru, and another 10 to 15 brands have recently entered the market. Dump trucks sell the best here because there is a huge demand among young entrepreneurs and small businesses. They need quality automobiles at reasonable prices," said Mr. Concha.
Zhu Yi, an engineer at the China Automotive Technology and Research Center, identifies two advantages for Chinese automobiles in Chile. First, he says, as a consequence of the Free Trade Agreement between Chile and China, automobile exports are tariff-free. Second, Chinese-made automobiles are available in many types and sizes, mostly falling into the lower price range. These relative advantages have allowed Chinese manufacturers to steadily expand their market share in Chile.
Services