Reading, Back in Vogue
By staff reporter DANG XIAOFEI
Reading is a long cherished tradition in China. A well-educated family is often approvingly referred to as "a home filled with the fragrance of books." However, after the market economy swept across the country, frenetic changes in lifestyles began to upend certain long-standing social norms. The number of books read per capita in China yearly took a nosedive, triggering wide apprehension. Then this freefall eventually came to a halt, and a rebound is underway.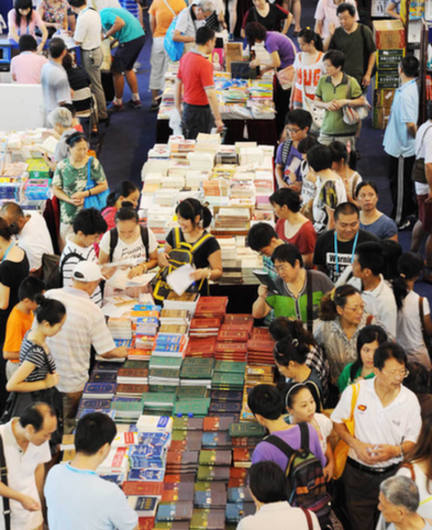 Visitors stream into the 2012 Shanghai Book Fair on its closing day.
More Time for Reading
A study by the Chinese Academy of Press and Publication shows that the country's reading rate began to rise in 2005, after a steady downturn from 1999. Results of the 10th national survey of Chinese people's reading activities, released in 2013, also backs up this conclusion: 54.9 percent of Chinese aged 18 to 70 curled up with a book in 2012, one percent higher than in the previous year.
Hao Zhensheng, president of the Chinese Academy of Press and Publication, credits this uptick in the reading curve to a confluence of macro and micro factors. With higher incomes, citizens tend toward more cultural pursuits. This would explain why the academy has found that books sell better in more economically developed regions. The government has also played a positive role in rekindling a love for books. More than 400 Chinese cities have staged various reading promotion campaigns, such as reading months or reading weeks. As well, the spate of public libraries built across the country over recent years has given local residents better access to books. In addition to the sleek, multistoried urban libraries, there are also 600,000 smaller ones in rural communities with stocks numbering close to one billion books.
Services