Yellow Croaker "Guota" Style
Yellow Croaker "Guota" Style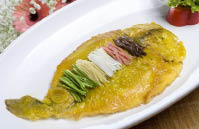 Guota is a traditional cooking style that combines frying and stewing, producing dishes that smack delightfully of both fried and braised food. The style originated on the Jiaodong Peninsula in Shandong Province on China's east coast. Yellow croaker is a representative guota-style dish, a specialty of Shandong cooking, which is one of China's eight major cuisines.
The invention of this dish, it is said, goes back 500 years; they still tell the story, during the Ming Dynasty (1368 - 1644), of a rich man in Shandong's Fushan County who loved seafood so much that he hired a "celebrity" female chef to cook it for him. One day she was late for work and so as not to delay serving up, she cut the frying time for the fish. The rich man, finding it undercooked, got very irate and demanded that she redo it.
The chef knew that if she fried the original fish some more, the color would be too dark, which would make him even more upset, but starting over with a new fish would take longer and he wouldn't happy about that either. Sudden inspiration struck. She made a soup with seasonings like scallion, ginger, Sichuan pepper and star anise, put in the part-cooked fish, stewed it until the liquid was reduced and served it up. To the surprise of all, the rich man loved it and asked how she had cooked it. After that he would always ask her to cook it for him and it was taken up in many a local home.
Obviously, fresh yellow croaker is a must; the other ingredients are scallion, ginger, edible black fungus, ham and bamboo shoots. First, coat the fish with flour and then with egg yolk, and fry it until it starts to take on a gold color. Sauté the other ingredients, add soup-stock and seasonings, put in the fried fish and cook until the liquid is reduced. Serve.
These tasty guota dishes have become firm favorites in the Shandong culinary repertoire. You might also try the delicious Guota Chicken and Guota Clams.
Where to eat:
1. Tongheju Restaurant
Add: A-1, Yuetan South Street, Sanlihe, Xicheng District, Beijing
Tel: 010-68522917
2. Qiluyuan Restaurant
Add: F1 Shandong Hotel, 2 Madianqiao South Road, Haidian District, Beijing
Tel: 010-82003266
3. Shandong Restaurant
Add: Building A, Dongjiu Mansion, northern end of Xizhaosi Street, Dongcheng District, Beijing
Tel: 010-51007180
Services