On the Pulse of the National Economy
On the Pulse of the National Economy
By ZHAO QIULI & SONG KUN
PROFESSOR Huang Shao'an has a natural bent for economics. Even his decision to stay at university as a teacher 20 years ago came from economic thinking, as he reasoned that, thanks to the multiplying factor of their students, the value of teachers is unlimited. Now turning to 50, he is an accomplished professor of economics with his own research team and recognized by the national Chang Jiang Scholar Program, a government incentive scheme for the country's celebrated scholars.
A Family of Teachers
The son of grade school teachers, little Huang followed his parents to the countryside during the "cultural revolution" (1966-1976), when many intellectuals were sent to work with farmers to be reeducated. He grew up in a rural environment that lacked a decent public education system, but fortunately his teacher parents took care of his learning. In 1978, the second year after the national college entrance exam was resumed, he passed the exam and became a university student. After finishing his undergraduate studies, he entered the postgraduate program with economics as his major.
The choice was not based on personal interest or academic merit but the expectation that the country would need a large reserve of economists now that the national priority was shifting from political movements to economic development. He hence took on the subject with a heartfelt sense of honor and duty. But as his studies proceeded, he became fascinated with the discipline and awed by its power to shape the world, the country and the life of every citizen.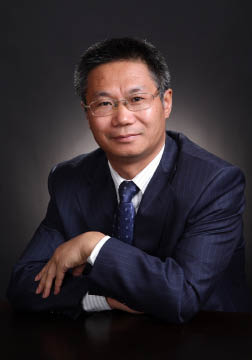 After receiving his doctorate degree in the early 1990s, Huang didn't hesitate in his choice to stay at university and teach, though he had received many offers outside academia. He made the decision out of his love for teaching, under the influence of his family background. His grandfather was a teacher at a private school before the founding of the People's Republic, his parents taught at grade schools and three of his five siblings are college teachers.
Huang was hired by Shandong University and has worked there ever since. "I just followed my heart and chose teaching as my career. I think highly of the value of entrepreneurs and politicians, but I would rather use my wisdom, knowledge and personality to influence my students," he explained. "They might become successful businessmen, politicians, civil servants or scholars. My profession is the most economically useful, isn't it?"
Moreover, university provides the environment he needed to concentrate on his research, which for him is another meaningful and valuable task on which to focus. In 1994, at the age of 32, Huang was nominated as professor, an honor rarely given to a lecturer that young.
Nearly two decades on, Huang Shao'an, now president of the School of Economics of Shandong University, is at the forefront of China's economic thinkers, particularly in the realms of property rights, institutional economics, economics of law and language economics. His achievements have been honored by a number of awards including the Sun Yefang Economic Science Prize and the Award for Rural Development Research.
A Pioneer in Economics
When talking of Huang Shao'an, his colleagues and peers share the view that he is a farsighted scholar with solid academic background who has both the courage to brave uncharted waters and the patience to pay due attention to fine details.
While teaching at Shandong University, he became one of the first in China to study modern property rights and institutional economics. His book Guide to Property Right Economics was among the first publications in China to systematically compare economic theories prevalent in the West with Marxist economics. It presents an innovative and profound analysis of their cardinal concepts, theoretic basis, values and defects.
Services