Mutton Soup with Chinese Yam and Wolfberry
Mutton Soup with Chinese Yam and Wolfberry
(Huaiqi Yangroutang)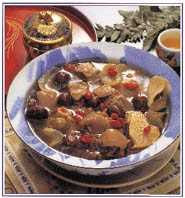 Ingredients:
500 grams mutton
25 grams Chinese yam
10 grams Chinese wolfberry
40 grams dried longan pulp
10 red dates
1 clove of ginger
Seasoning:
1/2 cup rice wine
1 pinch salt
Method:
1. Rinse and cut mutton into chunks, blanch. Cut ginger into slices.
2. Stew mutton in water together with yam, wolfberry, dried longan pulp, red dates, ginger and rice wine, bring to a boil. Turn to low heat and cook until mutton is soft and done. Add salt and serve.
Services