Eco-agriculture and Eco-tourism Power Nanchang's Green Development
By staff reporter VERENA MENZEL
In August 2010, Nanchang was chosen as one of China's eight pilot cities for low-carbon development. Today, Nanchang Municipal Government has adopted the development of eco-agriculture as one of its core missions. Environment-friendly planting methods are not only helping build Nanchang into a model city for China's green drive, but also adding impetus to the local tourism industry.
IT'S fair to say that one expects to see golden ripe pears on visiting an organic pear orchard in late summer. But not here in the Jiangxi Qinglan Ecogarden. Every pear, as far as the eye can see, is wrapped in paper.
China Today paid a visit to the ecogarden, located in Qianfang Town of Nanchang's Jinxian County, at the height of summer. The first batch of its luscious fruit was just heading to market.
Tu Lihua, secretary of the CPC Committee of Qianfang Township, explained, "The paper wrappings keep birds and insects from harming the produce. Also, the skin of pears grown in this way is thinner, and they taste better."
The improved taste is due to the non-use of any kind of pesticide in the growing process – pears from the Qinglan Eco-garden are 100 percent organic. When you think about it, eco-agriculture can be very simple.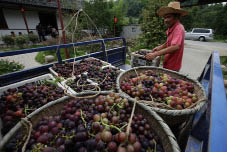 Ripe grapes are loaded onto the back of a truck at the organic orchard in Meiling National Forest Park. Photos by Wan Quan
Nanchang is the capital city of Jiangxi Province in southeast China. Its population is around five million, making it a medium-sized city by Chinese standards.
Jinxian County is located in southeast Nanchang, 40 kilometers from downtown. The 530-plus-hectare orchard here is run by Qinglan Organic Plant Co., Ltd. Its fruit trees – mainly pear and grapefruit – are all organic-accredited.
Tu elaborated on what this actually means: "The growers in the orchard have followed to the letter the requirements for growing organic food. All the standards have been met. Only organic fertilizer is used, so the fruit produced could not be more organic."
Services