Sesame Rolls
Sesame Rolls
( Zhima Liangjuan)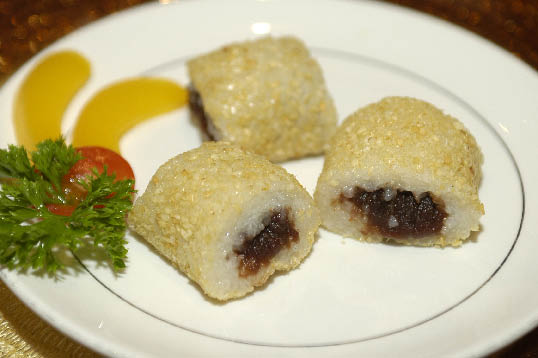 Sesame rolls are a famous cold snack local to Beijing, which were invented, as the story goes, in the kitchens of the Imperial Palace. One day, a chef making Aiwowo stuffed rice balls ran out of filling ingredients for these snacks. So, after a moment's panic, he improvised by rolling up the rice with red bean paste and dressing them with roasted sesame. The resulting Sesame Rolls got a great reception and this tasty snack has been popular ever since.
The flavor is soft, mellow and lingering, and sesame is very good for the health. Why not try this easy-to-make snack if you have a moment?
Ingredients:
500g glutinous rice
400g red bean paste
250g sesame seeds
Method:
Rinse the rice and steam it till soft. Wrap the rice in a clean cloth and knead it into a dough. Remove the cloth and allow to cool.
Dry-roast the sesame seeds over a low flame. Crush them with a rolling pin and scatter over a chopping board.
Roll the rice on top of the sesame to form a long, flat piece of dough.
Spread the bean paste over the top surface of the dough, and then roll it towards the middle from both ends. Scatter more sesame over the roll, and slice before serving.
Recipe courtesy of Beijing International Hotel
Add: 9 Jianguomennei Street, Dongcheng District, Beijing
Tel: (86-10) 6512 6688
Services