Key Chinese Concepts
八卦
/bāguà/
Eight Trigrams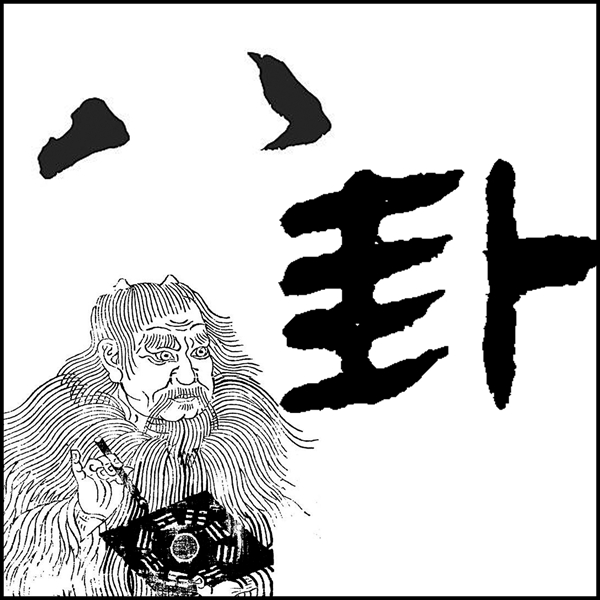 由""(阳爻)和""(阴爻) 每三个一组合成的一套符号系统。三"爻"合成一卦,共有八种组合,故称"八卦"。"八卦"的名称分别是乾 ()、坤 ()、震 ()、巽 ()、坎 ()、离 ()、艮 ()、兑 ()。古人认为"八卦"象征着自然或社会中的一些基本事物或现象,其基本的象征意义分别是天、地、雷、风、水、火、山、泽。古人借由"八卦"彼此之间的交互演变及其象征意义,来理解和阐发自然与社会的运行变化及其法则。
Each of the eight trigrams consists of three lines and each line is either divided () or undivided (), representing yin or yang respectively. The eight trigrams are: qian (), kun (), zhen (), xun (), kan (), li (), gen (), and dui (). According to ancient Chinese, the eight trigrams symbolized basic things and phenomena in nature or society and represented heaven, earth, thunder, wind, water, fire, mountain, and lake respectively. The ancient Chinese also used the interchanges and transformations of the eight trigrams and what they represented to understand and expound on natural and social changes and to explain why and how they took place.
◎古者包牺氏之王天下也,仰则观象于天,俯则观法于地,观鸟兽之文与地之宜,近取诸身,远取诸物,于是始作八卦,以通神明之德,以类万物之情。(《周易·系辞下》)
(古时伏羲氏统治天下,仰头观察天上的物象,俯身观察大地的法则,观察鸟兽的斑纹以及地上适宜生养之物,近处取法于人体自身,远处取法于万物的形象,于是初始创作了"八卦",以会通事物神妙显明的本质,以区分归类万物的情态。)
When Fuxi was the ruler under heaven, he looked up into the sky to observe celestial phenomena and looked down on the land to observe geographical features and examine the images of birds, animals, and all other things that existed on earth. He selected symbols from the human body close by and from various objects far away, and then invented the eight trigrams to explain the miraculous nature and distinguish the states of all things. (The Book of Changes)
卦爻
/guàyáo/
Trigrams and Component Lines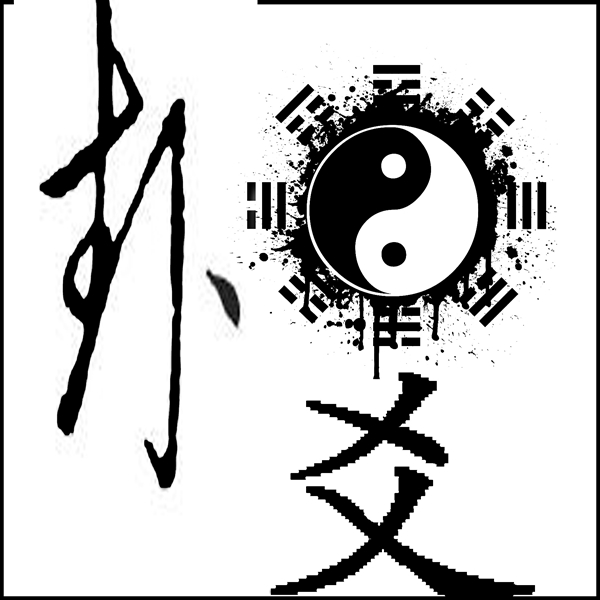 "卦"是由""和""排列组合而成的一套符号系统,其中的""为"阳爻",""为"阴爻"。每三"爻"合成一卦,可得"八卦"。每六"爻"合成一卦,可得"六十四卦"。"卦爻"的产生与占筮有关。古人通过分取蓍草,演算其变化之数,从而确定卦爻,以预测吉凶。后人为卦爻赋予各种象征意义,并用以理解和阐发包括人事在内的天地万物的运行变化及其法则。
A gua (trigram) is a system of symbols consisting of undivided lines () and divided lines (). The undivided line () is a yang line while the divided one () a yin line. Three lines make a trigram, and there are eight such trigrams. When six lines are put together, they together make 64 hexagram combinations. Trigrams and component lines were created partly for the purpose of divination. Ancient Chinese people used yarrow stalks to make hexagrams, calculated the variations they suggested, and consulted them for the purpose of divination. Later on, people used trigrams symbolically to explain the changes and the laws regulating the changes that occurred in people and everything else, and why and how these changes took place.
引例 Citations:
◎八卦成列,象在其中矣;因而重之,爻在其中矣。(《周易·系辞下》)
(八卦创立分列,万物的象征就在其中了;根据八卦重成六十四卦,所有的爻就都在其中了。)
When the eight trigrams were invented, they embodied the images of all things. When the eight trigrams were multiplied by eight trigrams and permuted into the 64 hexagrams, all the 384 lines were included. (The Book of Changes)
◎圣人有以见天下之动,而观其会通,以行其典礼,系辞焉以断其吉凶,是故谓之爻。(《周易·系辞上》)
(圣人看到天下万物的运动变化,观察其中的会合贯通之处,从而施行制度礼仪,在"爻"下附系文辞以判断吉凶,所以称之为"爻"。)
When sages saw the changes or events happening under heaven, they observed the similarities of the events and responded with appropriate rites and rituals. They judged their implications of the changes by obtaining explanations from the yao. (The Book of Changes)
Services