Xi Jinping's U.K. Visit Rings in a Golden Age of Bilateral Ties
By LI JINGKUN
BRITISH Prime Minister David Cameron declared at No. 10 Downing Street on the evening of February 23 that 2015 was a golden year for U.K.-China bilateral relations. Chinese Foreign Minister Wang Yi later commented that President Xi Jinping's state visit to the U.K. in October reflected this sentiment, and that it will truly usher in a golden age of Sino-U.K. relations by elevating it to new heights.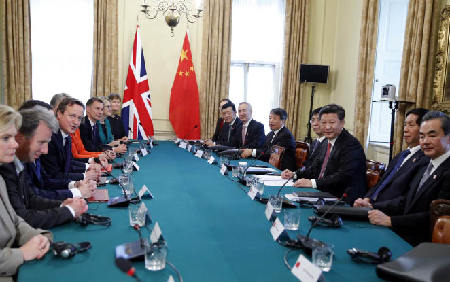 Chinese President Xi Jinping and British Prime Minister David Cameron hold talks on October 21, 2015.
Warm Ties after a Chilly Spell
Exchanges between the two countries go back centuries. In 1950, the U.K. became the first Western power to recognize the PRC. On March 13, 1972 bilateral relations were upgraded from charge d'affaires to the ambassadorial level. The smooth handover of Hong Kong's sovereignty to China in July 1997 marked a new phase in relations between the two countries. In 1998, China and the U.K. established the comprehensive partnership, and in 2004 bilateral relations escalated to a comprehensive strategic partnership. Despite twists and turns over the past decades, the Sino-U.K. relationship has in general deepened and broadened in more fields of cooperation.
An unexpected setback occurred on May 14, 2012 when, despite China's repeated statements and the overall situation regarding bilateral ties, British PM David Cameron and Deputy PM Nick Clegg met with the Dalai Lama. This was a move that seriously prejudiced China's internal affairs. In response, China indefinitely suspended ministerial meetings between the two countries, and bilateral political ties hit rock bottom.
In early 2013, after the new Chinese leadership had assumed office, both sides made efforts to set bilateral ties back on track. In May 2013, David Cameron stated in the House of Commons that the British government recognized Tibet as part of China, and that it would not advocate Tibet independence. A month later, Chinese Foreign Minister Wang Yi had a phone conversation with his British counterpart William Hague, who confirmed the U.K.'s respect for China's sovereignty and territorial integrity. Hague said that the U.K. sets great store by their relationship, and that he hoped for closer exchanges with China in various fields. In September 2013, Secretary of State for Energy & Climate Change Edward Davey visited China,the first British cabinet member to do so since May 2012. This marked the start of a thaw in Sino-U.K. relations. In October of the same year, Chancellor of the Exchequer George Osborne came to China, a visit that signified a further warming of bilateral relations. David Cameron's trip to China in December 2013 accompanied by the largest delegation in history signified the full recovery of Sino-U.K. relations.
The year 2014, 10th anniversary of the comprehensive strategic partnership between the two countries, saw headway in various realms of bilateral cooperation. In June 2014, Chinese Premier Li Keqiang visited U.K. and had a meeting with the British PM, during which the two sides clinched inter-governmental and business deals valued at a record US $32.5 billion. Li stressed in his talks with PM Cameron the need to push forward the two countries' common growth and inclusive development. He also proposed a new model of cooperation that combines U.K. innovation with the Chinese market whereby the two countries may lead trade and economic cooperation between China and Europe.
In March 2015, Prince William Duke of Cambridge made a historic four-day visit to China – the first visit to China by a senior British royal since Queen Elizabeth II's 1986 visit. This was a significant symbol of strengthening Sino-U.K. relations.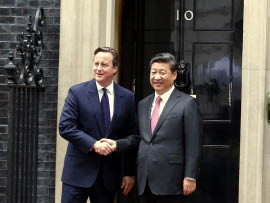 Chinese President Xi Jinping and British Prime Minister David Cameron outside 10 Downing Street before their talks on October 21, 2015.
Bracing for a "Golden Age"
The latest visit by President Xi Jinping forged even closer political ties between China and the U.K.
This year the Sino-U.K. comprehensive strategic partnership enters its second decade. Xi's state visit to the U.K. was the first by a Chinese top leader in a decade. It was also the first by the head of China's new leadership and constituted yet another high-level event in the wake of reciprocal visits by heads of governments of the two sides in 2013 and 2014. It therefore carried great significance.
This frequency of high-level visits between China and U.K. is rare, both in their history and compared with China's diplomatic ties with other countries. It implies that the two sides are keen to enhance bilateral relations and improve political ties.
Xi's October visit also consolidated bilateral ties, both institutionally and strategically. So far the two countries have established three pillar mechanisms – political dialogue, economic and financial dialogue, and high-level people-to-people dialogue. They embody a fundamental framework for stable development of bilateral ties through which to prevent a single incident at any particular time which might have negative impact on the relationship. Of the three, political dialogue is the most important, as it is an indispensable foundation for the forging of a strategic relationship built on effective mechanisms between China and the U.K. Xi's recent visit undoubtedly strengthens this foundation.
It has moreover boosted bilateral trade and economic cooperation – the present and future ballast of the Sino-U.K. relationship. Trade and economic ties between the two countries have expanded steadily over past years, notwithstanding frosty political relations in the second half of 2012. Last year bilateral trade exceeded US $80 billion, a 15 percent rise year-on-year. Two-way investment is also more dynamic. The U.K. is now China's second largest trade partner, second largest source of foreign investment, and a major destination of China's outbound investment. Cooperation in the financial sector has made several breakthroughs.
The U.K. welcomes trade with China and Chinese investment. David Cameron has made this clear, having publicly stated that his country relishes being China's most open partner. Investment and financial deals featured prominently in Xi's October visit. Intergovernmental business agreements in these fields has stimulated economic growth on both sides and led to fruition of their cooperation, so consolidating the foundation for future development of bilateral ties.
Xi's visit also opened up new space for cooperation, and elevated their cooperation to a new level.
So far Sino-U.K. cooperation has gone beyond trade and economy and extended to all aspects of the two societies. It nevertheless needs to be deepened and expanded in multiple areas. The Chinese president's visit is perceived as an opportunity for the two countries to exploit new growth points and upgrade their strategic partnership on the back of the signing of new cooperation pacts. China and the U.K. have carried out effective collaboration in fields other than trade and economy, such as energy, climate change, innovation, and sci & tech, all of which show huge expansion potential.
Xi's visit also saw headway as regards China's participation in the Hinkley Point nuclear power plant, the U.K.'s high-speed rail and deeper financial cooperation that will boost RMB internationalization. Other matters raised included as yet untapped fields of cooperation, including health care, urbanization, manufacturing capacity, and management of water resources. Extensive discussions took place on bilateral cooperation under the dual frameworks of the Belt and Road Initiative and the Asian Infrastructure Investment Bank (AIIB).
Such cooperation bolsters mutual understanding between China and the U.K. Although their relations have generally proceeded smoothly, misunderstandings and mistrust persist. Better communications and closer contacts are the key to defusing them. State visits by national leaders constitute a key channel of inter-country communications, as well as people-to-people exchanges. President Xi Jinping gave speeches in the U.K. on various occasions, met British people from different walks of life and shared with them China's opinions. These events are highly beneficial to China's international image. China's first lady Peng Liyuan accompanied the president on the trip. Her fashion sense, intelligence and vibrant personality helped dispel a certain prejudice among the British towards China via the charm of feminine "soft power."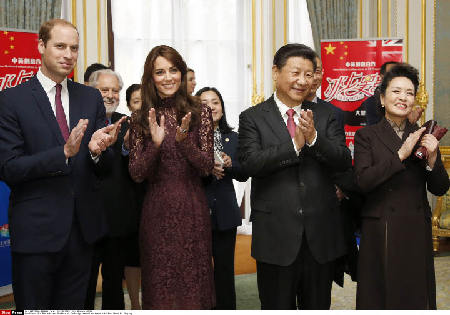 Chinese President Xi Jinping and his wife Peng Liyuan, accompanied by Britain's Prince William and his wife Kate, Duchess of Cambridge, attend a creative industry event in London on October 21, 2015. 
Bright Prospects
Sino-U.K. relations have a long history and a bright future. On the basis of past rapid and steady progress, in the wake of Xi's October visit they will advance still further. The Chinese leadership headed by President Xi Jinping has explicitly expressed its intent to deepen cooperation with the U.K. As for the U.K., its foreign policies have been largely consistent since the Conservative Party's victory in May 2015, those towards China remaining affirmative. The country's policies and thinking, which feature pragmatism, openness, and the spirit of free trade, lay the groundwork for further growth of bilateral ties.
Trade, economic and financial cooperation will remain the bedrock of Sino-U.K. relations in the coming years. The U.K. takes both political and economic diplomacy with emerging countries, especially China, extremely seriously, and regards expanding foreign trade as critical to its economic growth. The country is therefore expected to enhance partnership with China in the fields of trade, investment, and finance, so accelerating domestic growth. Given the uncertainties in the euro zone, China's market and investment are indeed vital. The U.K. is one of the few countries in the West open to Chinese investment in infrastructure projects, and the two countries are clearly complementary in this regard.
On the basis of trade, economy, and finance, bilateral cooperation will branch out into more fields and plumb new depths. That on climate change, energy (new energy in particular), technological innovation, for instance, will become dynamic highlights in Sino-U.K. relations.
The shared interests of the two countries extend beyond bilateral ties to multilateral relations and global affairs. The U.K. is a country of global vision. Both China and the U.K. are permanent members of the UN Security Council, and see eye-to-eye on such key issues as defending a good international order, promoting multilateralism, and supporting the role of the UN. This makes possible the expansion of their partnership from bilateral issues to global governance, including hot-button issues like climate change and anti-terrorism, as well as third-market cooperation.
It is, however, likely that, given different values, certain misperceptions, and insufficient mutual understanding, China-U.K. relations will encounter certain problems, the solutions to which will not be apparent even in the long term, and could cause more ups and downs in bilateral ties. But they will not affect the overall situation of Sino-U.K. relations. Dissonance and disputes arise in the relationship between any two countries. This is inevitable. The appropriate approach to them is to build on mutual exchanges and cooperation in order to reduce misconceptions and heighten mutual trust. This is what China and the U.K. must do to achieve their common goal of forging a community of "shared interests" and "shared destiny."
LI JINGKUN is a researcher with the Institute of European Studies, Chinese Academy of Social Sciences.
Services