ASEAN Community Marks a New Chapter in China-ASEAN Ties
By LIN MINWANG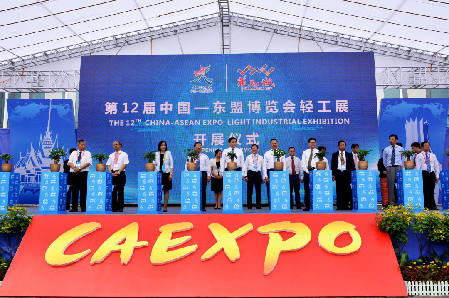 The 12th China-ASEAN Expo Light Industrial Exhibition opens in Nanning, Guangxi Zhuang Autonomous Region on September 18, 2015.
CHINESE Foreign Minister Wang Yi made important speeches last August in Kuala Lumpur, Malaysia, at the 48th ASEAN-China Foreign Ministers' Meeting, the 16th ASEAN Plus Three Foreign Ministers Meeting, the Fifth East Asia Summit (EAS) Foreign Ministers Meeting, and the 22nd ASEAN Regional Forum (ARF) Foreign Ministers' Meeting. Generally speaking, foreign ministers meetings on East Asia cooperation are consultations that constitute a warm-up for the EAS held later in the year. According to the outcome of these discussions, the summit then makes a final political decision.
The East Asia Summit on regional cooperation, held towards the end of this year, drew international attention by virtue of its historic conclusion – establishment by the end of the year of the ASEAN Community, which was topmost on the leaders' agenda during the ASEAN Summit last April. Such a community embraces ASEAN's Political-Security Community, Economic Community and Socio-Cultural Community. Asia's first sub-regional integration ever, it constitutes a milestone in global political and economic structures. For China, it presents both challenges and opportunities.
Establishment of the ASEAN Community is regarded as a landmark culmination of historical events whose value will gradually become apparent.
Unity and Collaboration
Countries in Southeast Asia successively gained independence after WWII. In the rapidly ensuing Cold War, however, these countries became aligned with different camps, so making the region an arena for competition between the superpowers. The establishment of ASEAN in 1967 marked the start of regional integration in Southeast Asia. Against the backdrop of the Cold War, however, it was not a smooth process. A complete ASEAN did not form until countries on the Indochinese Peninsula joined after the Cold War.
Since 2010, ASEAN, which pursues the Balance of Power policy, has encountered growing pressure due to the U.S. rebalancing policy in the Asia-Pacific region and territorial disputes in the South China Sea. This has thrown into sharp relief the divergences among its members. In recent years, the Philippines and Vietnam have adopted overtly pro-American measures, so testing the solidarity of ASEAN participants. The future of this association where great powers converge depends on the balance of major powers. Unity, therefore, plays a key role. The ASEAN Community thus constitutes a driving force towards integration among ASEAN members.
Members of the ASEAN Economic Community (AEC) are required to remove non-tariff barriers, accelerate integration of the capital market and finance, and facilitate the free flow of goods, services, investments, and skilled labor. The AEC envisions ASEAN as a single market and production base whose purpose is to narrow gaps between its members and develop the region into a community of common prosperity and progress. As the U.S.-led TPP negotiations (including four ASEAN participants) have made progress, ASEAN needs to make a greater contribution towards building up the AEC and expanding trade volume among its members, thus to maintain its leading role in East Asian economic collaboration.
The ASEAN Political-Security Community (APSC) aims to make Southeast Asia a safer region. ASEAN members differ greatly as regards their history, political systems, religions, cultures, and ethnicity, let alone with respect to the sovereignty disputes among some of them over certain territory and islands. Therefore, the APSC is expected to control and relieve factors that may cause internal conflicts while promoting the "common security" concept of development, eventually realizing its objective of forming a security community.
The aim of the ASEAN Socio-Cultural Community (ASCC) is to form a collective identity from an ideological perspective that will reinforce public opinion and so lay a more solid social foundation for regional integration.
New Mode of Regional Integration
In the course of its development, the association has formulated the "ASEAN way," which adopts the principles of mutual respect, consultation and consensus, and a "level of comfort" amongst its participants. The "ASEAN way" comprises six principles. They include respect for sovereignty and interdependence, non-intervention in internal affairs, non-use of force, avoidance of bilateral confrontations that have negative implications for the region, consensus-based decision making, and careful handling of sensitive issues.
After WWII, Europe's integration, as embodied in the EU, set a good example of regional consolidation. However, the successful establishment of the ASEAN Community challenges the European legal-rational, highly institutionalized model. By contrast, ASEAN, based on consensus, promotes integration through soft rules while maintaining the association's diversity. In other words, Europe embodies procedural democracy and East Asia consensus democracy.
Another difference lies in the main impetus of integration. The Franco-German axis has always been integral to furthering European ideals in this respect. But in Southeast Asia, such countries as Indonesia do not necessarily take on the leadership role in regional integration. Moreover, when amalgamating with big powers, ASEAN insists on an "ASEAN-centered" principle as the motivating force. Consequently, the ASEAN Community engenders new concepts of regional integration development modes, and also new ideas on diversified integration among countries in Asia, Africa, and Latin America.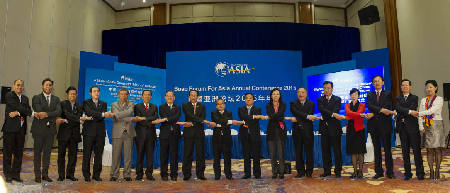 Delegates attend the ASEAN-China Governors/Mayors' Dialogue themed "Local Cooperation: Community of Common Destiny," during the 2015 Boao Forum for Asia in Hainan Province on March 27, 2015.
Asia Continues to Rise
Asia was the seat of advanced civilizations and prosperity in history but declined in modern times. Europe, on the other hand, developed rapidly in the mid-18th century, and the rise of North America took place after WWI. It was not until the mid-20th century that countries and regions in Asia, upon achieving national emancipation and political independence, made full use of globalized capital and technologies to enhance their respective economic and political strengths. In the 1980s, the Four Asian Dragons – South Korea, Singapore, Hong Kong, and Taiwan – maintained exceptionally high growth rates. In the 1990s, Thailand, Malaysia, Indonesia, and the Philippines achieved notable progress and were hence dubbed the Four Asian Tigers. In recent decades, larger countries, as represented by China and India, have also witnessed remarkable achievements. There can be no doubt that Asia is rising.
The ASEAN Community implies that a new independent power is taking shape in Asia. Political consultation within the community will intensify in efforts to seek a common voice on regional issues. Meanwhile, regional economic cooperation will deepen. Cultural and people-to-people exchanges among the community will moreover strengthen its sense of identity.
The rise of this community will weaken the influence of other powers in the region, thus endowing ASEAN with a more independent status amid its participation in constructing a regional and global order. Establishment of the ASEAN Community will enhance democratization of international relations, and facilitate more equitable and rational development of the global and regional orders.
Opportunities and Challenges for China
China has always supported ASEAN's development, its leading role in East Asian regional cooperation, and the establishment of the ASEAN Community. China indeed proactively participates in and promotes cooperation within the region.
For China, the ASEAN Community generates both opportunities and challenges. It will somewhat restrict the country's resolving through bilateral solutions, as in the past, of territorial disputes in the South China Sea with certain ASEAN member states. However, a two-way concept has now been adopted whereby directly concerned parties negotiate to resolve disputes in an appropriate manner. Meanwhile, China and ASEAN jointly maintain peace and stability in the South China Sea. But China must bear in mind that ASEAN will probably be even more united in the future; also that the AEC might cause a trade diversion that affects China-ASEAN trade cooperation. In the course of the various ASEAN foreign ministers' meetings last August, Chinese Foreign Minister Wang Yi advocated the building of a China-Japan-South Korea free trade zone, completion of negotiations on an upgrade to the China-ASEAN Free Trade Zone, and substantive negotiations on the Regional Comprehensive Economic Partnership (RCEP), before year-end.
On the other hand, China and the ASEAN have accumulated useful experience and principles during their collaboration. For instance, that ASEAN's leading status, and the principles of consultation and consensus and "level of comfort" amongst its participants be maintained; that progress and common development be upheld; that harmonious development of regional cooperation mechanisms be adhered to; and that the multi-field and multi-level regional cooperation frameworks, including the East Asia Summit, ASEAN-China Summit, ASEAN Plus Three Summit, ASEAN Regional Forum, and ASEAN Defense Ministers Meeting-Plus, be relied on for their respective focuses. Such experiences are indispensable to future cooperation with the ASEAN Community.
Having taken office in 2012, the new Chinese leadership has been proactive and contributive to neighboring diplomacy by advancing regional economic integration, promoting the Belt and Road Initiative, and advocating the establishment of the AIIB. All of these efforts by China, along with a united ASEAN, are expected to generate even more cooperation opportunities.
To sum up, the ASEAN Community is an important turning point that implies its future status in Asia and at the same time brings both opportunities and challenges to China.
Services