Sustainable Development Mode on the "Roof of the World" (II)
By HUANG YUANJUN & LIU XIAOTONG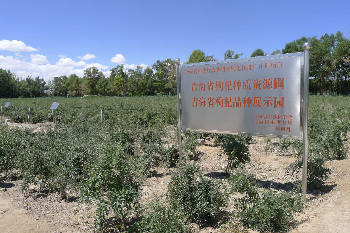 Section of a wolfberry planting demonstration base. 
LOCATED in the northeastern part of the Qinghai-Tibet Plateau, the Qaidam Basin enjoys a reputation for being a "treasure basin." Strong sunlight and vast temperature variations between day and night encourage efficient photosynthesis and lower consumption inside plants – factors in favor of the accumulation of organic substances. Therefore, wolfberries produced here are normally bigger and brighter, and have higher nutritional value compared with those cultivated in other areas.
Small Wolfberries, Burgeoning Industry
Jiang Xiuyun, a farmer at Nuomuhong Farm, moved from the eastern province of Jiangsu to Haixi in 1992. In the beginning, she planted wheat and rape for several years but her income was barely enough to live on. Encouraged by the government, she started to plant wolfberries but in the first two years she still couldn't make ends meet. "Later, I learned to work directly with processing companies that have sales channels," said Jiang, "I have about 120 mu of wolfberries that can produce 50,000 kg of dried fruit. In the last few years our yearly income has reached RMB 1 million, and we have bought a car. "
On the farm, four or five out of 10 households own a car, a necessity that facilitates transportation and work in this sparsely populated area. Another farmer, Feng Kai, had a similar experience. "I originally planted wheat and peas but the income was not good at all. In 2004, the government started to promote the wolfberry industry. The price soon shot up and our income doubled," Feng said.
Nuomuhong Farm sits at the rim of the Qaidam Basin. It has a complete infrastructure, including irrigation canals and ditches, and developed agriculture and forestry, featuring highland plants and livestock. The wolfberry forests, along with arbors, serve as a natural shield for sandstorms and work well for sand fixation. The original desert land has been greened by plants.
"The yearly precipitation has increased from 39.0 mm to 58.51 mm, while winds of Beaufort scale five or higher dropped from 54 to less than 20 occurrences a year," said Dang Yongzhong, director of Nuomuhong Farm. The wolfberry forest has become a green shield for the fragile ecological environment of the Qaidam Basin.
The wolfberry industry also plays a key role in upgrading and restructuring the local agriculture. Besides staple foods, 54 percent of land is allocated for the cultivation of characteristic products such as organic fruit and vegetables. The wolfberry alone accounts for 44 percent of the total agricultural land. Its output value reached RMB 2 billion in 2014, up from RMB 264 million in 2010. It has attained economic as well as social and ecological success, becoming the pillar of the local economy.
To develop the circular economy for agriculture and animal husbandry, Haixi is encouraging farmers to closely work with planting bases and processing companies. With guidance from experienced companies, farmers have reduced their costs in marketing and promotion, while companies have been able to focus on building brands and expanding sales. This mode has gradually transformed wolfberry cultivation to a modern industry with a conglomeration of talents, funds, and technologies.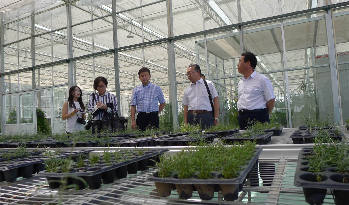 Dang Yongzhong (middle), head of Nuomuhong Farm, gives a run-down on wolfberry seedling cultivation. 
New Tech for Safe Products
Technology is a vital factor in upgrading industries. Most leading companies in wolfberry cultivation and cattle breeding have adopted standardized production and quality control systems, and up-to-date technologies for food preservation, drying, artificial insemination of cattle, yak and cattle-yak propagation, and estrus synchronization. Intelligent control has also been integrated into agricultural and animal husbandry facilities.
Qinghai Kangpu Biotech Co., Ltd, one of the province's largest agricultural companies, engages in extracting organic active components from highland plants like wolfberry for food, cosmetic, and pharmaceutical products. "We have applied modern technologies and management to our production techniques," vice general manager of the Golmud branch of the biotech company Sun Yunwu said. "We have set up workstations for specialists on seedlings, nutrition extraction and composition, and analysis and detection." The company just built an organic wolfberry base in line with the standards enforced in the U.S. and the E.U.
Qinghai Thriyak Biotech Co., Ltd is engaged in cattle breeding and butchery, forage grass planting and processing, and R&D, production, and sales of biological products. The company has several patented technologies and also a collection of authoritative certifications like ISO90001 and HACCP. It has developed a range of meat products, such as chilled meat, processed meat, cooked products, meat snacks and organic Fortune Cattle products.
As one of the two leading companies in Delingha City of Haixi, Delingha Linsheng Biotech Development Co., Ltd organized an R&D team for fine processing of highland biological resources, in a long-term cooperation with the Northwest Institute of Plateau Biology, Chinese Academy of Sciences. It also established Kunlun Qiyuan, a digital commercial platform for wolfberry products to provide consumption channels for customers across the world.
Services