Tongrentang Goes International
By SUN LI
The time-honored Beijing Tongrentang brand has achieved its longstanding goal to go global. The leading Chinese pharmaceutical company has opened 95 stores in 17 countries and regions out of the mainland, as well as a research and development center in Hong Kong.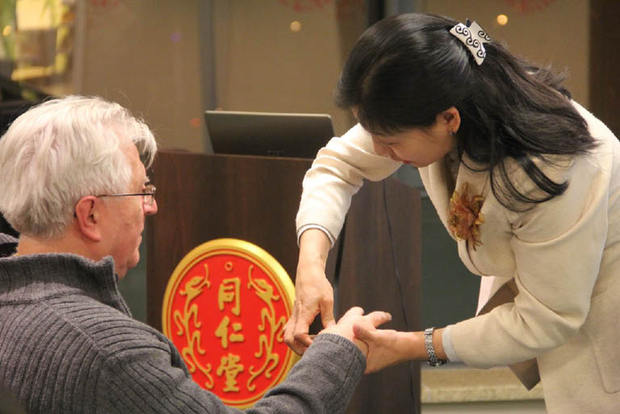 A customer in Tongrentang's Warsaw store receives TCM healthcare services.
The Test of Time
"Tongrentang has faithfully observed business ethics throughout its history of over 340 years. It has proved through facts its quality and market credibility," said Ding Yongling, general manager and executive director of Beijing Tongrentang Chinese Medicine Co., Ltd. "When tap water in Macao became salinated due to the impact of a salt tide, Tongrentang insisted on using distilled water to process medicine for four months, but did not raise its prices." Ding added that as a brand of broad recognition, Tongrentang is under constant scrutiny of consumers and public opinion generally. This, she believes, is essential for the brand's development.
IPO Miracles
Beijing Tongrentang Chinese Medicine Co., Ltd., the third listing under the Beijing Tongrentang Group, went public in Hong Kong on May 7, 2013. Tong-rentang shares first appeared on the Shanghai Stock Exchange in 1997. The group's Technologies Co., Ltd. was listed on the Hong Kong Growth Enterprise Market in 2000 and appeared on the main board of the stock market in 2010. Beijing Tongrentang Chinese Medicine Co., Ltd. shares soared from the initial offer price of HK $3.04 to a record high of HK $14.9 – an accumulated growth of around 390 percent. With a market value of more than HK $10 billion, it became one of the most popular IPO stocks in 2013.
 The release of this new stock has helped Tongrentang build a higher platform on which to develop its overseas business. Beijing Tongrentang Chinese Medicine Co., Ltd. now acts as the brand's overseas capital running center, intangible assets management center, R&D & manufacturing center, import and export business center, personnel development center and culture promotion center. The outstanding performance of its stock is testament to the confidence investors have in Tongrentang's future growth. 
Services