Guizhou Mapping Out Its Road Network
– An Interview with Cheng Mengren,
Transport Chief of the Guizhou Provincial Government
By XU YING
DRIVING through Guiyang on the Shanghai-Kunming Expressway is a pleasant experience. Guiyang is the charming capital of Guizhou Province in Southwest China, and as traffic whooshes along the smooth tarmac of the six-lane expressway at 120 km per hour, it seems a shame drivers don't stop off to see the sights of the city. Within 10 minutes, cars have passed out of Guiyang and have probably already arrived in Qingzhen, a city 26 kilometers to the west.
Opened to the traffic in early September 2011, the expressway between Guiyang and Qingzhen is the first two-way six-line expressway in Guizhou Province. As the first key infrastructure project in what will be a slew of other developments, the impressive stretch of road is a sign of the prosperous transportation economy that is being born in the province.
"Guizhou is a typical mountainous inland province. It's not next to a border, nor does it have big rivers or face the sea. It follows that transit is an industry that plays to our strengths," explained Cheng Mengren, director of transport department of the provincial government. He was the department's deputy director from 2002 to 2007 and has been director for the last five years. "Central government resources allocated to transport here haven't been great, but nonetheless we've been able to create opportunities for ourselves."
Since the start of China's 11th Five-year Plan in 2006, Guizhou has placed great emphasis on infrastructure construction, and especially transportation links. A comprehensive transport network has taken shape, encompassing highways and waterways. Guizhou's road network now makes it possible for the province, the economy of which is relatively small, to better integrate itself with other parts of China and gain access to greater development opportunities.
By the end of 2011, Guizhou had a road network of 157,820 km, with 89.6 kilometers of roads per 100 square kilometers of territory. Total expressway length reached 2,023 kilometers, 516 kilometers of which was newly built.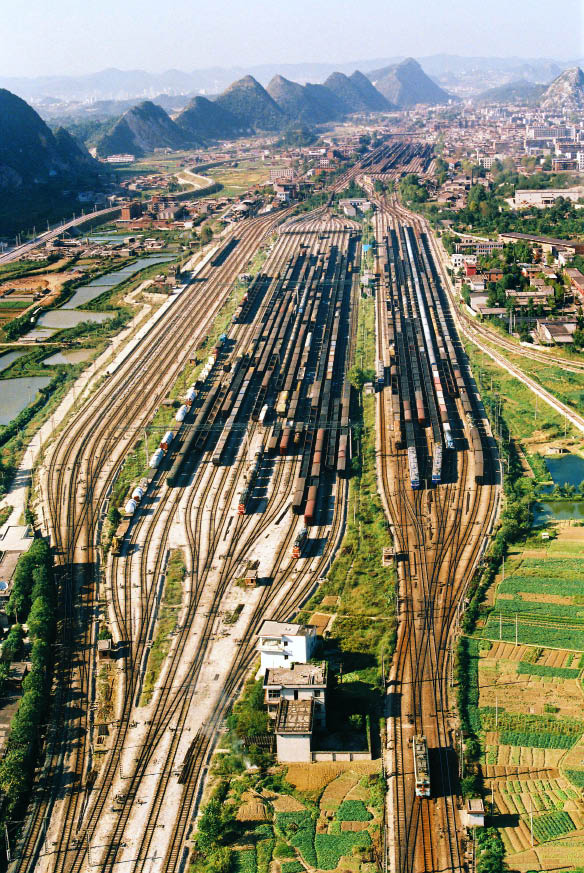 The Guiyang Railway Station is a hub of the rail network in southwestern China. Luo Shouzhong 
"During the 12th Five-year Plan period (2011-2015) we aim to accelerate the construction of transportation infrastructure," said Cheng Mengren. According to the 12th Five-year Plan for National Economic and Social Development and the equivalent plan for transport, Guizhou is Southwest China's transportation hub and plays a key role in regional logistics. According to Cheng, the plans have taken many factors into consideration and the way forward should be clear. "We will increase outlays to form a complex, modern transportation network. This is our best strategy for supporting and facilitating the province's economic and social development," he said.
From the heart of Southwest China, Guizhou is capable of distributing goods and materials by air, road and water to every other part of the country quickly and reliably. If the province doesn't seize the opportunity to put its best foot forward now, it could face irrelevance. Cheng believes a modern road network is key to guaranteeing the province a better future.
This year Cheng's department has put up three targets in an attempt to continue the strong construction momentum it maintained in 2011. Chief among these targets is to address transportation bottlenecks. RMB 60 million was allocated to improving road and water routes as well as to completing 600 kilometers of new expressway. Sixty counties will have access to the expressway. All townships will have quality paved roads that provide quick connections between villages and cities. Two key projects alongside these endeavors are to improve national and provincial highway and rural road infrastructure, as well as building passenger depots in Guiyang and Zunyi and opening a waterway to the Pearl and Wujiang rivers.
To improve connectivity, the department is focusing on connecting expressways to national highway, and provincial highways to country roads to create a network that covers every part of the province.
With the completion of these ambitious plans in 2015, the total length of expressways open to traffic will reach 4,500 km, compared to 1,507 km in 2010. There will be 14 direct links between Guizhou and neighboring provinces. The share of roads nationally defined as grade two and above will increase from 41.3 percent in 2010 to 80 percent. Eight out of 10 villages will have access to asphalt roads, compared to 31.8 percent in 2010. Waterway projects will be constructed on the Nanpan, Beipan, Hongshui and Pearl rivers, bringing Guizhou traffic from cities in the Yangtze and Pearl river deltas.
Guizhou has five expressways at present, but this number is set to increase to 15 by 2017. The province will also continue construction of national highways, allowing most of its cities access to expressways via connecting highways.
All this is leading to 2020, when Guizhou hopes to have installed an expressway grid, in which almost all counties will have access to roads of grade two or above, and asphalt and cement roads will reach every village in the province. To complement this land transport revolution, a waterway to the Yangtze and Pearl Rivers will also be dredged.
At its 2012 meeting on economic affairs, the provincial government committed to the realization of all these projects. It's an ambitious plan, but the government is optimistic and believes it can pull it off. As Cheng Mengren commented: "Transport is the keystone of development, industrialization and urbanization." Transportation, it would seem, is the road to economic success.