The Change One Man Can Make
By staff reporters TANG SHUBIAO & LI GUOWEN
WHEN I asked Zhang Yuzhen whether she missed her late husband, the 84-year-old paused for some time before answering my question with a curt "no." Having expected her eyes to mist over and her voice to crack, I was quite taken aback. Later, however, as we chatted in their small courtyard it became clear that Yang Shanzhou's career as a regional official and dedication to afforestation in his retirement meant that he had spent little time with his family.
Despite their long separation Yang Shanzhou was affectionate towards his wife, publicly confessing that he owed much to her. Such sentiments accompanied him to his deathbed, where he requested that he be interred on the mountain behind their village in Yunnan Province so that he could be with her every day.
A grassroots hero recognized posthumously, Yang Shanzhou embodied almost every quality that makes a good public servant, including honesty, humbleness, commitment and self-sacrifice. Since his story was made public, he has become an inspiration not only to his peers in local government but to anybody aspiring to change society for the better.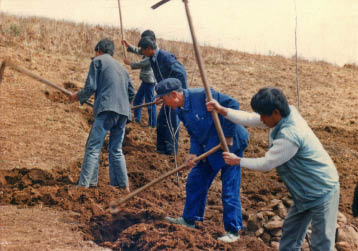 The plantation Yang founded was created with manpower alone.  
From Magistrate to Ranger
A native of Yunnan Province's Baoshan, which was formerly a prefecture before becoming a city, Yang Shanzhou worked in the district and county governments. Later, he ascended to the position of the prefecture's Party secretary.
His dedication was exemplary and did not go unnoticed. On one occasion, Yang was called in when then CPC General Secretary Hu Yaobang inspected Baoshan while he was toiling in the fields with local farmers, transplanting rice seedlings under the scorching sun. Hu was taken aback when he saw Yang's soaking pants and mud-smeared face. "Few cadres work the way you do," he said.
On retiring from his post in 1988, Yang Shanzhou voluntarily gave up the comforts and amenities of living in the city, and moved back to the village where he grew up. The community nestled at the foot of the Daliang Mountain, which at the time was segmented into small plots and rented to local households, who, cash strapped due to dire shortage of farmland, felled trees to grow crops. The thin layer of earth left behind could not sustain heavy cultivation, and before long the mountain lost its ability to support tree life.
Alarmed by the mismanagement of the environment, the effects of which hurt the local economy and living standards, Yang Shanzhou proposed to amalgamate all the small plots of land and set up a tree plantation operated jointly by the local government and the commune. Under his mediation, negotiations were held between government envoys, village cadres and farmers' representatives, and a deal was struck.
The first step toward the forest was establishing an afforestation authority, and Yang was elected as its head. He wasted no time, and that very night he and his team gathered around a fire to discuss work plans. They decided to race against the clock to cultivate saplings for 10,000 mu (15 mu = 1 hectare) of land before the raining reason. Such fireside meetings were called regularly in the years that followed, recalled Zi Xuehong, former chief of the Daliang Mountain Forest Farm.
In the two weeks after the first meeting, Yang and his group scoured the mountain, surveying its geographic conditions and determining which arboreal species would be viable in the region and the best methods by which to grow and maintain them.
The farm was launched on a shoestring budget. Yang Shanzhou was not daunted by the difficulties his meager financing brought and used the limited resources to overcome the problems one by one. The team had to be creative. To gather the saplings needed, Yang and his staff would even rummage in the street for fruit kernels that would later become the trees that now make up the forest. He even transplanted the potted plum, gingko and pine bonsai at his home to the mountain. These trees have thrived, and now tower above the undergrowth and stand as monuments to the late hero.