Expanding China-Africa Cooperation
By staff reporter LU RUCAI
WE reaffirm that China and Africa will continue to deepen the new type of strategic partnership of political equality and mutual trust, economic win-win cooperation and cultural exchanges." The Beijing Declaration, one of the two outcome documents, the other being the Beijing Action Plan, of the Fifth Ministerial Conference of the Forum on China-Africa Cooperation (FOCAC) held from July 19 to 20, emphasizes the priority areas of cooperation between China and Africa. They include: Strengthening political consultation and strategic dialogue; increasing exchanges and collaboration; reinforcing China's interaction with the African Union (AU) and sub-regional organizations in Africa; fully exploring and utilizing each other's comparative advantages by expanding mutually beneficial economic interaction and balanced trade to elevate cooperation to a higher level; strengthening people-to-people and cultural exchanges; and bolstering the two regions' cooperation in international affairs.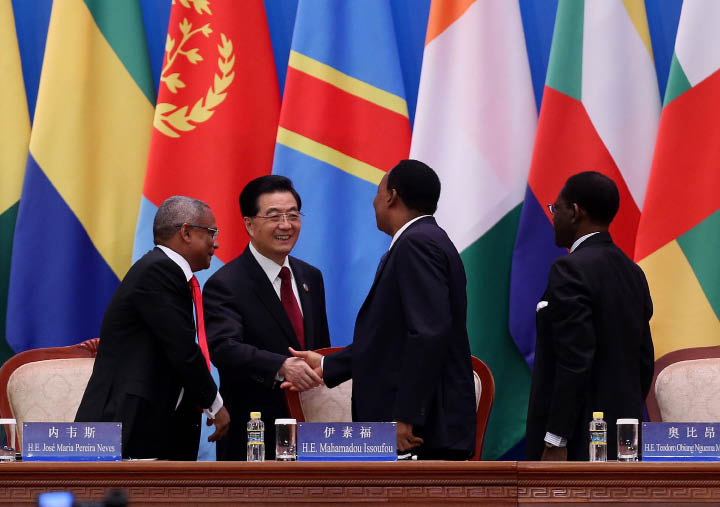 The Fifth Ministerial Conference of the Forum on China-Africa Cooperation opens in Beijing on July 19, 2012. Cnsphoto  
Following the FOCAC was the two-day First Forum on China-Africa Cooperation between Local Governments that opened on August 27, where political leaders and entrepreneurs from China and Africa discussed the potential of China-Africa cooperation.
Since the first FOCAC took place in October 2000, China and FOCAC member states have made new achievements in all respects under the cooperation mechanism.
Great Progress on a New Type Strategic Partnership
Chinese president Hu Jintao pointed out in his speech at the opening ceremony in July of the Fifth Ministerial Conference that since China and Africa agreed to establish a new type of strategic partnership in 2006, their interaction has been fruitful. China and Africa have enhanced all-round friendly political relations in which mutual respect and trust are paramount, and where deepened practical economic cooperation has brought mutual benefits. The two sides have joined hands in withstanding the international financial crisis and brought into effect the eight measures for practical cooperation announced at the Beijing Summit and the eight additional measures announced at the Fourth Ministerial Conference.
In 2011, China-Africa trade reached US $166.3 billion – triple that in 2006. Cumulative Chinese direct investment in Africa exceeds US $15 billion, with investment projects covering 50 countries. China's aid to Africa has also steadily grown. China has built more than 100 schools, 30 hospitals, 30 anti-malaria centers and 20 agricultural technology demonstration centers. It has also lived up to its pledge to provide US $15 billion preferential loans to Africa. "China has given considerable financial assistance to Africa," Nigerien president Mahamadou Issoufou said. "It has kept the promises it made."