New Ideas for an Old Dream
By staff reporters LI YUAN & ZHANG HUI
THEY will beat their swords into plowshares and their spears into pruning hooks. Nation will not take up sword against nation, nor will they learn war anymore." This quote adorns a stone wall that lies outside the UN headquarters in New York and, though biblical in origin, expresses a universal desire for peace that was the fundamental inspiration for the creation of the UN.
Yet, in spite of the vastly diminished possibility of another world war, countries' insecurities are on the increase. The constellation of international organizations are more and more becoming merely places to express opinions rather than mechanisms by which to address practical issues. This is particularly worrying in a globalized world where no country can count solely on itself to solve every conundrum. Change is needed, but what standards and principles should countries follow in international cooperation and in dealing with problems involving the interests of other countries?
China's first World Peace Forum is an attempt to find solutions to these problems. It put the economic topics that have recently dominated international discussions on the back burner and focused its attention on international security.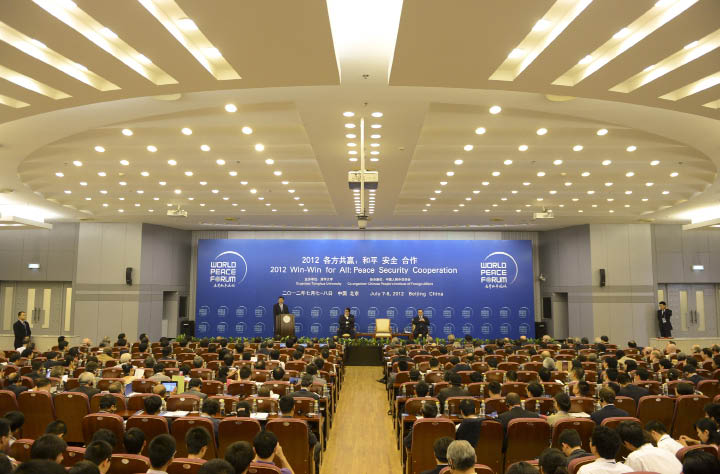 Consensus Views
Organized by Tsinghua University, this non-governmental forum was held in Beijing in late July, 2012 with attendees that included former state leaders, directors of international think tanks, and diplomats from all over the world. Yan Xuetong, dean of the Institute of Modern International Relations of Tsinghua University and head of preparations, said the forum aimed to establish a platform for both government policymakers and NGO and think tank experts to exchange opinions on international safety issues. He admitted that issues in economic development were important, but insisted that recent safety issues have become more critical, demand urgent solutions, and could spell deadly consequences for the world if aggravated.
The forum attracted political heavyweights such as Abdullah Ahmad Badawi, former Prime Minister of Malaysia, Shaukat Aziz, former Prime Minister of Pakistan, Dominique De Villepin, former Prime Minster of France, Yukio Hatoyama, Japan's former Prime Minister, Igor Sergeyevich Ivanov, former secretary of the Security Council of Russia, and Javier Solana, who has held such prominent posts as former Secretary General of NATO and EU High Representative for Foreign and Security Policy. They all gave keynote speeches and answered questions raised by media.
"At the beginning, we were really worried about whether any consensus would be reached given the fact of our participants came from more than 40 countries with different cultures and at different stages of development. I thought that all we could tell media at the end would be what kind of new and diversified opinions we'd talked of. However, in reality we've found much common ground among our attendees," Yan said at the final press conference for the forum.
Participants all agreed that globalization has had a huge influence on the world and brought much change. In this brand new world the international community needs to find new ways and methods to solve emerging problems for which old concepts and methods are no longer applicable.
With the radical changes happening in the world, we have entered an era of reform and transition. This new stage in the development of human society is seeing a series of new global trends and new problems, such as shifting world power, the global financial crisis, the emergence of non-traditional threats, increasing dangers to energy and food supplies and the eco-environment as well as a crisis in international law. All these have greatly complicated the international political landscape.
Attendees also discussed how globalization had made the world smaller and increased nations' political and economic interdependence. Nowadays, one country's problem can quickly affect its neighbors and even become a worldwide issue. It is thus difficult to distinguish between domestic and international matters. Participants all accepted that it is necessary to adopt new attitudes and approaches to contemporary international issues.