The World's Largest Healthcare Umbrella
By staff reporter LI WUZHOU
EARLIER last summer, 65-year-old farmer Song Guicai of Xinwan Village, Punan Town, Lianyungang City in coastal Jiangsu Province, made the 10-kilometer journey from her village to the town's central hospital. At the end of diagnosis and checkup in the air-conditioned facility she headed toward the counter with a bill showing RMB 119.37. But when the cashier swiped her card for the New Rural Cooperative Medical Care System, the computer screen showed the amount she would actually pay – RMB 62.83.
There are 832 million cardholders like Song in China who are entitled to subsidized medical services under the New Rural Cooperative Medical Care System. Their urban peers have access to a similar government-funded medical insurance, whose coverage has extended to 472 million people. So far, 96 percent of Chinese are covered by the healthcare insurance. Behind this remarkable figure is lavish state spending – the Chinese government plowed RMB 1.5 trillion into healthcare over the past three years.
Recent efforts have not gone unnoticed outside of China. An article in the magazine The Lancet earlier this year lauded China's healthcare system as the largest in the world, saying that its remarkable achievements over just half a decade would have been impossible in any other country.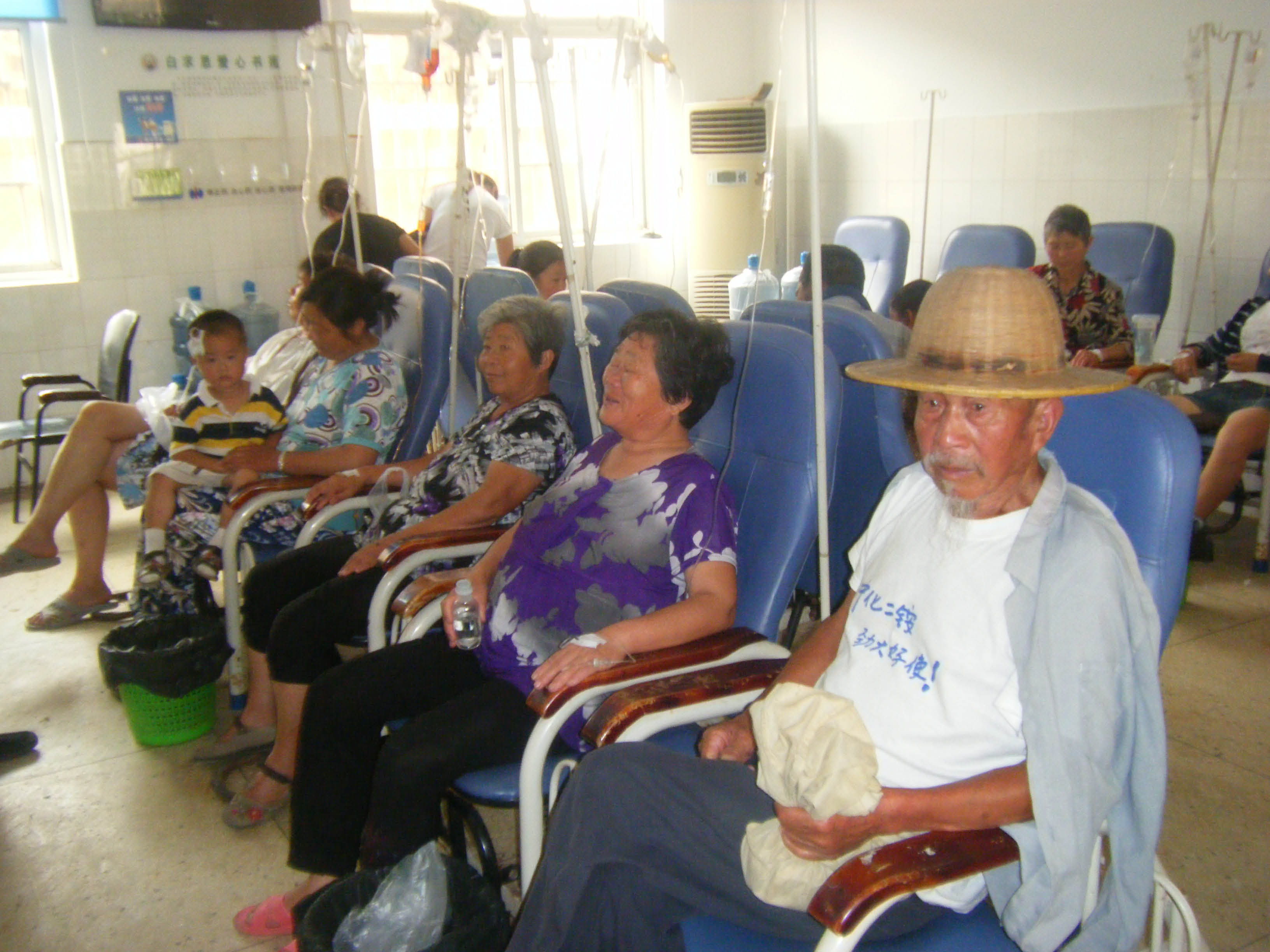 The infusion room at Punan Town's central hospital.
Healthcare Insurance for Rural Residents
Song Guicai suffers from esophageal cancer. Last December she had an operation at the Lianyungang People's Hospital, which would normally have cost RMB 31,000, a big sum for a rural family living on less than one hectare of land. Fortunately she joined the New Rural Cooperative Medical Care System earlier last year. The premium of merely RMB 30 (less than US $5) entitled her to a reimbursement of RMB 12,000. For drugs not covered by the scheme she paid more than RMB 10,000.
The amount Song paid herself was manageable for her family, and they were able to continue construction of their new home as planned and send remittances for her grandson's college education in full and on time. In the past, such health crises in the village would have plunged whole families up to their necks in debt.
According to Xu Debin, director of the Rural Cooperative Medical Care System Office of the municipal government of Lianyungang, the previous scheme was primarily funded by members' contributions, and subsidies from the government were much lower. It sustained a lower payment ratio, meaning less relief for those needing expensive treatment. Xu was involved in the implementation of the new scheme since trials began in 2003, and worked on it in different regions in the province. Today, he is a member of the expert panel of a project to reform its payment model and promote information technology use, funded by a World Bank loan and British donations.
Xu has conducted several surveys on local residents' need for medical services. Results show that they made 2.5-3 visits to the doctor every year, and that eight percent of them had experience as inpatients. The rate is lower among rural dwellers. A 2005 research found that farmers in Lianyungang saw doctors 1-1.5 times a year, and only 5 percent had been hospitalized. "This indicates that when falling sick half of rural residents would choose not to see a doctor or avoid hospitalization when their condition calls for it," Xu said.